Posted on
Mon, Nov 7, 2011 : 2:37 p.m.
Michigan football coach Brady Hoke says Junior Hemingway's play was a catch, wants explanation from Big Ten
By Kyle Meinke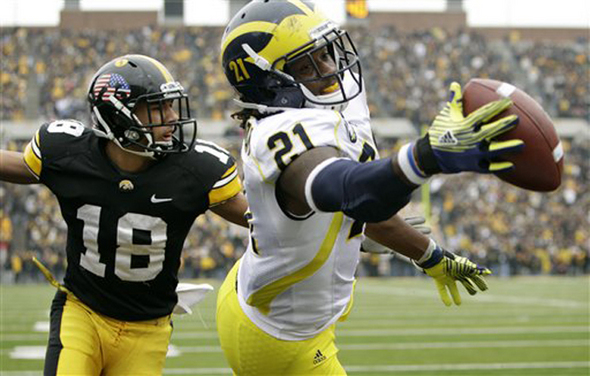 Associated Press
Brady Hoke and his
Michigan football
players aren't backing down from their comments after last weekend's game.
They think receiver Junior Hemingway made a catch — in-bounds — in the back of the end zone in the waning seconds against Iowa, which would have set up a potentially game-tying two-point conversion attempt.
Instead, the officials — one of whom signaled touchdown, another incomplete pass — ruled Hemingway did not make the catch, and upheld that call upon replay. Two incomplete passes later, and Michigan was tagged with a 24-16 loss to the Hawkeyes on Saturday.
Now, Hoke plans to seek an explanation for the call from the Big Ten office. He has yet to receive a response.
"Not completely, yet, have I gotten that explanation," he said Monday afternoon at his weekly news conference. "On the field, there's not enough time for 'em to come up and they're not going to take the time to come up and say, 'This is what we decided.' They reviewed it and went through the proper channels and all that stuff.
"It's just the way it goes."
Still, Hoke made it clear he disagrees with the call on the field.
"I thought Junior made a catch," he said.
In-bounds?
"Oh, yeah," he said.
Does he feel robbed?
"I never carry much money with me, anyway," he said. "Mrs. Hoke doesn't give me it."
The only thing Hoke was unsure about was whether Hemingway completed the process of catching the football, saying, "That's where everything gets diluted. What is that rule?"
Hoke said Michigan typically sends clips to the Big Ten office for review, so this week is not unusual. It's not always for missed calls, either, but also to seek explanations for why penalties were called.
He knows one thing, though: There won't be much measure of satisfaction, even if the Big Ten says the call was blown. A loss is a loss, and the No. 22 Wolverines (7-2, 3-2) now have two of them in conference play heading into this week's game at Illinois (3:30 p.m., ABC).
"It's football. That stuff happens," Hoke said. "It never changes anything, so I don't worry about it. We're going to cement what we need to cement, and we're going to move forward."
Still, he has to be a little angry, right?
"Maybe," he said with a slight smile. "Believe me, you want your kids to win. You want them to have success. They invest."
Sophomore tailback Fitzgerald Toussaint said he still is angry about losing, and the way Michigan lost, but was looking to move on to preparing for the Illini.
But there's no doubt this loss was a tough one to take for the Wolverines.
"We thought he caught it," senior defensive lineman Ryan Van Bergen said. "We thought he caught it on the field. "But, you know, we had another opportunity to win the game, we had opportunities before that, so we can't get hung up on that and we have to move forward."
Kyle Meinke covers Michigan football for AnnArbor.com. He can be reached at 734-623-2588, by email at kylemeinke@annarbor.com and followed on Twitter @kmeinke.