Posted on
Sat, Sep 25, 2010 : 6:55 p.m.
Michigan football team sets offensive records in 65-21 win over Bowling Green
By Pete Bigelow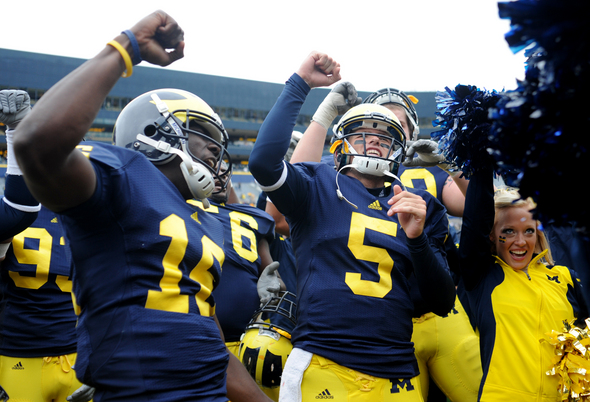 Melanie Maxwell | AnnArbor.com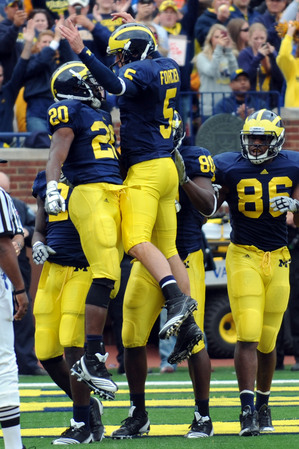 Melanie Maxwell | AnnArbor.com
Story updated at 6:50
As trainers examined Denard Robinson's injured left knee on the Michigan sideline Saturday afternoon, quarterbacks coach Rod Smith ambled over for a talk with his star pupil.
"The first thing I said to him was, 'Why'd you get ran down,'" Smith said. "He was laughing. He said, 'Coach, I didn't get ran down.' I said, 'Yes, you did.'"
The smile told Smith all he needed to know. Robinson was fine.
Even without him, so was the Michigan football team's offense.
No matter who quarterbacked, the Wolverines shredded their record book during a 65-21 victory over Bowling Green in their final warm-up before Big Ten play begins next week at Indiana.
Devin Gardner and Tate Forcier both played in relief of Robinson, who accounted for 80.3 percent of the team's total offense through the season's first three games.
Together, the three combined to lead the offense to 721 total offensive yards, the school's most ever against an FBS opponent.
Michigan's 65 points represent the most in a game since the Wolverines scored 69 against Illinois in 1986. In eight trips inside the Bowling Green red zone Saturday, Michigan (4-0) scored eight touchdowns.
"I think it was pretty efficient," Michigan coach Rich Rodriguez said in the understatement of the afternoon.
Seven Wolverines scored touchdowns. The Wolverines racked up 31 first downs and never punted. Six plays went for 30 yards or more.
Much more, in Robinson's case. The sophomore, who has captured the attention of college football in his first month as a starter, ripped off two 47-yard runs in the first eight minutes of the game.
The first provided a textbook case in open-field running.
On a third-and-two play with 9:28 left in the first quarter, Robinson couldn't find an opening near the left sideline, so he stutter-stepped right, broke one tackle, and then cut against the defense while running for a score that gave Michigan a 14-0 lead.
His second 47-yarder came on the first play of Michigan's next offensive series, but it would be his last of the game. As Bowling Green defensive back Cameron Truss rode him down near midfield, Robinson's knee twisted.
"My first thought was that he should have stepped out of bounds," Rodriguez said. "He just tweaked his knee a little bit, and actually it took us a while to diagnose because he fell on the ball and lost his breath."
Rodriguez said he didn't need X-rays or other medical tests, only "ice." He should be ready to play against Indiana next week.
Robinson finished 4-for-4 passing for 60 yards, and with five carries for 129 yards and two touchdowns.
The numbers were Robinson's lowest in four starts this season. Considering they came in a half-quarter of work, he hardly damaged his Heisman Trophy candidacy. Still, the Wolverines' best quarterback Saturday may have been Forcier.
After losing his starting job and spiraling down the depth chart during the off-season, the Michigan Stadium crowd of 109,933 cheered as he took the field for the first time this season midway though the second quarter.
Forcier completed 12 of 12 passes for 110 yards and a touchdown, and established Michigan's single-game record for highest completion percentage with a minimum of 10 throws.
Jim Harbaugh held the previous high, with a 12-for-13 effort against Purdue on Nov. 9, 1985.
"It felt almost like my first start again," said Forcier, who started all 12 of Michigan's games in 2009.
It's been a tumultuous ride for the much-maligned Forcier.
In the off-season, teammate Troy Woolfolk criticized his work habits. Coaches stripped the wings from his helmet as a punishment. In recent weeks, he's endured rumors of his imminent transfer. After Saturday's performance, Forcier hopes his recent history is relegated to the past. "A lot of people have been saying I'm not staying here, but I'm here," Forcier said. "I love Michigan. I love everything about it. I'm not going to leave. Not a chance. I love Coach Rod. I love these fans. I love Michigan football." Starter or not, he'd be hard-pressed to not love playing in an offense that had four scoring drives of 80 or more yards Saturday, and one that has six of 90 or more on the season.
After last week's sloppy game against UMass, that sort of performance is exactly what the Wolverines had hoped for with the Big Ten portion of the schedule ahead.
"We were pretty potent at West Virginia that last year," said Smith, a member of Rodriguez's staff there. "I don't know if we had 700 yards, though."
Box score | Notebook
Pete Bigelow can be reached at (734) 623-2556, via e-mail at petebigelow@annarbor.com or followed on Twitter @PeterCBigelow.