Posted on
Wed, May 23, 2012 : 5:59 a.m.
Michigan football team still in search of a No. 2 running back, and it may not be Vincent Smith
By Nick Baumgardner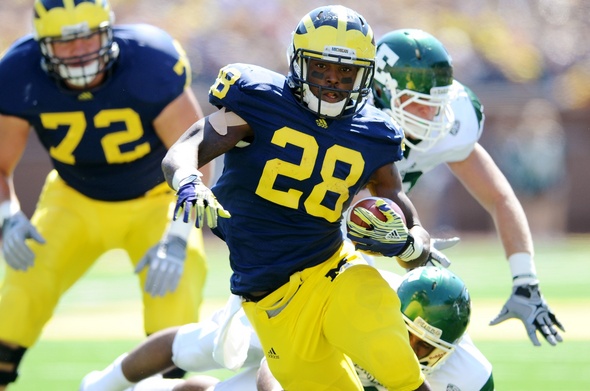 Melanie Maxwell | AnnArbor.com
At this point, two things are crystal clear in Al Borges' offensive backfield.
Denard Robinson will start at quarterback and Fitz Toussaint will get first dibs as the team's featured running back.
But who else is in line to carry the football for the Wolverines in 2012?
If the Michigan football team's offensive coordinator has his way, Toussaint will be on the field for most of the game.
But he's not foolish. Sometimes guys need a rest. And the task now is to find out who will give it to him.
"If you're trying to get (Toussaint) the ball 20-something times, it may mean another back gets the ball eight to 10 times -- I don't know," Borges said. "But what we don't want is to divide those carries up evenly, I don't like that, never have.
"I would think, yeah, there's a defined No. 2 and No. 3 at every position. But we want a featured running back."
During spring practice, coaches and players raved about the development of sophomore running back Thomas Rawls.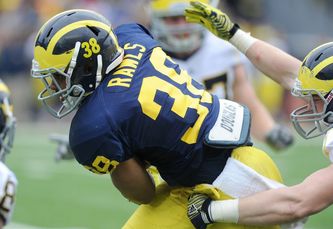 Angela J. Cesere | AnnArbor.com
Rawls, a 5-foot-10, 219-pounder from Flint, was exceptional in the team's spring game as well, finishing with two rushing touchdowns.
"Thomas has had a good spring," Michigan coach Brady Hoke said at the time. "He's one of those guys, when you look at the body of work, with his physicalness, he's hard to tackle.
"You've got to give him credit for that, and he's a good football player."
Michigan coaches also talked extensively about the development of redshirt freshman Justice Hayes, a former four-star prospect who benefited from a year on the sidelines in 2011.
Ironically, the player who seemed to be talked about the least during spring practice was senior Vincent Smith -- who was second to Toussaint among running backs last season with 298 yards and two touchdowns.
Smith might not be in the conversation for the team's No. 2 running back slot, but that doesn't mean he won't see the field in 2012.
On the contrary, Borges says. Smith may actually be used quite a bit.
"Vince plays a different role, he's kind of a slash number, if that makes any sense to you," Borges said. "He'll come in the game and carry the ball a little bit, but he's situationally in the game a lot. Just as you'd put a third wide receiver in the game to replace a tight end, Vince goes into the game on third down, maybe in the slot, maybe in an empty formation or the backfield. But he'll always play that role somewhat.
"That doesn't fit as much into our first down (scheme) as much as I'm talking about, spelling backs and things like that."
Borges insists that Smith -- regarded as Michigan's best pass-protection running back -- will continue to serve the role of a third-down back, when necessary.
Smith caught 11 passes for 149 yards and two touchdowns last season, and has been referred to by Hoke as perhaps "pound for pound" the toughest player on Michigan's roster.
So he'll certainly see the field, but not likely on first or second down.
That, in Borges' and Hoke's eyes, is Toussaint time.
"Once you've established a running back, he's your running back," Borges said. "The other guys come in when he's tired or he's banged up a little bit, just to spell him.
"And then you get him back in there."
Nick Baumgardner covers Michigan sports for AnnArbor.com. He can be reached at 734-623-2514, by email at nickbaumgardner@annarbor.com and followed on Twitter @nickbaumgardner.