Posted on
Wed, Nov 23, 2011 : 2:45 p.m.
Michigan freshman linebacker Brennen Beyer to miss Ohio State game, might be lost for season
By Kyle Meinke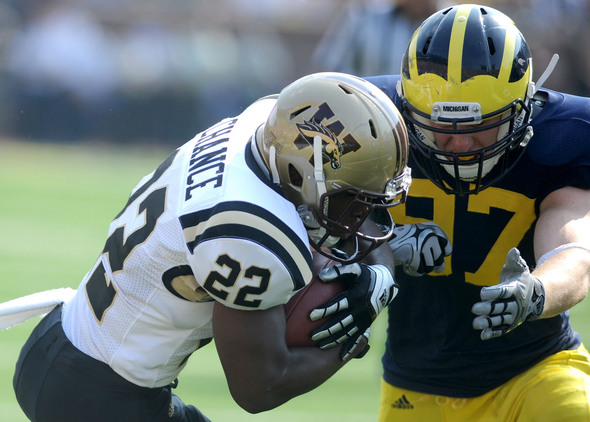 Angela J. Cesere | AnnArbor.com
Michigan freshman linebacker Brennen Beyer has an injured leg that will keep him out against Ohio State, and it may end his year.
Beyer is a true freshman from Canton. He didn't play much early in the year, but had become an important reserve at strong-side linebacker after breaking into the rotation against Purdue.
Michigan football coach Brady Hoke said he doesn't expect Beyer to play Saturday against the Buckeyes (Noon, ABC). Asked if Beyer would play again this season, Hoke responded: "Not sure yet."
Beyer played in 10 games this year, recording 11 tackles, before leaving last week's game against Nebraska with the injury.
Another freshman, Jake Ryan, is the starter at strong-side linebacker. Sophomore Cam Gordon is listed as his backup, although was surpassed by Beyer in the rotation while he missed action early in the year because of a bad back.
It is not known who will back up Ryan against Ohio State (6-5, 3-4).
Other injury news

Left guard Ricky Barnum (ankles) is improving, but might not start. Sophomore Michael Schofield has played well as Barnum's replacement and is practicing at left guard. Hoke, when asked who would start there: "Either one. We'll start somebody there."

Running back Vincent Smith, who was held out last week against Nebraska because of a shoulder injury, is expected to play.
Hoke responds to Pelini
A day after defensive coordinator Greg Mattison vehemently denied Nebraska coach Bo Pelini's assertions that Michigan defenders were faking injuries to slow the Cornhuskers' no-huddle offense, Hoke offered his take.
"That's ridiculous," he said. "I wouldn't do that. (Jordan) Kovacs? Come on. Us?"
Pelini said on Monday that "it has been pretty obvious" that teams are faking injuries against his team. He didn't call out the Wolverines by name, but his team did lose 45-17 against Michigan last weekend.
In that game, Kovacs stood up after making a play, then went back to the ground, grabbing a left knee that has bothered him this year. He was helped off the field, then returned on the next series.
Mattison's response was similar to Hoke's.
"I better not talk too much about that," he said. "The only thing I can tell you is we never have and we never will have someone fake an injury, and for somebody to even say that, to me, is absurd."
Hoke on Thanksgiving
Hoke said playing after Thanksgiving doesn't affect the performance of his team, but would prefer not to do it because it takes away from family time at the holidays.
"The one thing I don't like about it is your kids don't have a chance to go home and be with their loved ones — especially when you're playing away on that 12th game," Hoke said. " We're going to have a good amount of people here for Thanksgiving."
The team is hosting a 500-person dinner Thursday afternoon after practice.
Kyle Meinke covers Michigan football for AnnArbor.com. He can be reached at 734-623-2588, by email at kylemeinke@annarbor.com and followed on Twitter @kmeinke.