Posted on
Tue, Apr 24, 2012 : 1:24 p.m.
Saga over: Michigan drums up funds to send marching band to Texas
By Nick Baumgardner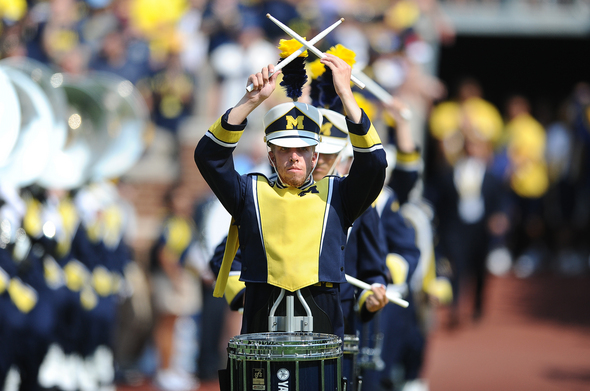 Melanie Maxwell | AnnArbor.com
This story was updated at 3:37 p.m. with additional information on the band's trip.
The Michigan marching band is headed to Texas.
Band director Scott Boerma confirmed via email to AnnArbor.com on Tuesday that athletic director Dave Brandon informed him and his staff that the marching band will be attending the Michigan football team's 2012 season opener against defending national champion Alabama in the "Cowboys Classic," held in Arlington, Texas.
"We just received an email from AD David Brandon saying that Athletics has now decided that, as a result of some work we have done to reduce costs and with the help of some donors, they will be taking us to Dallas for the Cowboy Classic game vs. Alabama," Boerma wrote in an email to his staff.
Boerma explained via email that the number of students the band will bring to Texas will be "very close to a typical road-game contingent." He added that the band will travel to the game via a chartered flight.
Also, the band will be able to put on a halftime show during the Sept. 1 contest with the same number of students it normally uses for halftime entertainment during home games inside Michigan Stadium.
Boerma said he gave an estimate of the actual number of students the band would need to put on an effective performance, and Brandon agreed with no request for compromise.
Michigan came under some criticism last week after word got out that the band would be left behind on the trip due to monetary concerns.
At the time, Michigan spokesman Dave Ablauf said that the school was treating the Alabama game like "any other road game." Meaning, the athletic department had not set aside funds within its budget to send the band to Texas for the season opener.
Ablauf said the only road games the Michigan band typically travels for are conference dates and any away tilt at Notre Dame. The band attended last season's Sugar Bowl, but on the dime of the bowl itself.
In an interview with the Detroit News later Thursday, Brandon estimated the cost of sending the entire band to Texas at $400,000. And though Michigan will receive $4.7 million to participate in the "Cowboys Classic," Brandon said those funds needed to be re-invested into Michigan's athletic department.
"We bring in $4.7 million for this game, and that's how we pay for 29 sports at the University of Michigan," Brandon said Monday. "People don't need to understand how this business works, but how this works is football and to a much, much, much lesser degree, men's basketball, pays the cost of 27 other sports.
"The resources brought in are not profit or extra resources, those are dollars (we need) to spend on other student-athletes, other coaches, other programs. My job is to make sure the resources we bring in are adequate to take care of all of our 865 student-athletes, all of our 29 sports and all of the things that are part of that. That's my job."
The initial news of the band's planned absence from the game was met with plenty of angst via social media.
Fans were joined on Twitter by several former football and men's basketball players in voicing their displeasure with the school's decision to leave the band home. In fact, the Twitter hashtag "#MMBtoDallas" received hundreds of tweets and mentions just hours after it had been created Thursday night.
"Favorite Umich memory was band playing for us at practice before first game," former Michigan tight end Bennie Joppru wrote last week via Twitter, "gave me chills & still does. Money b4 tradition? WOW."
On Monday, Brandon addressed the issue with reporters.
"The band wants to go to Dallas, and so does everybody that loves the band," he said. "And I love the band, I want them to go to Dallas, too. It was just a function, and has been all the way along, for us to figure out how to make that work."
It appears, they've now done just that.
Nick Baumgardner covers Michigan sports for AnnArbor.com. He can be reached at 734-623-2514, by email at nickbaumgardner@annarbor.com and followed on Twitter @nickbaumgardner.