Posted on
Fri, Dec 16, 2011 : 5:59 a.m.
NFL scout: Michigan defensive lineman Mike Martin will be an early-round draft pick
By Kyle Meinke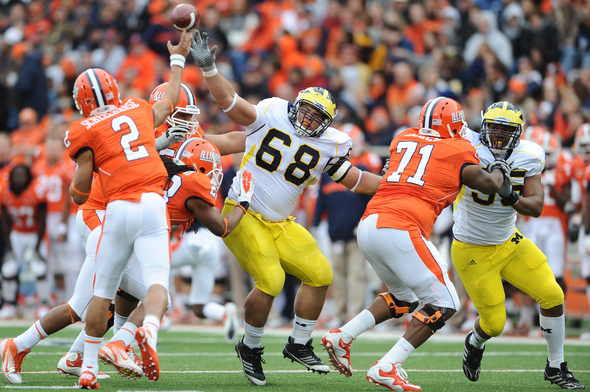 Melanie Maxwell | AnnArbor.com
The Michigan football program used to be a factory for NFL draft picks.
And, while that pipeline has slowed the past three years, the Wolverines will produce a few notable pro prospects this year.
Defensive tackle Mike Martin is the strongest candidate of them all.
"I think Mike Martin showed a lot of the qualities that the NFL looks for, and that's a strong, tough, smart, hard-nosed football player," Michigan defensive coordinator Greg Mattison said this week.
"I know a lot of people will probably want to talk to me about him."
Mattison's evaluation is meaningful because, not only was he Martin's coordinator this year, but he also spent the past three years with the Baltimore Ravens. He coached several All-Pro players, including star defensive tackle Haloti Ngata.
So, Mattison would know an NFL-caliber defensive tackle when he sees one.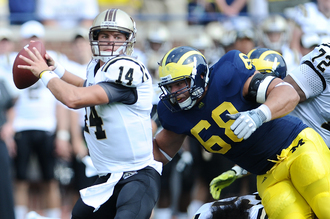 Melanie Maxwell | AnnArbor.com
Of course, Mattison also isn't exactly objective, since he and Martin forged a close personal relationship in the past year, but scouts agree with his appraisal.
One NFL scout for a perennial playoff franchise told AnnArbor.com that Martin is Michigan's strongest prospect, and that he is considered in pro circles to be an early-round pick.
The scout said Martin doesn't fit his team's philosophy for defensive tackle, because Martin, although exceptionally strong, is short (listed at 6-foot-2) and his reach is compact.
"But he's strong, he's tough, and he plays his butt off," the scout added. "He's quick, too, and well-coached. He's not your prototypical tackle — he's just a little short — but we like him a lot."
Martin had 54 tackles this year, including 5.5 for loss and three sacks, and finished his career with 162 tackles and 9.5 sacks. He was a consensus second-team all-Big Ten performer this year and a three-time Michigan defensive lineman of the year.
His best attribute is his raw strength. He said he already can bench press 225 pounds 40 times — something just six players have done in the past six years at the NFL combine.
"There's no one in college football as strong as Mike Martin, I'd be wiling to bet," fellow defensive tackle Ryan Van Bergen said earlier this year.
Martin also has very good footwork and handwork, and has benefited in his technique from his wrestling background. He was a two-time state champion at Detroit Catholic Central High School.
Mattison's hire in January also helped Martin's pro chances, as Mattison has an expertise in coaching the position. He refined Martin's technique and intensified his film study -- which included old Ravens tape in the preseason.
ESPN ranks Martin as the 15th-best defensive tackle prospect. They gush about his strength, speed and intangibles, and list his weaknesses as pass rushing and durability.
CBS ranks him 14th at his position and 147th overall.
He's not an ideal NFL prospect, then, and his frame might scare off some teams. But his brute strength, intelligence and high motor means he likely will be chosen on the first day of the NFL draft.
"The sky's the limit from me, as far as him," Mattison said. "I think he's going to be an outstanding football player, if he decides to keep playing."
Michigan had one player chosen on Day 1 last year — linebacker Jonas Mouton was taken in the second round by the San Diego Chargers — and another in 2010 — defensive end Brandon Graham was chosen in the first round by the Philadelphia Eagles.
Overall, though, the Wolverines' pipeline to the NFL slowed in the past three drafts, with only two players taken in 2009 and '11 and three in 2010.
In the preceding 10 years, Michigan dipped below four picks in only two drafts, and never below three. It averaged 4.8 picks per year, and had six in 2008, the final draft of the Lloyd Carr era.
This year, Martin and center David Molk are expected to be drafted, and tight end Kevin Koger also is likely to be taken. An AFC scout said his athleticism and catching ability are big pluses, but his blocking needs to improve.
Koger's statistics aren't great -- he had a career-high 21 catches for 235 yards and four touchdowns this year, and finished with 57 catches for his career -- but he also was a victim of circumstance. He played three seasons in the spread-option, which doesn't target tight ends in the passing game, and then the Wolverines' passing game was erratic this year in the new spread-West Coast offense.
The scout said Koger likely won't be punished for those numbers because he's proved he has good hands.
Receiver Junior Hemingway and defensive tackle Ryan Van Bergen also could be pro candidates, either as late-round picks or undrafted free agents.
But Martin clearly is the best prospect of them all.
Kyle Meinke covers Michigan football for AnnArbor.com. He can be reached at 734-623-2588, by email at kylemeinke@annarbor.com and followed on Twitter @kmeinke.