Posted on
Tue, Mar 13, 2012 : 8:11 a.m.
Spring preview: Linebacker is Michigan football team's deepest position
By Kyle Meinke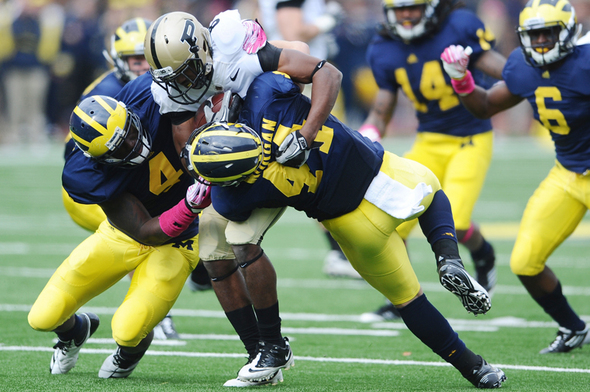 Melanie Maxwell | AnnArbor.com
To call the Michigan football team's linebacker position a revolving door in 2010 would be an insult to revolving doors.
Craig Roh started the season at outside linebacker before moving to defensive end. Carvin Johnson rotated with Thomas Gordon before both gave way to Cam Gordon at the strongside (SAM) spot. Obi Ezeh started in the middle (MIKE) before being surpassed by Kenny Demens.
Only Jonas Mouton held on to his spot. In all, nine players earned at least one start at the position.
Last year, five.
Demens and Jake Ryan went the whole way at the MIKE and SAM positions, respectively. Only the weakside (WILL) had any kind of turnover, and Desmond Morgan was the primary player there most of the year, anyway.
All three are back next year, and they have an infusion of talented freshmen with whom to compete. Quickly, this has become a fortified position for the Wolverines.
What they lose

Whenever your only losses are Brandon Herron and J.B. Fitzgerald, you know you're in good shape. And Michigan is.

What they have back

Everyone of note, more or less. Demens is back for his senior season, with 20 consecutive starts under his belt. He is the key, after leading the team in tackles last year and picking up the language of the system. Most communication and play calls begin with him.
Ryan could blossom into a star after a standout redshirt freshman season -- one in which he continually earned praise from coaches for his play-making ability. The staff is so confident in him, in fact, primary backup Brennen Beyer reportedly was shipped to the much-maligned defensive line.
Morgan is the only starter who is in any kind of danger of being demoted, and if he were, that would be a good sign for the Wolverines, since coaches love Morgan and would bench him only if someone were clearly better.
This state's top recruit, Royce Jenkins-Stone, joins the fray in the fall. Freshmen Kaleb Ringer and Joe Bolden will mix it up throughout spring as early enrollees, which could give them a leg up in earning playing time.

Spring mission

Iron out issues in edge containment. This consistently was an issue last year, even as the defense experienced its late-season rise, and could become of particular concern next year with personnel changes at both ends in front of them (Craig Roh reportedly is switching from the weak to strong side, and either Beyer or Jibreel Black is expected to take Roh's spot on the weak side).
Also, the linebackers will have to adjust to not having an impactful defensive line playing in front of them. Mike Martin, Will Heininger and Ryan Van Bergen are gone, and Roh is switching positions. It will take time for the replacements to get up to speed, and the linebackers must shoulder more of the onus for applying pressure.
Kyle Meinke covers Michigan football for AnnArbor.com. He can be reached at 734-623-2588, by email at kylemeinke@annarbor.com and followed on Twitter @kmeinke.