Posted on
Sat, Nov 3, 2012 : 5:40 a.m.
Your mega guide to Michigan vs. Minnesota
By Pete Cunningham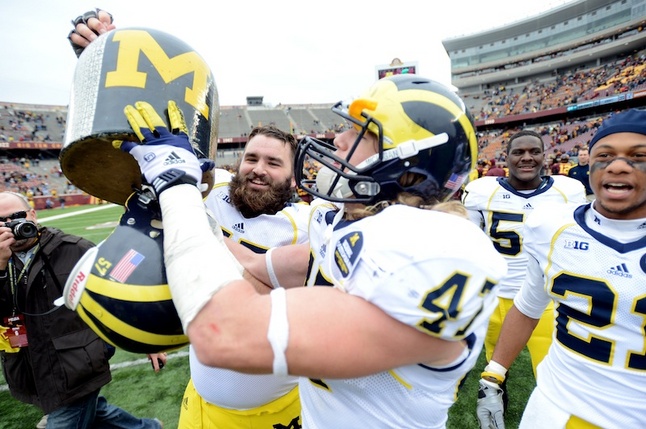 Melanie Maxwell | AnnArbor.com
GAME STORY:
Devin Gardner terrific in place of injured Denard Robinson as Michigan drops Minnesota, 35-13
WITH POLLS: Grade Devin Gardner's debut at starting QB and the rest of Wolverines' performances
INSTANT ANALYSIS: Devin Gardner's stellar performance leads Michigan to rout
PHOTO GALLERY: Images from Michigan's 35-13 win over Minnesota
BREAKING NEWS: QB Denard Robinson out against Minnesota, WR Devin Gardner gets the call under center
LIVE COVERAGE: Follow the game action as it happens from Nick Baumgardner's live blog which will begin shortly before kickoff on the AnnArbor.com Michigan football homepage. Also, be sure to follow Kyle Meinke (@kmeinke) and Nick Baumgardner (@nickbaumgardner) on Twitter.
PHOTO GALLERY: Images from the Michigan football team's game against Minnesota
WHO: Michigan (5-3, 3-1 Big Ten) at Minnesota (5-3, 1-3 Big Ten).
WHERE: Minneapolis.
WHEN: 12:00 p.m.
ODDS: Michigan is favored by 10.5 points, according to sportsbook.com.
SERIES RECORD: Michigan leads (71-24-3).
LAST MEETING: Saturday, Oct. 1, 2011. Michigan beat Minnesota, 58-0.
WEATHER: Mostly cloudy with a 30-percent chance of rain. Winds blowing from the East at 5-10 m.p.h. Game-time temperature: Near 40.
BROADCAST INFORMATION: TV: Big Ten Netword; Radio: Michigan Sports Network (local affiliates).
AnnArbor.com coverage: It may seem strange to think about, but we're nine weeks into the college football season and Saturday will be the Michigan's first noon game all year. And since the team's on Minnesota time (CMT) it's technically not a even a noon kickoff. Before that noon kickoff, check out our build up to the game in one easy to read package: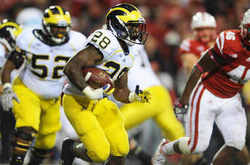 5 keys to victory: Michigan must get tailback production, no matter who it is (with prediction)
Name something that's 126 minutes and 1 second that you wish was over? If you answered the Michigan football team's touchdown-less streak (or the movie "Iron Man", which so happens to be the same length as Michigan's end zone drought) you are correct. Kyle Meinke says it must end (the streak, not the movie series) for Michigan to be successful on Saturday.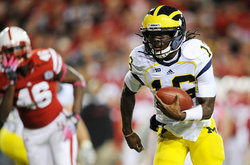 Denard Robinson's expected to start, but will Michigan's contingency plan be better prepared?
Michigan starting quarterback Denard Robinson has been declared the starter for Saturday's game with Minnesota, but that could all change depending on that nagging nerve injury in his throwing arm. If Denard can't go, or can't continue, will the Wolverines be better prepared for Plan B?
Denard Robinson's been hurt before, here's a look at 5 notable post-injury returns from the Michigan quarterback
Denard Robinson has carried the ball enough times and been sacked enough times to take a whole team's worth of beat downs. As a result, there have been many games, such as this one, where there was a question of how he would perform in light of his "boo-boos" which have ranged from bruises to staph infections. Here's a look at five such performances.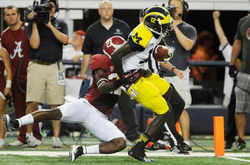 Denard Robinson expected to play, but Devin Gardner receives most QB practice reps
In the midst of its now more than two games long streak without a touchdown, Michigan has had Devin Gardner, who leads the team in receiving touchdowns, switch back to quarterback for practice purposes. Does this mean he's back as the No. 2 QB? What does this mean for the receiver corps?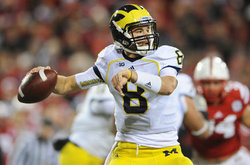 Michigan 'Ask Kyle' questions answered: Is it time to say the Wolverines are mediocre?
Are the Wolverines closer to the Top-10 team pundits believed they were at the beginning of the season, or unranked as they are now? Should the coaches be fired for their offensive play calling against Nebraska? Can Russell Bellomy cut the mustard? These questions answered and oh so much more.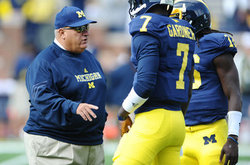 Wolverines Issue of the Week: If Denard Robinson can't go, who does Michigan turn to at quarterback?
After Michigan's less than inspiring performance under Russell Bellomy's direction in the second half against Nebraska, is there any doubt what our Michigan football writers would be talking about. The issue of the day is the quarterback position. Will Robinson go, and if not, who steps in?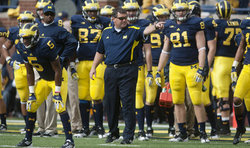 Michigan looks to stay unbeaten after losses under Brady Hoke
What's the longest losing streak the Michigan football team has endured under second-year head coach Brady Hoke? Trick question, the Wolverines have never had a losing streak in Hoke's tenure. They'll look to keep it that way on Saturday.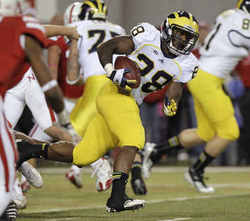 Michigan tailbacks, amid 39 percent drop in production, searching for answers
The Michigan tailback situation doesn't appear to be getting any better in a hurry. Michigan's running back have combined for just 660 yards so far this year, down from 1,081 yards through eight games last year. That's a 39 percent drop. How can Michigan address this?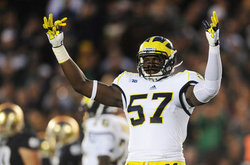 Michigan expects sophomore defensive end Frank Clark to play Saturday vs. Minnesota
Michigan coach Brady Hoke has been preaching all week that "if they can't score, they can't win." Well, the Michigan defense is expected to see Frank Clark back in the lineup on Saturday, which should certainly help those efforts. Clark did not play against Nebraska because of an ankle injury.

This and that:

WHO YA GOT?
MICHIGAN BREAKDOWN
It's expected that quarterback Denard Robinson will play this week, and he will need to be on top of his game if the Wolverines are going to end their TD drought, which now stands at eight quarters. Robinson is having a sub par season passing the ball (.536, 1,319 yards, nine TDs, nine interceptions), but he is a threat to go the distance every time he decides to hold onto it, rushing for 946 yards and six scores, his yardage total being nearly three times that of his closest teammate (Fitz Toussaint, 321 yards, four TDs). Not surprisingly, no pass catcher has more than 18 grabs and 318 receiving yards (Jeremy Gallon), although Devin Gardner has hauled in four scoring strikes among his 16 total receptions.
Michigan is outscoring the opposition by 10.8 ppg (28.0 to 17.2), and the defense has been at its best when trying to stop the pass (145.2 ypg, five TDs). The effort against the run yields 145.1 ypg and seven scores, but a glaring lack of big plays has clearly hurt the team. The Wolverines only have 10 sacks thus far, despite making 42 stops behind the line of scrimmage. Additionally, the unit has been credited with only seven interceptions and 13 total turnovers. LB Jake Ryan and Desmond Morgan rank one-two on the team's tackles list with 56 and 53, respectively, the former also pacing the club with 9.0 TFL and 3.5 sacks.
MINNESOTA BREAKDOWN
Minnesota is scoring just a shade more than it allows this season (25.2 ppg to 23.1 ppg), and the team has been rather balanced on both sides of the ball. Offensively, the Gophers typically roll up 162.9 ypg on the ground and 206.2 ypg through the air, the latter resulting in 16 of the unit's 24 TDs. Nelson has appeared in just two games this season, but he is a 60.9 percent passer who averages just shy of 200 ypg, and he has five TD tosses against two interceptions. Barker now has 30 catches for 577 yards and seven scores, while Kirkwood spearheads the rushing attack with 609 yards and three TDs.
Foes are producing 178 ypg on the ground, but just 159.9 ypg via the pass, and nearly twice as many TDs have been surrendered on the ground (15-8). Stoudermire continues to pace the club with 48 total tackles, but there are three others with at least 41 stops. DE DL Wilhite has 6.5 sacks, and fellow end RaShede Hageman has four, the team as a whole having taken down the opposing quarterback 16 times as part of its 43 TFL. The Minnesota defense has logged just 11 takeaways to this point.
FAST FACT
Both teams come in sporting a 5-3 overall record, but Michigan has won three of its four Big Ten bouts, while Minnesota has lost three of its four.
Around the Big Ten
Pete Cunningham covers sports for AnnArbor.com. He can be reached at petercunningham@annarbor.com. Follow him on Twitter @petcunningham.