Posted on
Sat, Apr 24, 2010 : 6:21 p.m.
Zoltan Mesko, Stevie Brown drafted, Donovan Warren goes unpicked
By Dave Birkett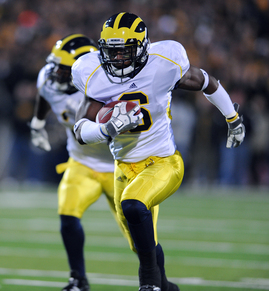 Donovan Warren's decision to turn pro a year early was a costly one.
Warren was not selected in the three-day NFL draft, which finished with Rounds 4-7 Saturday. He led Michigan with four interceptions as a junior last year and said when he left school in December he expected to be a top-three-round pick.
Warren did not return a phone call seeking comment Saturday, but wrote midway through the seventh round on Twitter, "Damn, From the bottom to the top on my mama".
After the draft, he Tweeted that he signed with the New York Jets as an undrafted free agent.
Three Michigan players were drafted this week: Defensive end Brandon Graham went in the first round, 13th overall, to the Eagles; punter Zoltan Mesko was the 19th pick of the fifth round by the Patriots; and the Eagles took safety Stevie Brown in the seventh round with pick 251.
Mesko, the first punter drafted, worked out for the Patriots last week in Ann Arbor. He said in a conference call with New England media that his long wait made him think he might go unpicked.
"But somehow the Patriots were really wanting to draft me and it was just unbelievable that they did," he said. "My heart is still racing and I'm still on cloud nine."
Mesko said he started rooting for the Patriots when he signed with Michigan five years ago because
Tom Brady
, his favorite NFL player, was their quarterback. When told Brady's locker was next to punter
Chris Hanson'
s last year, Mesko said, "Wow."
"He's done such a great job of overcoming being drafted in the sixth round," Mesko said. "It's crazy how much he has done and how many people he's proved wrong. That's my philosophy in life. I get motivated more about the negative things that are said about me. I like to fuel myself that way.
"I'd love to model myself after Tom Brady, so maybe getting to know him more will help that mindset."
Brown hosted a draft party for about 30 friends and family members Saturday in Indianapolis. He said he was sitting on the front porch when Raiders coach Tom Cable called to tell him he was about to be drafted.
"As soon as he said that my house erupted and everybody came running outside because it went across the TV at the same time," Brown said. "It's just a dream come true. This is what I've always worked for, this is what I've always wanted to do. I've always wanted to be in the NFL and this is my first step to it, knowing that my name was called and I get to go into camp and just it means a lot to me. It means everything to me right now."
Brown said he talked to Warren throughout the draft and was happy he ended up with the Jets.
"It might actually be a good situation that he gets to go play for his goddad," Brown said. "This wasn't the ideal turnout that he wanted, but everything happens for a reason."
Two other former Wolverines signed as free agents Saturday. Offensive tackle Mark Ortmann said in a text message he signed with the Carolina Panthers, and receiver Greg Mathews signed with the Chicago Bears.
More draft thoughts • Graham was Michigan's ninth first-round draft pick in the last 10 years, and maybe the Wolverines' last for a while. It's too early to say how underclassmen like left tackle Taylor Lewan and nose guard Will Campbell will develop, but Michigan doesn't have a first-round junior or senior on its roster and most of its skill players don't project well for the NFL.
Next year's draft class looks weak for the third straight year, with Steve Schilling the probable first Wolverine off the board somewhere in the early to mid rounds.
• Graham, by the way, was particularly excited about going to Philadelphia because of the way the Eagles plan to use him: As a defensive end, playing on the left side.
"They got me on best side," he said Thursday. "I'm glad I'm playing defensive line, too."
Some teams evaluated Graham as an outside linebacker for a 3-4 defensive scheme, and he put in a lot of work the past three months training for the position. Still, he always wanted to stay at defensive end.
"Linebacker is out of the picture now - until somebody wants to play me at linebacker," Graham said. "Still got it tucked (away). If they want to drop me (in pass coverage), I'm going to get an interception."
• Can't fault the Lions for trading back into Round 1 to get running back Jahvid Best. All it cost was a swap of fourth-round picks, and while USC defensive end Everson Griffen, Maryland offensive tackle Bruce Campbell and South Carolina linebacker Eric Norwood came off the board during the 28 spots Detroit moved down, it's a small price to pay considering history.
On Day 2 of the draft each of the last two years, teams traded up to the first pick to take the top running back left on the board. No telling if that would have happened Friday, but Martin Mayhew and Co. didn't want to miss out on the home-run hitter they think solidifies their backfield.
• If you're the Rams, would you rather have Sam Bradford and Rodger Saffold or Ndamukong Suh and Jimmy Clausen? The Rams took the former pairing with Picks 1 and 33, but could have had the latter had they gone with Suh, the consensus top talent available, No. 1 overall.
The NFL's a quarterback league, so taking Bradford with the first pick made sense. But if Clausen becomes a serviceable starter and Suh-perman returns, the Rams may live to regret their decision.
Dave Birkett covers University of Michigan football for AnnArbor.com. He can be reached by phone at 734-623-2552 or by e-mail at davidbirkett@annarbor.com. Follow him on Twitter @davebirkett.