Posted on
Thu, Aug 15, 2013 : 5:59 a.m.
2 restaurants, multifamily housing proposed for Zeeb Road near Meijer
By Lizzy Alfs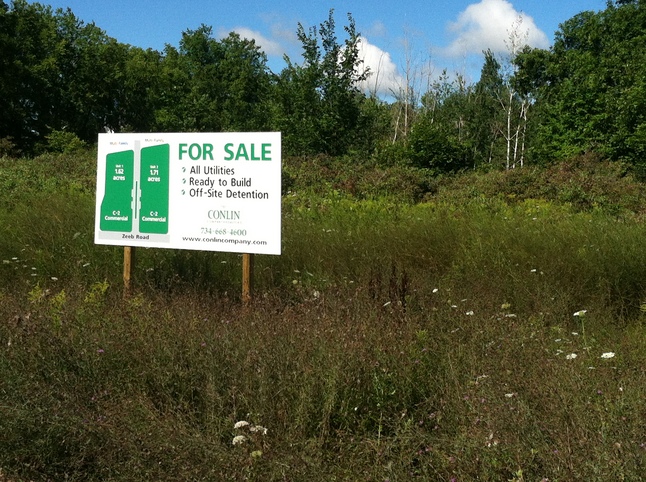 Lizzy Alfs | AnnArbor.com
A housing development and two restaurant buildings are proposed for a vacant site next to
Meijer
in Scio Township.
Scio Group Five LLC, an entity registered to developer Philip Conlin of Ann Arbor's Conlin Company Realtors, submitted a conditional use request to the township to build the mixed-use project on a roughly 14-acre site on Zeeb Road, just south of Jackson Road.
The proposal comes as developers continue to build multifamily housing projects in the city of Ann Arbor. Downtown is in the midst of a student housing boom, while apartment projects were recently proposed for Nixon Road and M-14, and Traverwood Drive off Plymouth Road.
But the development on Zeeb Road in Scio Township shows an increase in building activity outside the city limits, said Scio Township Supervisor Spaulding Clark.
"I think, with the somewhat resurgence of the economy…you're seeing a certain pent-up demand," he said. "Where three, four years ago you couldn't build a house to save your life and you wouldn't want to open a business, I think people are saying suddenly, 'Things are selling again.' "
"I think both the real estate market has picked up, and somewhat slowly, the business end of it is picking up as well. None of it is terribly surprising, but it has been a long dry spell," he continued.
Conlin said he acquired the South Zeeb Road property — which is zoned C-2 General Commercial and situated between Meijer and Cambridge Club Apartments — through a foreclosure in April. Conlin has been developing parcels along the Zeeb Road corridor for years, including the Scio Town Center, which included single-family homes, condominiums and commercial buildings.
Preliminary plans submitted to the township show the multifamily housing would be constructed on a 10.37-acre lot on the west side of the Zeeb Road site. Three-story, wood-frame multifamily buildings with 12 units each would border the lot, with parking located in the middle of the buildings. There would be 100 total units, and those would consist of one and two bedrooms.
"I have a commitment from Norfolk Homes to buy that 10 acres from me as soon as I get township approval," Conlin said. "At the point in time that we started negotiating, they were thinking apartments, but the condo market has improved so much that they are leaning back toward that."
The plans show tennis courts and a clubhouse building and pool would be constructed on the northeast corner of the lot.
Details on the cost and size of the units were not included in the preliminary plans.
Just east of the housing complex, two adjacent restaurant buildings are proposed. Plans show a fast-food restaurant and 99 parking spaces to be constructed on a 1.62-acre lot, and a sit-down restaurant and 98 parking spaces to be built on an adjacent 1.72-acre lot.
Engineering Technologies Corporation
"I have no tenants for the two retail pad sites in front," Conlin said. "I do not have anybody lined up to acquire those at this point in time."
He is marketing those two sites for sale for $650,000 each.
In 2008, a different developer targeted this site and received township approval to construct an Applebee's restaurant and a medical office and condo development.
"When I acquired it, it seemed to me that use is no longer viable in the market," Conlin said. "What I wanted to see, and what I think would be the most successful, is multifamily (housing) — either apartments or condos."
He added: "If you look at Meijer on Ann Arbor-Saline Road, that's what you have around it. You have housing."
Washtenaw County records show $28,951 in back taxes is owed on the property. Conlin said those taxes will be paid by Manchester Mortgage Co LLC — which bought the original mortgage from Citizens Bank — before the project moves forward.
The site has a 2013 assessed value of $379,400.
There will be a public hearing for the project at the Scio Township Planning Commission meeting at 7 p.m. on Monday, Aug. 26.

View Untitled in a larger map
Lizzy Alfs is a business reporter for AnnArbor.com. Reach her at 734-623-2584 or email her at lizzyalfs@annarbor.com. Follow her on Twitter at http://twitter.com/lizzyalfs.