Posted on
Thu, Mar 31, 2011 : 5:57 a.m.
$45 per square foot: New retail listings at 601 Forest signal changes on Ann Arbor's South University
By Paula Gardner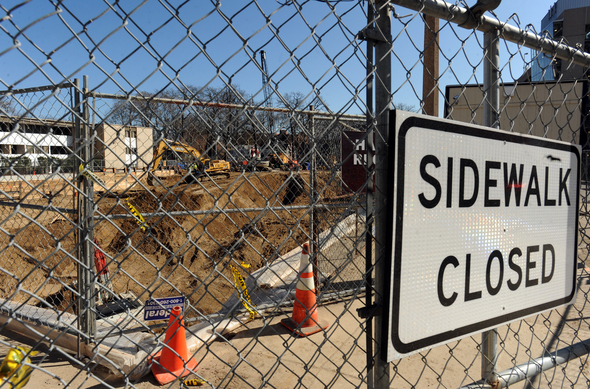 Melanie Maxwell | AnnArbor.com
Ann Arbor's new student high-rise developments are changing the residential landscape near the University of Michigan campus — and as their retail spaces come onto the market, they're preparing to reshape key commercial areas, too.
The new retail listing for 5 retail spaces at the 601 Forest high-rise sets a new ceiling for rental rates along South University, brokers say, with the asking rate at $45 per square foot.
"What it suggests is both an optimism about being able to get a strong ground-floor tenant in and the type of audience they'll be serving," said Susan Pollay, director of Ann Arbor's Downtown Development Authority.
"… The second piece of that is it will be interesting to see how the market receives it," she said.
601 Forest, located at the corner of South Forest, is being developed by Ron Hughes of Oakland County; Campus Acquisitions of Chicago; and Harrison Street Real Estate Capital.
The listing for the high-rise, which is expected to open in fall 2012, follows the listing for the new Zaragon Place 2, which has a retail space available across campus on East William for $42 per square foot.
Both indicate the commercial vitality generated in areas near the University of Michigan's Central Campus and the heightened leasing activity resulting from it, as evidenced by the wave of recent high-priced deals on South State.
The difference between the two new projects is the location: Zaragon raises the rates a couple of blocks from the Diag. At 601 Forest, the spaces will front the high-traffic commercial portion of the street, which caters to students and has lost some of its appeal to a broader range of customers as a result.
South U once was home to high-end retailers and more than student services, recalled Jim Chaconas of Colliers, listing broker for the 601 Forest spaces.
Today, he said, the lack of vacancy on the street speaks to its ability to connect the student market with retailers that inspire them to spend. As the number of U-M students climbed above 40,000, there's a base to support the corridor's growth — including in rental rates — in coming years, he said.
"There's volume there now," Chaconas said. "And it's a fairly wealthy campus, which helps."
South State Street, in comparison, "always had the corporate synergy," said Brendan Cavender, also from Colliers.
Rental rate hikes followed Starbucks, Potbelly and Panera to that area several years ago, and now they're climbing with additions like 7-Eleven, Five Guys Burgers and Fries and CVS, according to brokers who watch the commercial district on the western entrance to U-M's Diag.
That's happening amid student housing expansion near the corridor, which also is holding onto anchor retailers like Borders and Urban Outfitters, as well as region-wide draws like the Michigan Theater on East Liberty.
At the other end of the Diag, the South University district raised community concern several years ago as the business mixed turned to student-oriented retailers and the rental rates climbed to the $30-per-square-foot range.
Today, South U is solidly student-oriented despite some successful operations that pull from a wider audience — like Pizza House, located steps away from South U on Church Street, and the U.S. Post Office.
Another example was Village Corner, the longtime wine shop that was bulldozed to make way for 601 Forest. (Owner Dick Scheer still promises news on a relocation.)
Yet the rental rates mostly haven't climbed above that plateau since then, said Jim Porth of the Thomas Duke Co. One reason is the number of long-term lease deals.
Another, he said, is what some retailers say are flattened sales over several years.
The question about the 601 Forest construction, he said, is how much will it drive increases in retail sales along the street?
"It's a great spot and it's going to change the traffic pattern somewhat and draw students closer to South University," Porth said. "But it may not force more sales than existing tenants are getting."
Yet adding 640 student beds to the street — even if it just pulls them from fringe areas of campus — adds luster to the street for a retailer, said Chaconas.
And as he priced the 601 Forest retail space, he considered the lack of availability in older properties along the street. Today, only one vacancy is listed — and it's the Campus Rental office at the Washtenaw corner, a space that could be converted to retail use.
"There's such an onslaught of people wanting to be there and it's such a minute market," Chaconas said.
The national chains that are finding success on South State also send an encouraging message to other nationals that may want a piece of the Ann Arbor student market. While some — like CVS — see the potential to serve beyond the student market on South State, others are renewing their interest in looking at South U.
The 601 Forest listings may take some time before they're converted to leases — with new construction, many retailers wait until the end is in sight before committing.
Yet there's already interest in the space, Cavender said, mostly from national restaurants.
The new construction will indicate to Ann Arbor both how deep the student rental market is for spaces next to campus — and the appetite for retailers to seek that proximity, too.
The result, according to Porth: "The epicenter of student life is constantly changing with development."
And adding the storefronts to the lower level of a large residential complex could add a new energy to the street, Pollay said: "It's an opportunity for the whole district to get a fresh start."
Paula Gardner is Business News Director of AnnArbor.com. Contact her at 734-623-2586 or by email. Sign up for the weekly Business Review newsletter, distributed every Thursday, here.