Posted on
Wed, Sep 15, 2010 : 6:02 a.m.
5 reasons why Washtenaw Avenue improvements don't require a new tax-capturing authority
By Paula Gardner
Improving Washtenaw Avenue is personal to me: I live about one mile from it and spend a lot of time driving on it.
I also wish I spent more time walking along it, but I learned long ago - when my children were in a stroller - that trying to cross Washtenaw made me feel like I was playing a life-size version of the "Frogger" video game.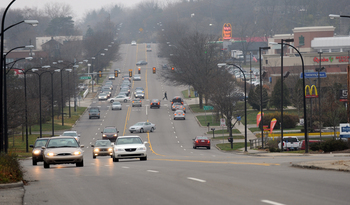 Lon Horwedel | AnnArbor.com
Still, I've grown comfortable living near the Washtenaw commercial center, even if some of that proximity still results in more driving than seems necessary in my own lifestyle.
Making improvements to the corridor that involve making it pedestrian-friendly and commercially viable will benefit the community. I've been particularly concerned about that as certain obvious vacancies on the east end of the road in Ypsilanti continue to await a new occupant, like the former Pinter's Flowerland and nearby vacant Hollywood Video.
However, news that Washtenaw County's effort to improve the corridor involves creating a new tax-capturing authority fills me with dread.
Here are five reasons why I still need to be persuaded that creating a Corridor Improvement Authority is a good idea:
1. We don't need another public body in the development business. And I'm not just saying that until the economy improves. If we haven't learned anything from Ann Arbor's repeated failures to develop on its own property - despite plenty of attempts - then take a drive past Water Street in Ypsilanti. It looks better now that grant funding drove building demolition. But the financial picture from the city's general fund carrying the bond payments for years, until some of the land is sold, is still ugly. Any move that improves Washtenaw by creating a public body that can buy and develop property is dangerous.
2. At some point it's up to the property owner to decide if the property is underutilized. I live near the former Frank's Nursery at Yost, and can't help but wonder why nobody uses the former outdoor area next to what's now the Dollar Tree. And the rest of the stores in that center - like Casual Male XL and a uniform store - don't require the number of parking spaces available. But is that government's role to fix? What kind of incentives does the county want to wave in front of the owner to change anything? And why should that owner get any incentives over any other owner? If that owner - local attorney Duane Renken - is satisfied that the mall is operating at its highest and best use, do the rest of us, or our governments, need to force a change?
3. There isn't a high vacancy rate in the corridor now. However, there are some high-profile vacancies, and there's a difference between the two scenarios. One example: The former Farmer Jack on Washtenaw is a large retail space designed for a specific use that isn't attracting a tenant. Ditto the former Circuit City space in Arborland. Some day, the market will return - or the landlord will get tired of carrying vacant space. In the meantime, I believe there's an impressive level of occupancy along the corridor, particularly in this economy. McKinley continually finds tenants for Glencoe Crossing. The newer center south of it on Washtenaw is full. Courtland Plaza, near the Dairy Queen to the east, has two spaces available. At the same time, the single buildings on that corridor - the former Taco Bell, the former Hot n' Now, the former gas station at the corner of Hewitt - all are priced as redevelopment opportunities or for startups. The market hasn't found them yet, and putting tax dollars to subsidize the redevelopment while the market is stalled is money misspent.
4. Couldn't cooperative zoning among the communities yield a similar result? Why does the county need to capture tax increases - preventing other jurisdictions from reaping those benefits at the same time - to accomplish a zoning vision? As an example, look again at the former Frank's Nursery. Every December, Christmas trees are sold at the edge of the parking lot. That tells me there's room to carve an outlot parcel in that parking lot. That could be achieved at the zoning policy level, clearing the way for market forces to make it work - if it's truly viable.
5. Setting up a system that depends on capturing increases in taxable values is presumptive. I do not believe that Washtenaw County's commercial real estate values will fall into infinity. And I trust that, at some point, they'll rise again. But right now, that's not the case. And next year, based on what I hear about distressed properties and landlord concerns, I don't believe that'll change. Arborland, one of Ann Arbor's largest taxpayers, lost $847,300 in taxable value in 2010. The Kmart in Ypsilanti Township lost $764,900. Rebuilding that tax base could take a decade or longer. In the meantime, a system would be set up to use money that doesn't exist. In effect, it also tells municipalities that, after losing tax revenue over recent years, and probably in years to come, they won't rebuild coffers from one of their most visible commercial corridors.
Paula Gardner is Business News Director of AnnArbor.com. Contact her at 734-623-2586 or by email. Sign up for the weekly Business Review newsletter, distributed every Thursday, here.