Posted on
Thu, Aug 5, 2010 : 5:45 a.m.
601 Forest developer finalizing last steps before construction permits can be filed
By Paula Gardner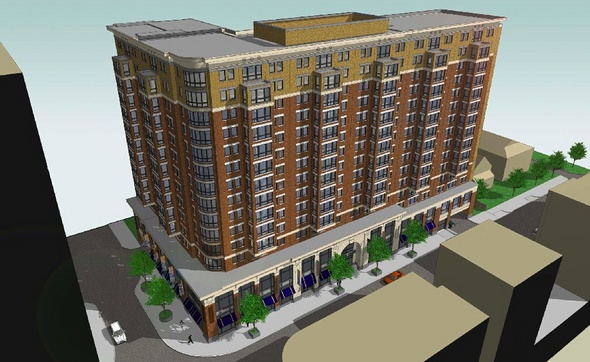 Ann Arbor web archives
The developer of the
601 Forest
student housing development continues to
finalize plans
for the 14-story high-rise at the corner of South University and South Forest Avenue.
Developer Ron Hughes has told the city he hopes to break ground this fall, said city planner Matt Kowalski.
Now Hughes is finalizing minor revisions to the building design, Kowalski said. That appears to be the final step before Hughes can submit demolition permits for the retail and residential buildings now on the 0.79-acre site.
In June, Hughes sought some changes to the plans for 601 Forest that were approved in October 2008:
• The bedroom count would climb by 10 to a range of 570-620. 
• The number of parking spaces would go from 102 to up to 146, due to moving the location of a water storage tank. 
• The building size would be reduced by about 9,000 square feet from its original 227,223 square feet.
Kowalski said that while those changes were allowed, he requested some changes to the exterior of the building after it was altered by some interior modifications, including changing the location of a stairwell.
"They had proposed some changes which I did not feel were in line with the council-approved plan," Kowalski said.
The changes to the site plan only require administrative approval and do not need to go back to council, he added.
"Pretty much all of the other issues have been addressed," he said.
Hughes did not return calls seeking comment.
The 601 Forest project is the second student high-rise in active development stages in the city.
The site plan for Zaragon Place 2 is set for a public hearing on Thursday during the City Council Meeting. The project at Thompson and East William streets by Chicago developer Rick Perlman received unanimous approval from the Planning Commission on June 15.
Paula Gardner is Business News Director of AnnArbor.com. Contact her at 734-623-2586 or by email. Sign up for the weekly Business Review newsletter, distributed every Thursday, here.