Posted on
Fri, Jul 12, 2013 : 5:58 a.m.
'American Made Movie' bringing buy-local message to Michigan Theater
By Ben Freed
The American Made Movie will roll into Ann Arbor Saturday as part of a 32-day nationwide tour of the film that focuses on the impact of manufacturing on the country's economy.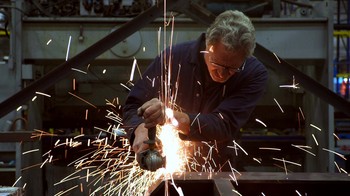 American Made Movie screenshot
The film screening is sponsored by the
A2Y Regional Chamber of Commerce
and will feature a panel discussion afterwards featuring filmmakers
Vincent Vittorio
and
Nathaniel Thomas McGill
as well as chamber president Diane Keller and a number of local manufacturers.
Vittorio said the discussions that have occurred after screenings of the film have been one of his favorite parts of the tour.
"We tried to make sure to find communities for the tour that were either part of the film or have a connection to local manufacturing," he said.
"And it's fascinating to see how different cities and different regions react to the movie and its message."
The film is the second for Vittorio and McGill's production company Life is My Movie. According to the company's website, the company's previous film "An Inconvenient Tax" addressed America's "fundamentally broken tax code."
Vittorio said he likes the documentary genera and belies that "American Made Movie" takes a more positive approach than many previous films.
"Sometimes documentaries can be very 'doom and gloom,'" he said.
"But I feel happy that our film gives people a solution. Every American from a business owner to a stay-at-home parent with three kids can do it. It's great to see the response from people and the look on their faces that say 'Wow, I can go out and make a difference.'"
According to a press release, the movie "looks back on the glory days of U.S. manufacturing when there was a balanced relationship between the goods produced and goods consumed."
Vittorio said while companies are responsible for helping to maintain that balance, some of the burden also falls on consumers.
"When you buy something as simple as a banana from your home state as opposed to Nicaragua or Costa Rica, you're making an impact," he said.
"… If you pay a little more it's something that allows you to support your local and national economy."
Washtenaw County was home to approximately 14,000 manufacturing jobs in 2012, and according to an economic forecast commissioned by AnnArbor.com, that number is expected to grow by more than 650 jobs during the next three years.
According to an Information Technology and Innovation Foundation report, Michigan lost 46.7 percent of its manufacturing jobs between 2000 and 2010. However, in the current decade Michigan has lead the nation in manufacturing job creation according to a recent CNBC report.
Chamber spokesperson Chelsie Whitehead said in an email the chamber is sponsoring the screening of the movie because it will help remind the community of its connection to the local economy.
"'American Made Movie' is important because it allows Americans to take a more in-depth look at manufacturing in America," she said.
"It begs us to ask the questions 'Do I buy American made products?' and 'Do my everyday activities assist in the growth of the American economy?'"
Vittorio said after the tour, he and McGill plan to theatrically release the film in major cities throughout the U.S.
"It will be running in New York and Los Angeles for sure," he said.
"And through this tour we're getting an idea of the markets where there's more of a demand for this kind of film. Probably Atlanta, Chicago, Pittsburgh and similar cities."
The movie will be shown at 5 p.m. Saturday at the Michigan Theater. The post-film panel will include Saline Lectronics manufacturing manager Jason Sciberras, Arbor Assays operations manager Barbara Scheuer and Creative Windows operations manager Vanessa Thoburn.
Ben Freed covers business for AnnArbor.com. You can sign up here to receive Business Review updates every week. Get in touch with Ben at 734-623-2528 or email him at benfreed@annarbor.com. Follow him on twitter @BFreedinA2