Posted on
Tue, May 25, 2010 : 5:59 a.m.
Ann Arbor developers buy ex-Shops at Arlington retail site on Washtenaw
By Paula Gardner
New owners are taking over the vacant 7.2 acres on Washtenaw Avenue that developers planned to turn into a national-quality retail center before the economy turned and the property went into foreclosure.
The deal for the property known as The Shops at Arlington - located across Washtenaw from Whole Foods - was finalized Thursday with seller Comerica Bank.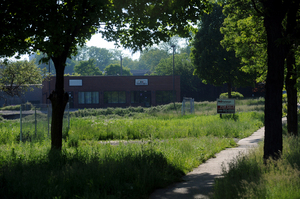 Melanie Maxwell | AnnArbor.com
The buyers are Campus Realty - based in Ann Arbor - and North Shore Properties Group, a Chicago-area company that specializes in retail leasing and development.
The $3 million cash deal rose to the top amid several other offers early this year, said Paul Debono, listing agent with NAI Farbman.
"They beat out several well-respected local and national development groups to get the deal," Debono said.
The deal reactivates a high-profile development site that's been dormant since site plans for a 96,000-square-foot retail center, 12 residential units and 371 parking spaces were approved in 2006. Those plans expired last fall.
Comerica foreclosed on the property in 2008 when just under $8 million was owed by developers Bill Conlin and the late Gordon Mathews.
Conlin and Mathews proposed the development after the success of their Huron Village project, just north across Washtenaw Avenue. They had interest from several national retailers who wanted entry to the Ann Arbor market in the high-traffic corridor about one mile west of US-23. The economy and Mathews' death stalled the project, leading to the foreclosure.
This month's purchase appears to indicate a retail component could eventually be part of new site plans.
The property includes:
• The former car dealership - now a vacant lot - across from Huron Village, which includes Whole Foods and Barnes and Noble.
• A long-term land lease for the retail building that still has a Stucchi's sign.
• The two parcels with vacant commercial buildings just east of Platt Road.
The fact that several buyers were interested in the property speaks to its profile in both the Ann Arbor and Southeast Michigan markets, Debono said.
Few land sales are reaching the closed sale phase, he said, given the vacancy rates among commercial buildings and the pace of new construction in the residential land arena.
"We're advising our clients right now to - especially lender clients - to hold onto land listing right now instead do of putting them on the market," Debono said.
The winning bid wasn't the highest, DeBono added, but the buyers were willing to pay cash without first taking the property through site-plan approval, he said.
"You don't typically see a buyer do that and take on the risk," Debono said.
Campus Realty owns 31 properties in Ann Arbor, according to its website. The buildings range from converted homes to commercial space on South University, and they also include some new construction. The Amsterdammer on South University and brick townhouses on Washtenaw near Hill are examples of newer projects by Campus Realty.
Neither Tom nor Sally Stegeman of Campus Realty was available to comment.
The company has a reputation for building quality projects, real estate experts said.
North Shore Properties works on leasing, consulting and new development projects with a retail focus. Among its current projects, only Adrian Mall - about 40 miles southwest of Ann Arbor - is in Michigan.
North Shore's principals did not return calls seeking comment.
Ann Arbor planning officials said they've talked with several potential bidders for the property over the last several months.
"Nothing has been submitted," said Jeff Kahan, assistant city planner.
The C3 zoning for the land allows retail, office and residential uses, he said. The property's slope at its southern end adds a development challenge, Kahan added. Previous plans called for parking there.
Paula Gardner is Business News Director of AnnArbor.com. Contact her at 734-623-2586 or by email. Sign up for the weekly Business Review newsletter, distributed every Thursday, here.