Posted on
Wed, Jul 10, 2013 : 2:52 p.m.
Ann Arbor named a top city for college graduates with science and engineering degrees
By Ben Freed
Ann Arbor popped up on another "Top 10" list this week.
The city scored the No. 9 spot on financial literacy and consumer advocacy site NerdWallet's top areas for STEM — science, technology, engineering and mathematics — graduates.
The survey took into account the percentage of jobs that require a STEM degree, salaries for STEM and non-STEM jobs and the local economy as judged by the overall unemployment rate.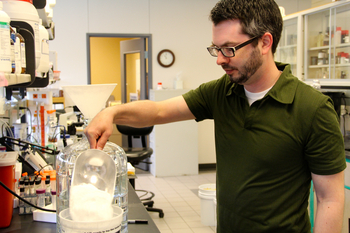 Ben Freed | AnnArbor.com
"There weren't many surprises in what we found, a lot of it was what we expected," NerdWallet analyst
Divya Raghavan
said. "A lot of the cities on the list are tech hubs, and a lot of them are in the coastal cities."
Ann Arbor is the only Michigan Midwestern city in the top 10, while Rochester, Minn., the only other Midwestern city on the list, checked in at No. 15.
The San Jose metropolitan area topped the list as the best place for holders of STEM degrees and Northern California counterpart San Francisco also was in the top 5.
According to the study, the average salary for jobs in Ann Arbor that require a STEM bachelors degree or higher is $83,759, while the average for all other jobs comes in at $47,198.
According to the Washtenaw County economic forecast commissioned by AnnArbor.com, high-wage jobs paying more than $62,000 per year have been growing at a faster rate than any other sector.
STEM jobs are spread across a number of sectors in the economy, and indications in the economic outlook point to continued growth job in categories dominated by people with science, engineering and math degrees. There are expected to be nearly 200 more private sector scientific research and development jobs in the next 3 years in the area, as well as 230 new architectural and engineering jobs.
Expanding technology companies also play a role in the STEM hiring spree in the area. Startup companies located in incubators like the Tech Brewery and SPARK Central have the potential to grow rapidly, and established companies like Barracuda Networks, PRIME Research and Menlo Innovations that have moved their offices into Ann Arbor's downtown "tech hub" have been hiring at high rates.
Those gains do not include the primary engine that drives STEM hiring in the area — the University of Michigan. The NerdWallet survey points to the university as a primary STEM employer and also notes programs like the M-STEM Academy at U-M encourage students at a young age to explore degrees and careers in science and math-focused fields.
Ben Freed covers business for AnnArbor.com. You can sign up here to receive Business Review updates every week. Get in touch with Ben at 734-623-2528 or email him at benfreed@annarbor.com. Follow him on twitter @BFreedinA2