Posted on
Sat, Nov 5, 2011 : 9:53 a.m.
Ann Arbor's business leaders urged to work for change: 'We really only win together'
By Paula Gardner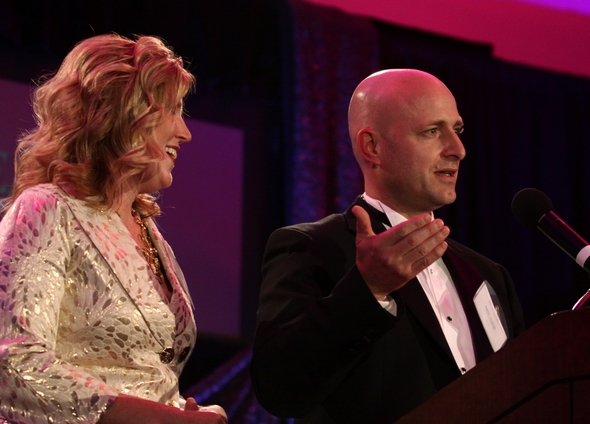 Jeff Sainlar | AnnArbor.com
Vision, passion and perseverance drove the success behind this year's Executive of the Year winners at the 7th annual
Deals of the Year.
The three traits united to cultivate not just a company and not just a goal, but the type of effort that fueled a $23 million sale of Adaptive Materials Inc. after years of innovation to fill an unmet market need.
AMI founders Aaron and Michelle Crumm accepted the award from their attorney, David Parsigian, who added that "together, they achieved something remarkable."
Yet in accepting the award, the Crumms told the crowd that while they were proud of their hard-fought results, they also appreciated what it meant for Ann Arbor. They received advice and support from mentors in the business community and now try to return that.
And that's what can fuel more innovation and more business success in an region that continues to set an example for Michigan.
"This is a success story for all of Ann Arbor," Michelle Crumm said.
That element of generating further success was a constant theme at this year's Deals of the Year, which drew a crowd of about 375 to the Eastern Michigan University Student Center. The event is sponsored by AnnArbor.com.
The opening address from Gov. Rick Snyder set the stage for that theme, as he reminded the crowd of his efforts to reinvent the culture of Michigan into one of success through "relentless positive action."
"We've spent too much time being too negative," he said.
That won't stop until the state stops encouraging businesses, communities and residents to have a "win-lose" mentality and turn toward a forward-looking, inclusive and collaborative environment.
Those elements are found in Ann Arbor, he said, and many in the room were responsible for that.
The people at the seats "are at the heart of reinventing Michigan," Snyder said through core attributes of teamwork and partnership.
A total of 16 awards were presented Friday, including seven companies that earned the "Fast Track" designation from Ann Arbor SPARK and seven sectors receiving "Deals of the Year" trophies.
Also presented was the award for Company of the Year, which went to ForeSee.
Presenter Michael Finney, CEO of the Michigan Economic Development Corp. , noted that the success of the company reaches across the U.S. due to national clients and its growth has led to more than 200 jobs - with more to be added.
Attendees were left with a challenge from Snyder, who said he'd also like to see politicians take on two new guiding principles: Blame no one and take credit for nothing. If that could happen, he said, "they'd get something done."
In the meantime, he told the crowd, he said they had a choice, too. He encouraged them to pursue "events of action."
"We really only win together," Snyder said.