Posted on
Fri, Nov 4, 2011 : 10:15 p.m.
AnnArbor.com's Business Review reveals winners of 2011 Deals of the Year awards
By Nathan Bomey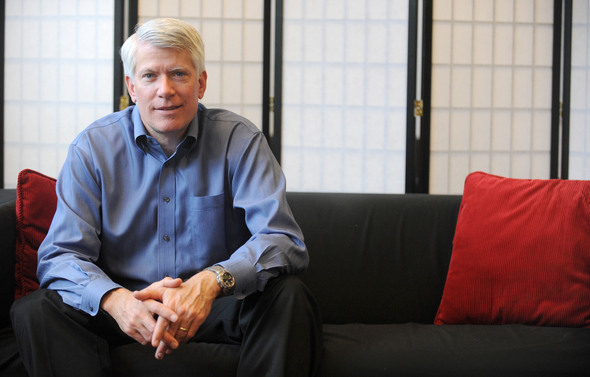 Angela J. Cesere | AnnArbor.com
File photo | AnnArbor.com
See a photo gallery of AnnArbor.com Business Review's 2011 Deals of the Year
Ann Arbor-based customer satisfaction firm ForeSee and advanced manufacturing entrepreneurs Michelle Crumm and Aaron Crumm received the top awards tonight at AnnArbor.com Business Review's 2011 Deals of the Year ceremony.
The event — which honors the best and most significant business deals, transactions and announcements of the last 12 months — took place at
Eastern Michigan University
's Student Center. It was the seventh annual Deals of the Year ceremony, which AnnArbor.com continued in 2009 when it absorbed the Ann Arbor Business Review brand.
Tonight, ForeSee, which shortened its name from ForeSee Results earlier this year, was named Company of the Year. Michelle and Aaron Crumm, the husband-and-wife team who launched Adaptive Materials and sold it on Dec. 31 for $23 million, won the Executive of the Year award.
ForeSee, which has increased its revenues in every successive quarter since it was founded the week of 9/11 in 2001, hired its 200th employee this year. The company has about 180 workers at its Ann Arbor headquarters and is expanding its customer satisfaction measurement services to include mobile websites, social media, call centers and in-store customer satisfaction.
In September, ForeSee CEO Larry Freed projected that the company would add another eight to 10 employees this year and about 30 next year.
"We see nothing in front of us that tells us" the growth will stop, Freed said. "We just need to keep executing well."
The Crumms were honored less than a year after they sold Adaptive Materials to United Kingdom-based Ultra Electronics Holdings, which is now expanding the manufacturing capacity at the firm's 47,000-square-foot operation in Pittsfield Township.
The Crumms managed to build Adaptive Materials strategically and methodically, securing more than $45 million in government funding and contracts without ever accepting venture capital funding, which would have diluted their equity in the company.
The company has added about 10 employees since the acquisition for a total of about 65.
AnnArbor.com's Business Review also distributed awards in seven other categories:
--Evangelical Homes of Michigan won the Health Care award after signing a deal to lease the vacant inpatient unit at St. Joseph Mercy Health System's Saline hospital. EHM is using the space to expand the rehab capabilities of its Saline nursing home facility.
--Mark's Carts won the Retail award after Downtown Home & Garden owner Mark Hodesh created a new, innovative model for local dining — an outdoor food courtyard that has proved to be instantly popular to customers and serves as a springboard for culinary entrepreneurs.
--Accuri Cytometers won the Technology award after it was sold for $205 million to Becton, Dickinson and Co.
--University of Michigan's Technology Transfer Office won the Research award after launching the Venture Accelerator, a new business incubator at the ex-Pfizer campus now owned by the university. The incubator houses some of the university's own startup companies, helping them accelerate their technology and pursue their business models.
-- Phoenix Contact received the Commercial Real Estate award after recruiting Amcor to share space at the former Atwell Hicks building, which Phoenix Contact purchased.
--The Nonprofit award was distributed to the groups that formed the Washtenaw Coordinated Funders, including the United Way of Washtenaw County, city of Ann Arbor, Washtenaw County and the Ann Arbor Area Community Foundation. Those groups created a new coordinated funding model, simplifying application processes, expediting funding distribution and delivering grant decisions to fund human services.
--The University of Michigan Health System's C.S. Mott Children's Hospital and Von Voigtlander Women's Hospital won the Construction and Development award. The new $754 million, 1.1 million-square-foot hospital is expected to open Dec. 4.
Contact AnnArbor.com's Nathan Bomey at (734) 623-2587 or nathanbomey@annarbor.com. You can also follow him on Twitter or subscribe to AnnArbor.com's newsletters.