Posted on
Mon, Apr 4, 2011 : 5:55 a.m.
Ann Arbor prepared-meal business Harvest Kitchen relocating to Ypsilanti's Depot Town as it expands
By Tom Perkins
Tom Perkins | For AnnArbor.com
Ypsilanti's Depot Town will soon see the arrival of a new addition to its culinary community. This establishment, however, is a little different.
Ann Arbor-based Harvest Kitchen is moving east to a new home at 32 East Cross St., where it will continue offering "subscription-based" meals.
But, in an effort to broaden the business' customer base, owner Mary Wessel Walker said the kitchen will also now offer carryout meals to those who don't have memberships.
Currently, an individual or family must sign up for a 6-month or year-long membership with the kitchen. Once a week, members pick up homemade local food from a changing menu created by Wessel Walker, chef Veronica Vincent, and Michelle Hartmann, who co-owns the shop.
Customers can choose a vegetarian or omnivore option, and the weekly offerings are crafted around what local farm suppliers have available, or what's in storage from a recent harvest. Thus, the menu is always seasonal and the food mostly fresh from the farm.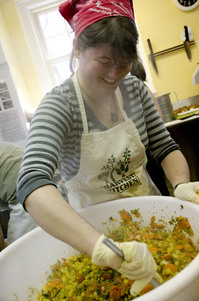 Tom Perkins | For AnnArbor.com
Customers can also choose between a half and a full portion. Wessel Walker said whole portions provide enough for three to four meals for a family of three or four, and an individual or couple sharing a half portion can also expect enough for three or four meals.
This week's menu, as posted on the Harvest Kitchen blog, features tofu vegetable croquettes, Tantre Farm spinach from Chelsea, pumpkin empanadas, and slow-cooked pork carnitas, served with Ann Arbor Tortilla Factory tortillas.
The concept has caught on in Ann Arbor, where Harvest Kitchen now serves 70 families in a somewhat limited operation at 1923 Geddes Road. Their kitchen is only available on Tuesdays and Thursdays, so an expansion to a full kitchen in the former Queen of Hearts Bakery makes sense for Wessel Walker and Hartmann.
"It's really exciting times here," Wessel Walker said. "Our business is growing well beyond the capacity of the space we're currently using … and having our own space will allow us to be able to take it to the next level."
There were no plans to relocate to Ypsilanti, Wessel Walker said, but the business simply "found the right space at the right time." Harvest Kitchen brings 12 employees now working on a "very part-time" basis, though with the expansion, Wessel Walker anticipates doubling business and providing greater employment opportunities.
Hartmann said the new location will double their production capacity and proximity of the farmer's market across the street will address some logistical concerns.
Part of what made the move and opportunity to grow possible was a $28,000 United States Department of Agriculture grant awarded to Harvest Kitchen in September. Hartmann said the Farmer's Market Promotional Program grant is awarded to businesses to help facilitate the creation of unique distribution channels for farmers.
The USDA officials were so impressed by Harvest Kitchen's business model that USDA Deputy Secretary Kathleen Merrigan visited the business to present the grant and try some food.
Wessel Walker said one of the biggest challenges so far was getting people comfortable with the idea of locking into a 6-month food subscription, and she expects a retail location where people can see the store and come in to purchase food will provide a significant boost.
Although customers will be able to come in and buy, for example, a tub of soup and a salad, Wessel Walker said there won't be sit-down service, and subscription meals will still "be the backbone of the business, and best way for people to get more food and more variety."
"That's kind of our model — to encourage families and people to sit together at home and have good food to eat," she said.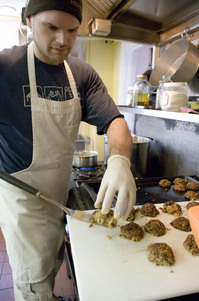 Tom Perkins | For AnnArbor.com
Wessel Walker said Harvest Kitchen was benefiting from the local foods movement in Washtenaw County. The concept of receiving a home-cooked meal prepared with food from local farms is one that Ann Arborites have warmed to, Wessel Walker said, and she expects the same response from the Ypsilanti community.
Ypsilanti already has a local foods movement supported by Growing Hope, the Ypsilanti Farmers Market and the Ypsilanti Food Co-op.
Additionally, Cafe Ollie, a vegan and vegetarian-friendly restaurant offering local vendors' foods, recently opened several doors down Cross Street.
Several blocks away, an Ypsilanti husband-and-wife team launched Unity Vibration Kombucha Tea Company, which features local farms' produce in their drinks.
Wessel Walker updates each week on the Harvest Kitchen blog which crops are doing well or which are having a poor season, and what that means for the menu. For example, a rainy fall may lead to an especially bountiful broccoli crop, which means customers could see a stretch with more broccoli in their meals.
"People love that the food has a connection locally and they can see the connection there," Wessel Walker said. "I think they really appreciate the feeling of community you get from it."
Editor's note: The spelling of Mary Wessel Walker and Michelle Hartmann's names have been corrected. Harvest Kitchen's Ann Arbor address has also been corrected.
Tom Perkins is a freelance reporter for AnnArbor.com.