Posted on
Mon, Jan 3, 2011 : 6 a.m.
Ypsilanti fermented tea company rebounds after 6-month regulatory battle
By Tom Perkins
An Ypsilanti-based business recently reached the conclusion of a six-month regulatory saga that nearly sunk the family run operation. Rachel and Tarek Kanaan, Unity Vibration Living Kombucha Tea founders, expressed relief while recounting the process.
They paid the bills for November, they bought Christmas gifts for their kids, and nothing got shut off, the husband and wife team said. In the last month, Unity Vibration's tea has been classified as "beer" by the Michigan Liquor Control Commission, an insurer took on the company and all necessary federal and state agencies have rubber-stamped the product.
Because the drink has greater than 0.5 percent alcohol, it must be classified as alcohol, and the Food and Drug Administration yanked all kombucha tea brands from shelves in July.
Companies that produce it were subsequently referred to the United States Alcohol Tax Tobacco and Trade Bureau in the first step of a long reclassification process.
Also important, Unity Vibration's new distributor, Imperial Beverages, has a reputation for working well with smaller craft beverage companies, and the first shipment of tea since the FDA pulled the product went out Dec. 16.
Life got tight for the Kanaans in the meantime. Unity Vibrations showed promising sales when it came to regulators' attention that the tea contained roughly 1.5 percent alcohol and had trace amounts of caffeine.
After bouncing between several agencies at federal, state and local levels, Unity Vibration landed at the Michigan Liquor Control Commission in November. There the Kanaans once again set out to explain that they were producing a health drink, not a frat party beverage.
As with other agencies and government bodies, the LCC raised a fresh set of concerns. Specifically, Michigan was in process of banning controversial alcoholic drinks with caffeine like Four Loko, a malt liquor containing high amounts of taurine, caffeine and alcohol.
Although not invited to a meeting of business meeting held by two LCC commissioners, it came to the Kanaans' attention that the meeting was public. They showed up, gave their presentation and explained the product to the commissioners.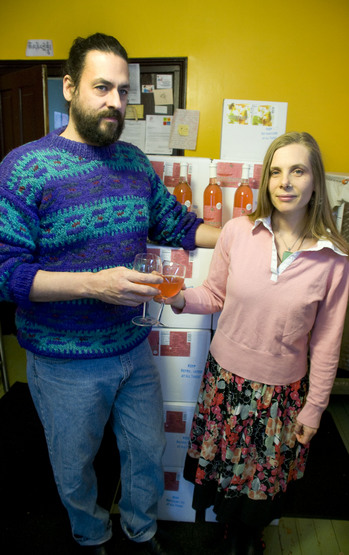 Tom Perkins | For AnnArbor.com
Kombucha tea is a fermented raw health drink that has a longer history in Russia and China, but was only relatively recently imported the United States. Its popularity increased significantly in recent years, and Unity Vibration is one of the new companies benefiting.
The organic tea is made from a living yeast and bacteria culture placed in water with sugar and different types of tea. The yeast produces the alcoholic content on which the bacteria feeds. Unity Vibration then adds fresh fruit juice from local farms.
After a fermentation period of 22 days, the process yields a unique, tart tea not too unlike sparkling apple cider, and it's known for being stocked with probiotics, beneficial acids, vitamins and minerals.
Most kombucha teas have an alcohol percentage between 0.5-2, and less caffeine than decaffeinated coffee.
Although the Kanaans explained this, a business manager who was not a commissioner with the LCC but who was at the meeting held up their microbrewery license application because she had heard that the FDA was in the process of banning any drink containing alcohol and caffeine. The commissioners listened to the manager, which held up the process, Tarek Kanaan said.
The Kanaans next consulted with a contact at the Trade Bureau who explained the FDA will only be banning drinks containing alcohol that have significant amounts of added caffeine, not those with small amounts of natural caffeine from tea leaves, for example.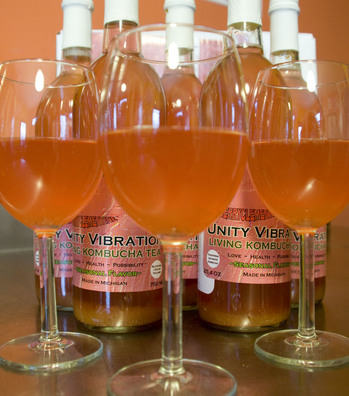 Tom Perkins | For AnnArbor.com
Tarek Kanaan said he put the business manager from the LCC in touch with the Trade Bureau rep, and the LCC subsequently stamped Unity Vibration. A week later, the Kanaans were again moving tea.
"We were so happy and excited about it," Rachel Kanaan said. "We were sort of in shock … but it was a really great feeling and a release for sure."
The last step was finding an insurer. Again, the product's relative newness on the market presented a problem. Also, the Kanaans brewing out of their home kitchen, despite the fact that the kitchen is certified by the Michigan Department of Agriculture, caused concern among insurers. Five insurance companies later, Lansing-based Lyman and Sheets, which has experience working with smaller specialty foods and beverage companies, took on Unity Vibration.
While the Kanaans largely handled the distribution prior to kombucha tea's reclassification, the couple sees benefits in an alcohol distributor pushing the product statewide.
Tarek Kanaan described Imperial Beverage as "open-minded" and said he's pleased to be involved with the company, which won an industry award for being the best craft beer distributor in the nation.
"They understand what we're making, and they appreciate what we are doing," Rachel Kanaan said.

Prior to the reclassification, Unity Vibration was selling roughly 80 cases of 12 bottles monthly. One 25-ounce bottle fetched between $8 and $10 on the store shelves, and a case went for $66, meaning they were grossing $5,200 monthly.
Already, Imperial has bought 150 cases and is ready for more next month. Locally, the Ypsilanti food Co-Op, Plum Market, Wine Cellar and Arbor Farms stock or will soon stock the tea.
Tarek Kanaan said Imperial employs roughly 50 sales people statewide, and the Kanaans will soon make their presentation to the company's salespersons to help them better understand kombucha tea and what sets Unity Vibration apart from others.
Specifically, some companies chose to get around the regulatory issues by "de-alcoholizing" the drink. But that, the Kanaans say, means the drink is no longer truly kombucha tea because it changes the flavor, texture and drains the drink of beneficial elements.
That's why they opted to continue producing authentic kombucha tea.
"I feel good about (not changing the recipe)," Tarek Kanaan said. "It's something we believe in and we didn't compromise our values. There's no other way for us to do it. I can't imagine really changing."
Tom Perkins is a freelance writer for AnnArbor.com. Reach the news desk at news@annarbor.com or 734-623-2530.