Posted on
Mon, Mar 25, 2013 : 5:59 a.m.
As Herb David Guitar Studio closes its doors, other shops look to fill the void
By Janet Miller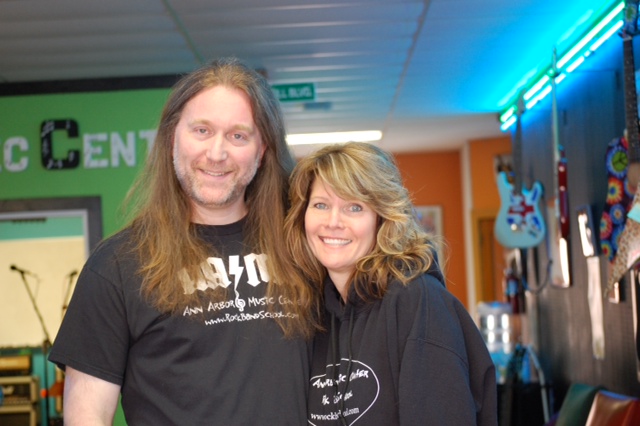 Janet Miller | For AnnArbor.com
While the
departure of Herb David Guitar Studio
closes the door on one era, it opens the door for other businesses that hope to fill the gap left when this Ann Arbor institution ends a 51-year run.
As Herb David winds up its last few days - it closes at the end of the month - other area music stores are looking to add inventory, expand lessons, hire instructors and offer new services.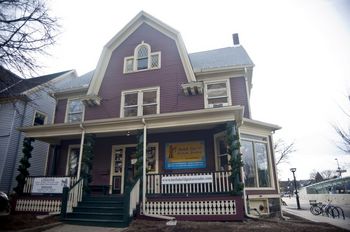 Joseph Tobianski | AnnArbor.com
Over the five decades, Herb David became the heart of the Ann Arbor music scene, attracting local musicians and big names such as John Lennon, who visited the studio in 1971 when he was in town for a concert to support John Sinclair. Herb David, who founded the studio in the basement of a State Street bookstore, was always at the helm and earned a place in history and
his own Wikipedia page
.
"Herb David was the central place for music," said Alex Johnson, who took his first guitar lessons at Herb David when he was growing up in Ann Arbor and later taught at the studio. "There was a great deal of idea sharing and musical connections made there. It was a scene." Herb David sold guitars and other instruments along with music accessories, serviced instruments and offered lessons on a variety of instruments.
That scene will shift as a handful of music stores that offer a similar menu of products and services as Herb David work to fill the void.
Herb David Guitar Shop employees David Collins, Brian Delaney and Hesh Breakstone also are opening their own third-floor repair shop when the business closes. Ann Arbor Guitars will be in the converted attic of the Herb David building at the corner of Liberty Street and Fifth Avenue.
Johnson, who owns Ann Arbor Music Center, which offers the Rock Band School, at 312 S. Ashley St., expects to pick up some of the slack. "We will be the only place downtown that sells music accessories. Herb David did more sales, but we did more lessons," he said. He'll grow his retail side, at least a bit. "People are already starting to walk through the door looking for accessories because Herb David has sold out," Johnson said.
But with many customers turning to the Internet or big box stores for musical instruments, Johnson said he will be cautious about adding inventory. "We'll definitely become more of a store and add things like more ukuleles because Herb David sold at lot of them. But I don't want to spend tens of thousands of dollars on inventory that gathers dust," Johnson said.
Johnson said he expects to pick up 100 or more of Herb David students and hire some of his staff. They will be added to the center's existing roster of more than 500 students who take lessons in guitar and bass, drums, violin, voice and more.
Ann Arbor Music Center has grown from the days in 1998 when Johnson opened a solo business teaching guitar in a condemned building on the land now occupied by the Ann Arbor YMCA on West Washington. He later moved to a building on North Main Street, a location with good visibility but an aging structure he outgrew as he added programs, students and teaching staff.
Janet Miller | For AnnArbor.com
Today, Ann Arbor Music Center occupies 10,000 square feet in two buildings. With programs in rock, blues, jazz, classical and voice, they have grown every year and expect 20 to 30 percent growth in 2013, Johnson said. That could send them looking for more space.
Steve Osburn, owner of Oz's Music at 1920 Packard, said he expects to see a 10 to 20 percent bump with the Herb David closing and to pick up at least 50 students. He's already hired two Herb David teachers, including Sean Rogers, the studio's general manager, Osburn said.
He expects to add a few new, pricier lines of guitars, including Seagull. Until now, he has stocked only entry-level guitars. There have been exclusivity arrangements that allowed Herb David to be the sole retailer of some brands, Osburn said. "But we also haven't wanted to step on each other's toes." He said he's in negotiations to sell top-line Martin guitars.
He's also negotiating to sell tickets to The Ark from the 3,500-square-foot Oz's Music, something Herb David had done. "There's a small service charge, but it really is about getting more warm bodies through the door," Osburn said.
Finally, Oz's Music will now be open on Sundays. "We used to have Sunday hours and things were slow," Osburn said. "But Herb David has done well with their Sunday hours."
Sean Robinson, co-owner of Dennis's Music at 432 N. Hewitt in Ypsilanti, said he will wait and see if the Herb David closing bumps sales, and doesn't plan on adding or expanding stock. "We, essentially, sell and do the same kinds of things as Herb David," Robinson said. That includes guitar, drum and other instrument sales, music supplies such as strings and oil along with repair and lessons.
And at least one Herb David instructor has expressed an interest in teaching at Dennis' Music, Robinson said.
A move a year ago from Depot Town to their storefront close to Ypsilanti High School puts Dennis' Music in a better geographic position to pick up some of Herb David's Ann Arbor customers. And retail became more of a focus when they moved.
"I wouldn't do anything to disrespect Herb David. Just about anyone who has done anything with music in Washtenaw County has had some (connection) with Herb David," Robinson said. But he's hoping to help fill at least some of the gap. "My door is open," he said. "We do and sell the same things. I don't want to be opportunistic. We'll carry on and hope that some people find their way here."
Janet Miller is a freelance reporter. Reach the AnnArbor.com business desk at business@annarbor.com.