Posted on
Wed, Sep 21, 2011 : 8:27 a.m.
Auto supplier still seeking contracts to support expansion at Ypsilanti's former Ford plant
By Nathan Bomey
The tubular parts manufacturer that acquired Ypsilanti's former Ford plant is still seeking contracts with major automakers before ramping up production at the renovated site.
Dennis Radojcich, senior adviser for strategic business development at Angstrom-USA LLC, said the Taylor-based company is in discussions with auto companies to secure contracts that would allow the Ypsilanti plant to come to life with new production operations.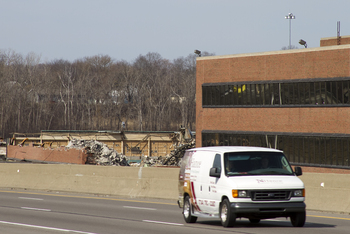 Steve Pepple | AnnArbor.com
"We don't have anybody on that site currently. We are in the hunt of all the major OEMs on some very, very exciting business, but I'm not in a position — I wish I was — to tell you that we're going to start production here occupying x amount of people," Radojcich told a crowd of business executives this morning at an
Ann Arbor/Ypsilanti Regional Chamber of Commerce
breakfast event.
Angstrom bought the 1 million-square-foot plant from Ford-controlled Automotive Components Holdings LLC for $2 million in late 2009. The plant is visible off the north side of I-94 east of the Huron Street exit.
In February, Angstrom won approval from the Ypsilanti Planning Commission to launch the first phase of a three-stage renovation project. At the time, the company said it hoped to move 250 to 300 employees to the plant by July.
But this morning, Radojcich said the timeline for starting production was unclear.
"We don't know when that will happen," he said. "Right now we're readying the site. We've built a good foundation, we're ready to go for the future."
Angstrom has finished demolishing about 250,000 square feet of old facilities, including a 175,000-square-foot building on the west side of the site that was built in the 19th century and bought by Henry Ford in 1932.
The purchase of the Ypsilanti property was part of a series of recent acquisitions for Angstrom, which also bought a plant in North Carolina and two plants in Ohio.
"When we talk about growing, we have attempted to grow in a strategic way," Radojcich said. "We have all these little component operations going on with the ultimate dream of landing some major modules that we would put in the Ypsilanti plant."
Contact AnnArbor.com's Nathan Bomey at (734) 623-2587 or nathanbomey@annarbor.com. You can also follow him on Twitter or subscribe to AnnArbor.com's newsletters.