Posted on
Thu, Nov 4, 2010 : 6 a.m.
Behind the boardroom: Rick Snyder's 'steady' leadership style offers political preview
By Nathan Bomey
When crisis looms, Rick Snyder's calm demeanor doesn't falter.
That's an attribute Ted Dacko says he knows well as the former CEO of Ann Arbor-based venture capital firm HealthMedia, which Snyder co-founded, funded and chaired until it was sold in 2008 to Johnson & Johnson.
"He's about the most even-keeled person I've ever met in my life," Dacko said. "He never let us get too high, and he never let us get too low."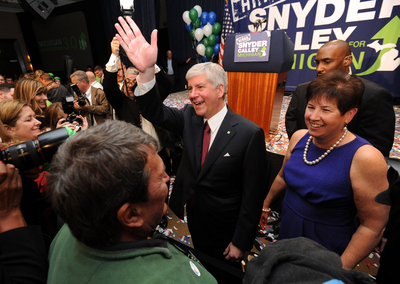 Lon Horwedel | AnnArbor.com
Snyder's even-tempered approach will be tested. The Ann Arbor venture capitalist and former president of computer-maker Gateway Inc. catapulted from political obscurity to Lansing's doorstep by winning Michigan's gubernatorial election Tuesday.
Snyder, a Republican and co-founder of economic development group Ann Arbor SPARK, defeated Democratic opponent Lansing Mayor Virg Bernero with 58 percent of the vote. Bernero got 39 percent.
How Snyder's leadership style as a corporate executive and startup investor translates to politics has yet to be seen.
But his colleagues in the Ann Arbor business community - people who have served with him on corporate boards and worked with him for years before he launched his campaign - say the state can expect Snyder to make tough decisions in a collaborative fashion.
"Rick is very steady in the storm," said Tim Petersen, managing director of Ann Arbor-based VC firm Arboretum Ventures, who served with Snyder on the board of HealthMedia. "Rick, in the boardroom, never feels obligated to dominate the conversation. He's very thoughtful and chooses his words carefully." Snyder, who succeeds Jennifer Granholm as Michigan's 48th governor on Jan. 1, faces enormous challenges. The polarized political environment in Lansing has slowed legislative progress to a standstill. Meanwhile, Michigan faces a $1.4 billion budget deficit for the 2011-12 fiscal year, and the federal stimulus dollars that sustained the state over the last two years are gone.
Snyder, alluding to those challenges, called on lawmakers to work together and "drop the labels."
"To be successful, to be collaborative, the hard work's going to start in January and go on into the foreseeable future," he told hundreds of cheering supporters Tuesday night at a rally in Detroit. "To make this work, there is only one label that matters. And that label is 'Michigander.'"
Convincing disparate political factions, legislators, interest groups and voters to agree on a singular path for Michigan's future is a tall order.
But Snyder's experience co-founding SPARK in 2005 provides a framework for understanding his leadership style. He personally lobbied leaders from the University of Michigan, the city of Ann Arbor, the business community and other groups to fund and launch SPARK.
Five years later, the economic development group houses about 40 startup companies in its three business incubators and provides business services to hundreds of entrepreneurs and existing companies.
The idea for SPARK was spawned when Snyder was serving on U-M's Technology Transfer Advisory Board.
"I actually accompanied him on a couple of funding trips to convince people" to fund SPARK, said Ken Nisbet, executive director of U-M's Tech Transfer Office. "He has both top-down vision but also isn't afraid to roll up his sleeves and do the work."
David Parsigian, managing partner of the Ann Arbor office of law firm Honigman, Miller, Schwartz & Cohn, served on SPARK's board with Snyder.
In a corporate board setting, Snyder listens first and speaks last, several colleagues recall.
"He is a guy that is perceived to be extremely bright and leads by both example and consensus," Parsigian said. "What I mean by that is he wants to persuade people very well, he wants them to understand his point of view and he wants them to buy into it based upon being appropriately convinced.
"He doesn't brow-beat people, he doesn't manhandle people. I think he builds relationships and he manages based on the goodwill he builds in those relationships."
Adaptive Materials co-founder and chief business officer Michelle Crumm, who considers Snyder a professional mentor, said she believes Snyder can translate his business expertise into governance.
"He's quiet but powerful. He really is the smartest guy in the room," Crumm said. "I think he will run it like a business, and if there's tough financial decisions to be made for the betterment of the whole state of Michigan, he won't shy away from those decisions. I just have great respect for him."
Bernero, for his part, said as mayor of Lansing, he's ready to work with Snyder — as long as Snyder isn't too conservative.
"He has promised as governor as a moderate to be like Bill Milliken, not like John Engler," Bernero told supporters Tuesday night. "If he does, and he creates policies good for all Michiganders, not just the few at the top, I promise I will partner with Rick Snyder and work with him hand-in-hand, and I'll call on you to support him as well.
"But if that doesn't happen, you and I will be watching, won't we?"
Snyder, 52, has pledged to institute a new "value for money" budgeting system that identifies and eliminates wasteful spending. He has also called for the controversial Michigan Business Tax to be replaced with a 6 percent corporate income tax, a proposal that would result in $1 billion less revenue for the state, thus requiring more cuts.
"We're going to hit the ground running hard," Snyder told reporters while awaiting the election results Tuesday. "I want to bring in an attitude of crisis to Lansing. Not a crisis of panic, but a crisis of determination, because we've been in a crisis so long in this state we don't act that way. And we are in a crisis."
Snyder, who launched his campaign in July 2009, called himself "one tough nerd" during the campaign, and described himself as a "job creator" who could "reinvent Michigan."
He spent about $6 million of his own money during the Republican primary, outpacing four experienced political opponents to win by 9 points. In the general election, he stopped spending his own cash, but that didn't leave him at a disadvantage. Bernero had little luck on the fundraising front, and most advertisements aired on his behalf were paid for by Michigan Democrats. Snyder, for his part, benefited from ads the Republican Governors Association aired attacking Bernero's record in Lansing.
Snyder largely avoided attacking Bernero during the campaign, and that resonated with voters like former Barry County Sheriff Steve DeBoer, a Hastings resident who came to Detroit for Snyder's rally.
"We need to change the way Michigan is going, and this is our chance to do that," DeBoer said. "The way we've been doing things is strictly partisan. That's broken, and we need to change."
Contact AnnArbor.com's Nathan Bomey at (734) 623-2587 or nathanbomey@annarbor.com. You can also follow him on Twitter or subscribe to AnnArbor.com's newsletters.