Posted on
Fri, Mar 29, 2013 : 5:58 a.m.
Big data startup DeepField moves into Ann Arbor's growing tech corridor
By Ben Freed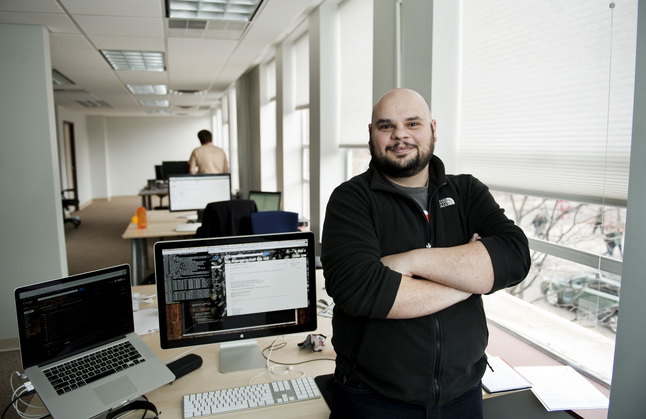 Daniel Brenner | AnnArbor.com
Ann Arbor's "tech hub" on
East Liberty Street
added another startup to its roster when big data company
DeepField
moved into office space above the
Michigan Theater
.
DeepField, a company that analyzes data from the "cloud" for large corporations, was founded in the Tech Brewery on Jones Drive but has outgrown the startup incubator. The company has been growing steadily since its founding in late 2011 and plans to be cash flow-positive by the end of 2013.
"We're still just under 15 people, but we just hired two people last week and we're looking to add another 10 in the next 12 months," chief science officer Naim Falandino said.
"We settled on this location because it allowed us to sign a two-year lease so if at that point we need to expand even further we will be able to."
Faladino said that for the footprint the company was looking for, less than 2,000 square feet, there were plenty of options available downtown.
"We've been looking for the last three months or so, we've had the feeling that it was time to move out of the brewery as we continued to grow," he said.
"We were checking out places almost every week, sometimes a few places in one week. The major challenge for us was finding the right lease terms."
The stretch of East Liberty Street between State Street and Division Street has become the hot place to be for technology companies thanks to the presence of Google, Barracuda Networks, Menlo Innovations, and more recently Prime Research. The area also is home to a number of smaller startups and the University of Michigan's TechArb incubator.
"We wanted to be downtown near the other startups and the tech companies because it's good to have that community and support like what we had when we were in the Tech Brewery," Falandino said.
"It's also a recruiting tool to be here because it has great places right around here to eat and go out after work. It's just a positive thing to be a part of the vibrant downtown space."
DeepField worked with the Southfield office of Plante Moran to find their eventual home. Randy Maas of Swisher Commercial represented the Michigan Theater in the deal. For now, the office is spartan, with just a few desks, chairs and computers in a carpeted room, but Falandino said that will change soon.
"I'm working on getting a couch first, and we'll get some toys in here eventually," Falandino said.
"But there won't be a ping-pong table. [Co-founder] Craig Labovitz can't stand the noise that they make in an office."
The data company is venture backed and has raised money from a range of funds including Ann Arbor-based RPM Ventures. The company attracted attention from a number of prominent technology media outlets when it publicly launched its product at the end of July 2012.
The company's technology allows other corporations to map the "flow" of information on the Internet to see how different types of data points get from point A to point B.
"With our analytics we could tell you how many people are watching Netflix on a Playstation 3 at any given moment," Falandino said in an earlier interview.
This information can be extremely valuable to companies that rely on smooth flow of information within their internal cloud servers as well as across various Internet servers.
Falandino said that DeepField is at a "critical growth phase right now" and could be looking to expand again in the near future.
"We want to stay in Ann Arbor, though, we really like it here," he said.
Ben Freed covers business for AnnArbor.com. You can sign up here to receive Business Review updates every week. Reach out to Ben at 734-623-2528 or email him at benfreed@annarbor.com. Follow him on twitter @BFreedinA2