Posted on
Mon, Jan 18, 2010 : 2:28 p.m.
Ann Arbor-based Borders 'disappointed' with 13.7 percent decline in 2009 holiday sales
By Nathan Bomey
Borders Group Inc.'s  2009 holiday sales plunged 13.7 percent compared to the same period in 2008, a sign that the Ann Arbor-based book store chain's (NYSE:BGP) turnaround strategy is failing to gain traction.
The embattled firm reported today that its total sales for the 11-week holiday period, which ended Jan. 16, fell to $846.8 million. Same-store sales at Borders super stores slipped 14.6 percent during the holiday season, a critical period for all retailers.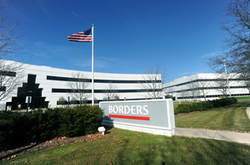 The sales report is sure to highlight concerns that Borders' future rests on a rickety foundation. Total holiday sales for competitor Barnes & Noble, by contrast, fell 5 percent.
"We are disappointed with holiday results and must intensify our focus on creating and delivering a shopping experience that drives profitable sales," Borders CEO Ron Marshall said in a statement.
Total sales for Borders' super store segment fell 14.7 percent.

Analysts considered the holiday sales season a crucial moment for Borders, which barely avoided bankruptcy during the global financial crisis in late 2008.
"It's just put up or shut up time for them," said Michael Norris, a bookstore analyst for Rockville, Md.-based Simba Information, in November.

Borders attributed a portion of the decline to its decision to reduce floor space for DVDs and music. Aside from music and movies, Borders super stores reported a sales decline of 10.9 percent.
"Given the sales challenge, we have continued to manage cash flow and have taken several important steps in line with our strategic priorities, including moving away from underperforming, low-margin categories such as music and video in favor of better performing categories such as children's," Marshall said.
During an earnings call with investors and analysts in November, Marshall said he was confident that Borders was well prepared for the holiday season.
"Borders is better positioned now than we have been in recent years for this holiday selling season," he said. "This is an unpredictable holiday selling season as consumers remain unsettled and reactive to economic news, but we have taken the necessary steps and made the right investments to prepare our stores for this fourth quarter."

U.S. retailers reported a 1.1 percent increase in total holiday sales, according to the National Retail Federation.
Borders' sales results underscore the the long-term challenges for the book store chain, which faces intense competition from Walmart, Amazon.com, Target, Barnes & Noble and other smaller players.
U.S. stock markets are closed today for Martin Luther King Jr. Day. Borders shares (NYSE:BGP) closed Friday at $1.36.
Borders employs more than 800 workers at its headquarters on Phoenix Drive in Ann Arbor.

The sales report comes after Borders said in November that its third-quarter sales fell 12.7 percent to $595.5 million. Same-store sales in the third-quarter declined 12.2 percent.
Contact AnnArbor.com's Nathan Bomey at (734) 623-2587 or nathanbomey@annarbor.com. You can also follow him on Twitter.