Posted on
Thu, Nov 26, 2009 : 6:05 a.m.
Borders' e-book strategy murky as holiday season challenges Ann Arbor retailer
By Nathan Bomey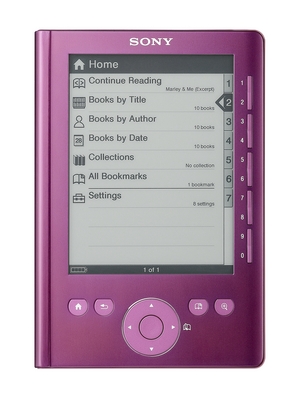 Photo courtesy of Sony
Ann Arbor-based Borders Group Inc. is facing perhaps the most important holiday season in its history without a defined electronic book strategy, an emerging segment that's led to intense jostling among Borders' competitors.
Borders sells Sony e-readers at its stores, but the devices have been overshadowed by Amazon.com's Kindle and Barnes & Noble's Nook. It's a source of concern for investors and experts who worry that Borders may fall irreversibly behind in the e-book segment at a crucial time for its business.
"The Sony reader has always been the 'slanket,'" which was released first, "to Amazon's 'Snuggie,'" which is more popular, said Michael Norris, a bookstore analyst with Maryland-based Simba Information. "They came out with it in early '06 - it was truly pioneering. But for whatever reason Sony has always fumbled with the marketing of it and the presentation of it."
Borders CEO Ron Marshall, speaking to investors Tuesday, said the company would outline its e-book strategy "sometime within the next eight weeks." Sony did not respond to a request seeking comment.
"We've said all along that before the end of the fourth quarter we'd be able to talk about what our strategy and what our perspective is in that category," Marshall said. "We're still on target to do that."
But that leaves Borders without a well-defined e-reader strategy during the 2009 holiday season, a period some experts believe could be crucial for Borders' survival. Borders quietly sells e-books through its Web site, Borders.com, which was launched in early 2008.
The company is in cash conservation mode, spending just $6.8 million on store upgrades in the third quarter, down from $17.9 million in 2008.
It's unlikely Borders is investing in its own e-reader, Norris said. A new or improved partnership with Sony is more likely, he said.
Electronic book readers
What they do: Allow users to wirelessly purchase and download books from a retailer and read them on a small tablet-style device.

Borders' strategy: Sells Sony e-readers, but lacks long-term e-book strategy


E-reader market: 3 million unit sales in 2009, 10 million in 2010


Top competitors: Amazon.com's Kindle, Barnes & Noble's Nook


Cost: Ranges from $199 to $499

Sources: Forrester Research, AnnArbor.com research

"I'm not sure what they can actually do which can stun Wall Street as far as e-books go," Norris said. "I'd be unbelievably surprised if they come out with their own proprietary reading device. What wouldn't surprise me is if they somehow change or otherwise finesse their agreement with Sony."
The bookstore chain, which employs some 800 workers at its Ann Arbor headquarters and 25,000 worldwide, said Tuesday that its sales slipped 12.7 percent to $595.5 million in the third quarter, compared to the same period in 2008. Sales at Borders super stores open at least a year declined 12.1 percent. The company reported a loss of $37.7 million, down from a loss of $175.4 million in the third quarter of 2008.
Barnes & Noble, by contrast, increased its sales by 4.3 percent to $1.2 billion, although sales at stores open at least a year slipped 3.2 percent. The firm reported a loss of $24 million.
Barnes & Noble said this week that it is experiencing "overwhelming customer demand" for its new e-reader to be released in December. The company also sells e-books online to computer users and smart phone owners with access to specialized digital applications.
Forrester Research projects that the industry would sell 900,000 e-reader units in November and December for a total of 3 million in 2009, up from its previous projection of 2 million. That figure is expected to rise to 10 million in 2010. Best Buy, Wal-Mart, Target and other retailers also sell e-readers.
The e-reader segment, to be sure, is still small. Only 8 percent of adults bought an e-book in 2008, Simba estimated.
However, e-book buyers tend to be avid book readers - and e-readers generate customer loyalty, because users buy digital books directly from the same retailer over and over.
The likely emergence of other new companies in the e-book segment creates more concern for Borders. Apple, for example, is rumored to be developing a tablet-style e-reader, and a widely-followed company named Plastic Logic is also developing its own technology.
"I've always been wondering," Norris said, "how many devices can the market actually support?"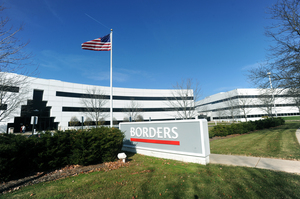 Photo by Lon Horwedel | AnnArbor.com
Even if Borders develops a successful e-reader strategy, its core business could eventually suffer a significant blow from e-book sales.
"The business model itself will come under increasing pressure as digital distribution of e-books becomes more prominent, and the firm lacks a true competitive edge here, aside from selling the Sony e-book," Goldman Sachs analyst Matthew Fassler wrote in a Nov. 20 report.
Borders does not release sales data specific to its Sony e-reader, but Marshall said "it's not a significant" piece of the company's revenue.
Borders did not make Marshall available for an interview for this story.
Contact AnnArbor.com's Nathan Bomey at (734) 623-2587 or nathanbomey@annarbor.com. You can also follow him on Twitter.