Posted on
Fri, May 7, 2010 : 10:28 a.m.
Borders readies eBook store, plans to sell Kobo eReader this summer
By Nathan Bomey
Ann Arbor-based Borders Group Inc., aiming to improve its poorly defined electronic books strategy, said today it would start selling a new e-books reader at a price meant to undercut its competitors.
Borders plans to sell the Kobo eReader, a device created by Kobo Inc., a Toronto-based firm owned by Indigo Books & Music. It will be introduced in August for $149.99 - a price designed squarely to chip away at Amazon's Kindle, which is currently priced at about $259.99.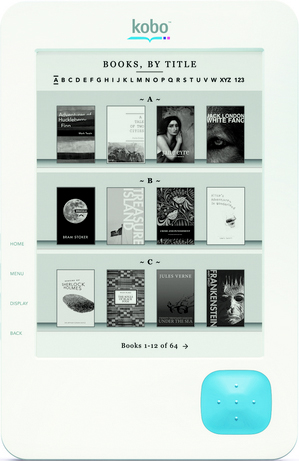 Photo courtesy of Borders
Borders is taking pre-orders for the device, which will be available in June, and also said it would launch its eBook store next month. The eBook store initially will provide access to one million titles, which compares to about 500,000 for Amazon's Kindle Store.

The digital books application developed by Kobo will work on most wireless devices, including the Apple iPhone, Apple iPad, Research In Motion's BlackBerry and phones using Google's Android operating system.
The move comes about five months after Borders announced its partnership with Kobo, which had secured $15 million in financing, including some money from Borders, to develop its technology.
Investors had been disappointed in Borders' sluggish approach to the e-book segment, even though the firm has been selling Sony's e-reader for years. Borders said today it would continue to sell multiple different devices in its stores. Pre-orders for the Kobo eReader have already begun.
Shareholders reacted positively to today's e-books announcement, pushing Borders shares (NYSE: BGP) up 7.25 percent to $2.22 as of 9:51 a.m.
"We're excited to offer the Kobo eReader to our customers, the first of what will be a wide selection of eReaders we'll sell, along with an online store that supports a variety of devices, giving consumers freedom in the eBook world at the best possible value," Borders interim CEO Mike Edwards said in a statement.
Borders' decision to sell electronic books through an application available on multiple different devices reflects a belief that the e-book segment is still fluid as consumers test the waters.
"We are giving consumers the flexibility to read the content they want on a variety of devices of their choosing," Edwards said. "The Borders eBook store will be positioned as a device-agnostic, content-focused destination with expertise from decades of deep book knowledge and experience."
Competition in the e-book market is intensifying as several major players jump into the fray. In recent weeks, Apple's introduction of its own eBook Store, coinciding with the introduction of the iPad, and Google's decision to sell e-books illustrate the significant competition Borders faces. Borders chief bricks-and-mortar competitor, Barnes & Noble, is selling its own e-reader called the Nook.
Forrester Research projected last fall that industry sales of e-readers would rise from about 3 million in 2009 to 10 million in 2010.

Borders also plans to launch "a strong in-store digital presence through our Area-e boutiques," Edwards said. It's part of a strategy he's said is aimed at "transforming the Borders brand."

Borders employs about 650 workers at its headquarters on Ann Arbor's Phoenix Drive. The beleagured book store chain, haunted by rumors of a financial crisis, announced March 31 it had paid off a key $42.5 million loan and renegotiated a long-term credit facility. The moves were aimed at giving the company more runway to return to profitability.
Contact AnnArbor.com's Nathan Bomey at (734) 623-2587 or nathanbomey@annarbor.com. You can also follow him on Twitter or subscribe to AnnArbor.com's newsletters.