Posted on
Thu, Jan 28, 2010 : 8:30 a.m.
Borders laying off 88 at Ann Arbor headquarters today amid 164 total cuts
By Paula Gardner
Borders Group Inc. this morning confirmed that the book seller is laying off 124 corporate employees - 88 of them based at its Ann Arbor headquarters - plus another 40 at its warehouses.
The move - representing about 10 percent of its corporate workforce and 12 percent of staff at its Ann Arbor headquarters - was announced by e-mail to employees, and the layoffs started this morning.
According to an e-mail sent to employees this morning by Shereen Solaiman, senior vice president of human resources, "we must announce that we are moving forward with the unfortunate but necessary step of reducing our payroll by eliminating 124 corporate positions and 40 positions in our (distribution center)s. As you saw in our holiday sales release, we have not succeeded in improving our sales and, as a result, must make further adjustments to our cost structure."
Borders spokesperson Anne Roman clarified this morning that 36 of the affected corporate employees were not based in Ann Arbor. In addition, the 40 distribution center employees are assigned to facilities in Tennessee and California.
"This is a situation where the company is adjusting its payroll to the realities of what its sales situation is," Roman said.
Many of the affected Ann Arbor employees worked in computer systems, an area consolidated as the company announced layoffs and store closings of its Waldenbooks division in late 2009.
The bookseller, based at 100 Phoenix Dr. in Ann Arbor, employed about 800 at its headquarters in 2009, and another 100 at its three Washtenaw County retail operations. It employs 25,000 across its operations.
After today's layoffs, about 650 are employed at the Ann Arbor headquarters, Roman said.
"Obviously, it's a difficult day when job eliminations take place," Roman said of the atmosphere at headquarters. "I'm sure everyone is feeling that."
Remaining staff will be meeting later today with managers, according to Solaiman's email: "I know this is a challenging time as well for those of you who remain in place, and I know that you'll offer your care and support to your colleagues today. It is important that each associate whose position is eliminated hear about the changes directly from his or her manager, so please be respectful of this process. Associates whose positions are eliminated will generally depart by mid-day. This afternoon, your leaders will hold meetings to discuss changes within your team."
Meanwhile, Roman said today's layoffs - which were concluding mid-morning - did not affect any of the chain's stores directly.
She added that she couldn't speculate on any future impact of Borders' sales drops on its retail outlets.
"There are no plans for any widespread store closures," she said. "... That's a matter of adjusting to sales, which the company does on an ongoing basis."
However, Solaiman's email made it clear that more changes could follow.
"While at this time we do not plan further wide-scale corporate payroll reductions, of course, we cannot guarantee that there will not be job eliminations in the future," the email said. "Currently, we are in the process of evaluating our store payroll and expect to make changes in our stores over the coming weeks. "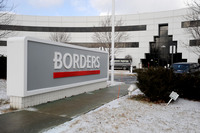 Angela J. Cesere | AnnArbor.com
This morning at Borders' headquarters, laid-off employees were hauling boxes with their possessions out to their cars. Several employees declined interview requests from AnnArbor.com, but one laid-off manager with two years of experience at the company said he wasn't surprised by the news.
"Soon after I got there, sales declined and reorgs and lay offs began," the employee said by e-mail on the condition that he remain anonymous due to fears about how his comments could affect his severance package. "I think I had been beaten into apathy and that is one of the reasons I was let go. I could not be strategic, as I was not sure of the future."
The layoffs are the latest round of changes at the nation's second-largest bricks-and-mortar book retailer. Borders announced Monday that it would be under the leadership of its 3rd CEO since early January 2009 after Ron Marshall said he was leaving to take over A&P.
Marshall replaced George Jones on Jan. 5, 2009, and now interim CEO Michael J. Edwards is running the company.
The layoffs may not be surprising to anyone who tracks Borders, which spent much of 2009 repositioning its operations after losing $187 million in 2008.
"With the change in leadership announced earlier this week, (layoffs) seemed to be the next step," said Birmingham-based retail consultant Ed Nakfoor.
The company went into the 2009 holiday with a strategy to build customer loyalty and inventory. It deemphasized low-performing categories like music and cut its promotional spending, but results from the 11-week sales period showed that Borders lost ground from its disappointing 2008 holiday.
Total sales during the holiday were $846.8 million, down 13.7 percent.
However, the operating margin did improve due to other structural changes, and Roman noted that the company has improved its cash position.
At the company's annual meeting last May, Marshall told employees and board members that the changes in the book industry will permanently affect sales and that the company had to restructure to be profitable at a lower sales level.
According to a report of that meeting in the Ann Arbor News: "'We find ourselves in a challenging position,' Marshall said, noting that the company had dug itself into "a pretty big hole" over the last two years and was now unfortunately trying to recover during a severe economic downturn."
Investors reacted to the news of this week's CEO switch by sending the value of the stock falling to under $1 per share, where it opened with this morning's trading. That's down from $1.12 at the start of the week and down from $2.01 in early November as the holiday sales season began.
The overall value of the company, based on the stock price, is $56 million.
An AnnArbor.com analysis of the struggling retailer's impact on the Ann Arbor region, published today, shows that the company generates about $1.6 million in tax revenue in Washtenaw County.
The company, which once employed about 2,000 at its Ann Arbor headquarters, laid off 136 employees from its corporate workforce in February 2009. Most of those positions were in Ann Arbor.
In March 2009, it
laid off 742
at Borders superstores and Waldenbooks, then announced in late 2009 that it would
close
200 Waldenbooks stores.
The company will report its fourth-quarter and year-end results on March 30, Roman said.
The laid-off Borders manager said he was unsure whether Borders can survive.
"Maybe they will just be online like Circuit City," he said. "If they can get direction and change culture, maybe. Morale was bad while I was there."
AnnArbor.com's recent coverage of Borders:
A few stories on Borders elsewhere this week:

Paula Gardner is Business Director of AnnArbor.com. Follow her on Twitter.
Sign up here to receive AnnArbor.com's weekly Business Review newsletter. AnnArbor.com business reporter Nathan Bomey also contributed to this story.