Posted on
Thu, Jan 28, 2010 : 6:02 a.m.
Ann Arbor is a major stakeholder in Borders' future
By Paula Gardner
BREAKING NEWS: Borders announces 164 layoffs Thursday morning; 124 corporate positions
Ann Arbor watched Borders Group Inc. grow into the second largest book retailer in the nation, remaining the home of its corporate headquarters even as the chain formed the core of a company that grew to hundreds of stores generating over $1 billion in sales.
Today, the community remains a stakeholder as the bookseller sorts out its future amid industry turmoil, leadership changes and falling investor confidence.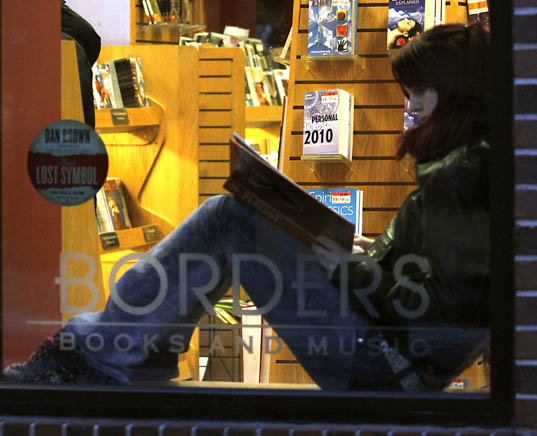 Steve Pepple | AnnArbor.com
News this week that Borders will soon be under the leadership of its third CEO since January 2009 sent the company's stock falling to less than $1 per share. Its overall value, based on the stock price, fell to $56 million by Wednesday afternoon.
That news follows reports of lower-than-expected holiday sales and store closings, and ongoing concern - even as Borders is positioned to sell on Apple's new iPad tablet - about its electronic reader strategy.
Amid uncertainty about the company's direction, the economic impact of Borders on Washtenaw County can be felt in tax revenue, employment and real estate:
---
Borders' tax impact
Property taxes paid in 2009* :



$818,458 on 100 Phoenix Dr.

$349,815 on the downtown store

$106,732 on the Arborland store

$53,358 on the Lohr Road store in Waters Place, Pittsfield Township

Total: $1,232,263




Personal property taxes:



$320,939 for headquarters

$10,435 at the downtown store

$14,968 at the Arborland store

$37,248 at the Lohr Road store in Pittsfield Township

Total: $383,590

Combined total: $1,615,853

*Borders does not own any of its buildings. However, its presence as the single tenant in a long-term lease is reflected in the taxable value on both the Phoenix Drive building (owned by Agree Realty in Farmington Hills) and the downtown building (owned by the Malcolm Family Trust, but on a land-lease to Agree, which in turn has a lease with Borders).

The taxes on both the Arborland and Waters Place are estimates, based on the total respective tax bills for the centers and the size of the each Borders store relative to the center.
---
• The company employs nearly 900 in Washtenaw County, with about 800 of those people at the headquarters at 100 Phoenix Dr. and the rest spread among the three retail locations.
• The combined tax revenue generated by both personal and real property taxes based on Borders' presence in Washtenaw County is an estimated $1.6 million, according to data compiled by AnnArbor.com.
• The chain's flagship location is downtown's largest anchor retailer.
• The chain's other two stores in the county - in Arborland Center on the east side of Ann Arbor and Waters Place, near Ann Arbor-Saline Road in Pittsfield Township - are in highly visible, high-rent retail centers, both of which have uncharacteristic large vacancies due to the bankruptcies of Circuit City and Linens 'n Things, respectively.
• In Ann Arbor, the tax bill for 100 Phoenix Dr. - which is no longer owned by the company - made its owner the 12th largest taxpayer in the city in 2009, according to assessment records.
"Borders is a very important piece of the local employment base," said Dave Lutton, CEO of the Charles Reinhart Co. "… What they're facing is obviously a huge set of challenges given the changes in publishing and for book retailers."
Beyond the numbers, the chain also counts in the region's civic pride. That's reflected in the region's branding, which often mentions Ann Arbor as home to Borders, and also in the affinity for the store that started soon after the original Borders opened in the early 1970s.
"A lot of people have memories of Borders," said Joan Lowenstein, an Ann Arbor attorney, member of the Downtown Development Authority and former City Council member.
Many of those memories stem from the years the store, founded by brother Tom and Louis Borders, operated on South State Street.
Lowenstein recalled how unique it was to find a quality book store in a town the size of Ann Arbor. The store was known for its selection, its knowledgeable staff and for being a great place to simply browse.
"Most small towns didn't have really good book stores," she said. "… The fact that it's become global adds to that civic … ownership in Borders."
The company moved into corporate control with its sale to Kmart Corp. in 1992, followed by the formation of Borders Group Inc. in 1994, along with Waldenbooks.
And growth continued even through recent years as the company expanded its superstore concept and opened international stores.
But the news since 2008 has illuminated both the changes in the book retailing industry and concerns about Borders' ability to remain viable.
The most-cited examples include its inability to develop a successful online sales strategy and its behind-market pace to affiliate with an e-reader.
It's also announced at least 1,400 job cuts in the past two years - over 500 at its corporate headquarters - and the shuttering of two-thirds of its Waldenbooks chain, including the Borders Express store at Briarwood Mall in Ann Arbor.
Meanwhile, sales continue to fall, including a reported 13.7 percent drop over the 11-week 2009 holiday period.
And the industry itself is undergoing transformation as online retailer Amazon.com gains market share and price wars among retailers like Walmart and Target put Borders at a disadvantage.
Even Forbes Magazine's online edition included Borders in a recent report titled "Where you might not shop in 2010," detailing some national chains with high-profile store closings.
And on Monday, Borders announced that CEO Ron Marshall - brought it as a turnaround expert in January 2009 - was leaving; reports said he would become CEO of Montvale, N.J.-based Great Atlantic & Pacific Tea Co.
Taking his place is Michael Edwards, executive vice president and chief merchandising officer.
In a glimmer of good news for the retailers, Borders did get relief on the e-reader front in the form of Apple's announcements Wednesday about its iPad. Apple did not confirm rumors that it would strike an exclusive deal with bricks-and-mortar rival Barnes & Noble to sell B&N digital books through the iPad.
For its part, Borders plans to sell digital books through a new application under development by Toronto-based Kobo Inc., a division of Indigo Books & Music. Those apps can be used with the iPad.
Borders officials say they continue to strategize to drive more traffic into stores, like by boosting its customer loyalty program, and to shed debt. Both are key to any corporate rebound, local business leaders said.
"There's no question they'll need to reinvent themselves," said Ed Shaffran, a downtown Ann Arbor developer and landlord.
But while the chain redefines itself, many hope that its retail position as a downtown anchor doesn't change. It still attracts customers as part of a retail mix that increasingly is dominated by bars and restaurants.
"The downtown has always had some sort of anchor," said Shaffran. "… Borders, as it stands today, is a big-time anchor."
Tom Crawford, Ann Arbor's finance director, said Borders-related tax payments generate at least $350,000 for the city.
"Borders is clearly one of our major (companies)," Crawford said. "They're valued members of our community."
Crawford noted that the city's seen the corporate downsizing over time.
"They've been reducing employees for a number of years," he said. The loss of jobs is enough to prompt the company to sublease about 37,000 square feet it the 317,000 square foot headquarters on Phoenix drive, according to real estate listings.
One area where many in the community focus on when asked about the store and its impact on Ann Arbor is the remaining employees - and how the uncertainty is affecting them.
"It's hard to see the company struggling, but they have talented people here," Crawford said.
A lot of people in this community have their fingers crossed that Borders will survive its latest repositioning.
"If they were not to exist, there would be a big hole to fill," Shaffran said.
The hole, he said, would be literal in the real estate sense.
But it's also about considering the impact of the uncertainty and ultimate turnaround performance on hundreds of Ann Arbor employees and the 25,000 in the chain's other locations.
"One of the things getting tangled up in all of this," Shaffran said, "is the faces. The employees."
Paula Gardner is Business Director of AnnArbor.com. Follow her on Twitter. Sign up here to receive AnnArbor.com's weekly Business Review newsletter.