Posted on
Tue, Jan 26, 2010 : 8:31 a.m.
Borders CEO Ron Marshall resigns to accept position at another retailer
By Nathan Bomey
Ron Marshall, the chief executive of beleaguered Ann Arbor-based book store chain Borders Group Inc., is resigning to become CEO of another publicly traded retail chain, officials announced this morning.
Borders is naming Michael J. Edwards, 49, the executive vice president and chief merchandising officer, as its third CEO in the last 12 months. Edwards will be the interim CEO for now.
Officials did not immediately reveal where Marshall is headed but said he would assist with the leadership transition. The Wall Street Journal is reporting that Marshall is joining Montvale, N.J.-based Great Atlantic & Pacific Tea Co.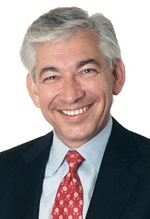 The transition comes as Borders, by most accounts, is fighting to stay afloat in the intensely competitive book retailing industry.
Borders' stock (NYSE: BGP) plunged more than 10 percent to $0.98 a share by 10:30 a.m. as investors feared the implications of the leadership transition.
Today marks the first time Borders' shares have dipped below the critical $1 threshold since the stock market's doldrums of April 2009.

That's down 27.9 percent since it stood at $1.36 at Jan. 15 and down about 50 percent since November. The firm's market capitalization - the net worth of the company's stock - now stands in the range of $59 million.
Marshall, who took over for ousted ex-CEO George Jones in January 2009, expressed regret last week over Borders' 13.7 percent sales decline during the crucial holiday shopping season.
"We are disappointed with holiday results and must intensify our focus on creating and delivering a shopping experience that drives profitable sales," Marshall said in a statement last week.

Borders chairman Mick McGuire said in a statement that Marshall's contributions to the company included making "substantial operational and financial improvements that are driving increased cash flow, reducing debt and positioning Borders to pursue new growth opportunities."
Borders spokeswoman Anne Roman declined to make McGuire, Edwards or Marshall available for comment.

Marshall took over Borders in the midst of the global financial crisis as the book store chain teetered on the edge of liquidation.

The risk of immediate liquidation has since receded, although Borders faces long-term problems associated with its debt and sales challenges.
"They had a good person in charge with Marshall in that he untangled some of the financial issues that they were having. But that's not enough," said Michael Norris, a book industry analyst with Simba Information. "What really needs to be done is somebody needs to be in charge of Borders and make it a compelling place to shop."

The firm's holiday sales fell 13.7 percent compared to the same period in 2008. Its total sales for the 11-week holiday period, which ended Jan. 16, fell to $846.8 million.

Same-store sales at Borders super stores dipped 14.6 percent during the holiday season. Competitor Barnes & Noble, by comparison, experienced a 5 percent drop in same-store sales during the holiday period.
Details about Marshall's exit compensation package were not immediately available, but reports during his hiring in January 2009 said he could receive a payout of up to $4.3 million upon his departure. His 2009 compensation package was $380,177.
One of Marshall's most closely scrutinized moves involved Borders' e-reader strategy. The firm drew criticism from investors and experts for its failure to put together a defined e-reader strategy by the 2009 holiday season.
Instead, Borders announced in December that it would partner with Toronto-based Kobo Inc. to introduce an electronic book application and online store that will allow consumers to download e-books onto a variety of mobile devices.
Borders has about 25,000 employees, including 800 at its headquarters on Phoenix Drive in Ann Arbor's Research Park. The firm has more than 500 super stores and another 130 Waldenbooks stores.
Its third-quarter revenue in 2009 fell 12.7 percent to $595.5 million, compared to the same period in 2008.
Contact AnnArbor.com's Nathan Bomey at (734) 623-2587 or nathanbomey@annarbor.com. You can also follow him on Twitter.