Posted on
Wed, Jan 12, 2011 : 11:04 a.m.
Borders meets Thursday with publishers over financing concerns, closes Tenn. distribution center
By Paula Gardner
Ann Arbor-based Borders Group Inc. will meet with publishers on Thursday in a meeting described as an event "that could shape the immediate future of Borders Group" in a report by Publishers Weekly.
The meeting - called as publishers grapple with deferred payments from the bookseller - comes as the company also announces that it will close a Tennessee warehouse this summer, laying off 310 employees, according to reports.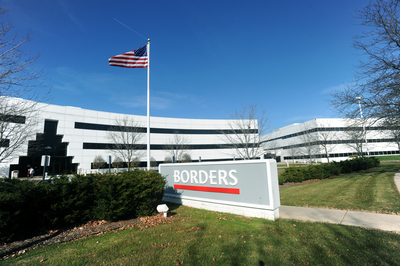 Photo by Lon Horwedel | AnnArbor.com
Both moves come as industry experts weigh the potential for Borders to
file for bankruptcy
after years of actively seeking a turnaround amid eroding fundamentals for book retailers with a significant storefront presence.
It's unlikely Borders will be able to continue through 2011 without filing for bankruptcy protection or seeking a merger, a University of Michigan expert told AnnArbor.com last week.
"One of those things will happen within the next few months," U-M law professor John Pottow, a national bankruptcy expert. "The amount of losses they're incurring is not something where they can avoid (restructuring)."
In late December, the bookseller acknowledged that it had stopped paying some suppliers.
The company posted a third-quarter loss of $74.4 million in December, an amount that doubled the losses from the same period in 2009.
Borders [NYSE:BGP] stock was trading at 0.79 cents this morning, representing a one-day value drop so far of 7.74 percent and 1 cent above its 52-week low.
Based on that trading price, the company has a market capitalization of $56.79 million.
Several executive also have left the company so far this year. In addition, at least one publisher has stopped shipping inventory to Borders, according to reports on thestreet.com.