Posted on
Mon, Aug 29, 2011 : 11 a.m.
Borders 'now hiring' for its downtown Ann Arbor, Lohr Road stores as liquidation continues
By Nathan Bomey
(See previous story: Liquidation starts: Borders store in downtown Ann Arbor enters its final days.)
Borders' flagship bookstore in downtown Ann Arbor will close within a month as the chain completes its liquidation — but there's still time to get a job there.
The store is advertising on its windows that it's "now hiring."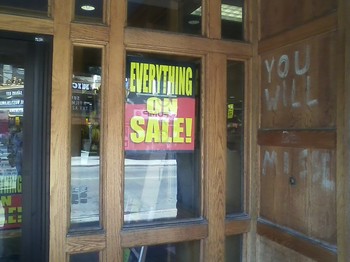 Nathan Bomey | AnnArbor.com
The sign directs jobseekers to apply online at
Borders.com's careers page
, where five job openings are listed for the downtown store: supervisor, corporate sales coordinator, cashier/seller, cafe supervisor and cafe seller.
Store employees are barred from talking to the media, but one employee said the store needs temporary help to get through its final days, presumably because some workers have left since the chain announced July 18 that it would liquidate.
The same job openings are posted for the chain's superstore on Lohr Road in Pittsfield Township.
"Stores hire temporary help as needed. Nothing out of the ordinary," Borders spokeswoman Mary Davis said in an email.
A spokesman for Gordon Brothers Group LLC, part of a team of liquidators that is handling the store-closing sales, did not respond to a request seeking comment.
The downtown Borders store is expected to close within weeks, although the exact timeline is unclear. The company has said all of its stores will be closed by the end of September. About 10,700 employees will be laid off.
Windows at the downtown store are covered with signs advertising the liquidation sales, which have increased to 50 percent to 70 percent off all merchandise.
On a wooden panel outside the Liberty Street entrance to the store, someone spray-painted the words "YOU WILL BE MISSE" (sic).
Meanwhile, the lease for the 40,000-square-foot downtown store is set to be auctioned off next month as part of Borders' Chapter 11 bankruptcy liquidation.
Bids are due by 3 p.m. Sept. 7, and an auction would take place Sept. 13 if more than one bid is received. A hearing to approve the sales would be held Sept. 20.
The lease would be assigned to the buyer, which could then negotiate changes to the lease with the property landlord. The downtown property has multiple owners, but the property is controlled by Farmington Hills-based Agree Realty.
Contact AnnArbor.com's Nathan Bomey at (734) 623-2587 or nathanbomey@annarbor.com. You can also follow him on Twitter or subscribe to AnnArbor.com's newsletters.