Posted on
Tue, Nov 6, 2012 : 5:58 a.m.
Price paid for former Papa John's property on East Huron: $1.5M
By Lizzy Alfs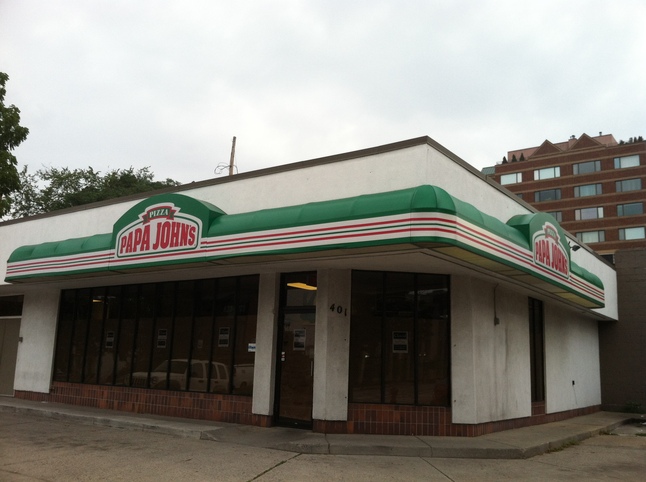 Lizzy Alfs | AnnArbor.com
The land deal for the
controversial 14-story development
proposed for downtown Ann Arbor's East Huron Street is now worth $6 million, city records show.
Connecticut-based real estate firm Greenfield Partners finalized a deal in October to purchase the former Papa John's building, located at 401 E. Huron St., and an adjacent house on North Division Street for $1.5 million.
The purchase comes four months after the company acquired a vacant 10,300-square-foot building at 413 E. Huron St. for $4.5 million.
Closing the deals and taking full ownership of the three properties clears a hurdle for the developers and also signals the company's commitment to moving forward with a project at the site.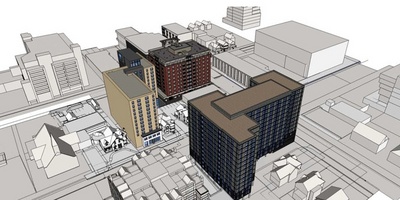 Humphreys & Partners Architects
The sale prices are also well above the properties' combined estimated market values of about $3.1 million. Together, the three properties have an assessed value of about $1.55 million for the 2012 tax year.
Greenfield Partners and Georgia-based developer Carter, the company spearheading the Ann Arbor project, want to replace the existing structures with a $60 million, 14-story student apartment building with two levels of underground parking.
Plans call for ground floor retail, a range of amenities and a mix of one, two, three and four bedroom units. The properties are located in the city's D1 zoning district, with a maximum building height of 150 feet. (Read more about the development here)
But the plans, which went before Ann Arbor's Design Review Board in recent weeks, have caused a stir among neighbors and community leaders who think the project is out-of-scale with the historic residential neighborhood to the north.
A group of about a dozen people has made attempts to get the development team to redesign the project, potentially reducing the building's mass and footprint. At a citizen participation meeting last week, a Carter representative outlined some minor design changes they made to the plans.
The company is expected to formally submit site plans to the city this month, which will then be reviewed by Planning Commission and City Council.
Meanwhile, Papa John's franchisee Don Snider is reportedly searching for a new location on Plymouth Road, near the Univeristy of Michigan's North Campus.
Lizzy Alfs is a business reporter for AnnArbor.com. Reach her at 734-623-2584 or email her at lizzyalfs@annarbor.com. Follow her on Twitter at http://twitter.com/lizzyalfs.