Posted on
Fri, Sep 17, 2010 : 2:07 p.m.
Day 3: Ex-gas station sale tops Washtenaw County tax foreclosure online auction results
By Paula Gardner
Sales in the largest round of online auctions for tax foreclosed property ever in Washtenaw County grew by two this afternoon as the latest batch — commercial property — closed to bidders.
"I'm ecstatic about the results we got today," said county Treasurer Catherine McClary. "... People got some good values."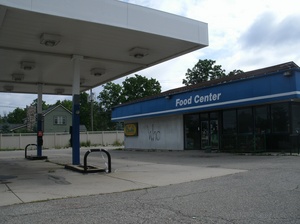 Paula Gardner | AnnArbor.com
Two of seven properties listed for the online auction with Bid4Assets.com sold:
9800 Plymouth-Ann Arbor Road in Superior Township sold for $101,099, after 12 bids lifted it above the opening bid of $67,722.
3005 Packard in Ann Arbor — a closed gas station — sold for $288,500, powered by 88 bids that more than tripled the opening bid of $84,194.
"These are good pieces of property," McClary said, "and both went for well above the minimum bid."
The five properties that didn't sell were: 217 First in Milan; 205 S. Hewitt, 2041 Parkwood and 110 S. Harris, all in Ypsilanti Township; and property on Lima Center Road near Dexter-Chelsea in Lima Township.
After three auction rounds this week, the county appears to have generated $785,876 from the sales. That represents about 75 percent of the $1.056 million that would have been generated if all properties had sold for the minimum bid.
Overall, 22 properties remained unsold after this week, including seven from the vacant land batch and six from the residential list.
McClary said she'll meet with staff during the last week of the month to determine the next step for those parcels.
That timing, she said, follows the final online auction this month for county-owned property. On Tuesday, auctions begin for two large tracts of development property — one each in Pittsfield Township and Milan — and 63 units of the Liberty Square townhouses in Ypsilanti Township.
That auction, McClary said, "is going to be a big one and an important one."
Proceeds from the online auctions will cover costs associated with the auction and the back taxes owed on the properties.
"Our goal is to make the taxpayers whole so we can break even (on the sales)," she said.
Paula Gardner is Business News Director of AnnArbor.com. Contact her at 734-623-2586 or by email. Sign up for the weekly Business Review newsletter, distributed every Thursday, here.