Posted on
Wed, May 23, 2012 : 2:58 p.m.
Does the U.S. risk losing manufacturing operations to overseas factories?
By Lizzy Alfs
Will the U.S. lose a large portion of its manufacturing industry to competition from other countries?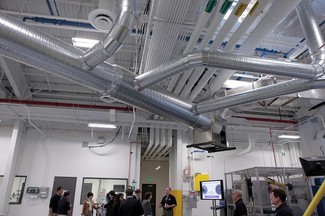 Chris Asadian | AnnArbor.com
That's the question posed by
Wally Hopp
and
Roman Kapuscinski
of the
University of Michigan's Ross School of Business
in their new study: "
Manufacturing's Wake-Up Call
."
The study says U.S. factories produce about 74 percent of what the country consumes, but decisions by business and political leaders may determine whether as much as 40 percent of that stays here or moves overseas in the coming years.
Policy decisions related to education, worker training, the tax code, the regulatory environment and America's relationship with Mexico are critical to defining the future of the industry, the study says.
"Manufacturing is still here, it's big, and it's helping us out right now," Hopp says. "Are we going to line up enough factors to keep it here, or will we let it trickle away like we did during the lost decade of 2000-10?"
One important factor, the researchers say, is to promote vocational education and industrial arts studies — an issue that has been a hot topic recently among Michigan business and political leaders.
Bob Lutz, the former vice chairman of global product development for General Motors, recently said young people should be trained with "real world, necessary skills," such as automotive maintenance and automotive repair, rather than earning degrees in the liberal arts sector.
Michael Finney, CEO of the Michigan Economic Development Corporation, made a similar declaration recently at a Washtenaw Economic Outlook Luncheon.
"When I was in high school, you had a choice of two educational tracks you could get on: a tradesperson and college prep," he said. "We've gotten away from that as a country and a state and maybe it's time for us to reconsider vocational education as a serious way for some of our young people to build a future for themselves."
The study also says the U.S. loses manufacturing operations to overseas and doesn't collect the full tax rate, whereas a simpler code with a competitive tax rate would help the industry.
Another critical factor the study cites: building a stronger relationship with Mexico.
"While some low-skill operations will be sent offshore every year, keeping them closer will allow R&D and engineering jobs to stay stateside."
Lizzy Alfs is a business reporter for AnnArbor.com. Reach her at 734-623-2584 or email her at lizzyalfs@annarbor.com. Follow her on Twitter at http://twitter.com/lizzyalfs.