Posted on
Fri, Nov 23, 2012 : 11:05 a.m.
Early openings on Black Friday: 'It really got rid of the mean crowds'
By Ben Freed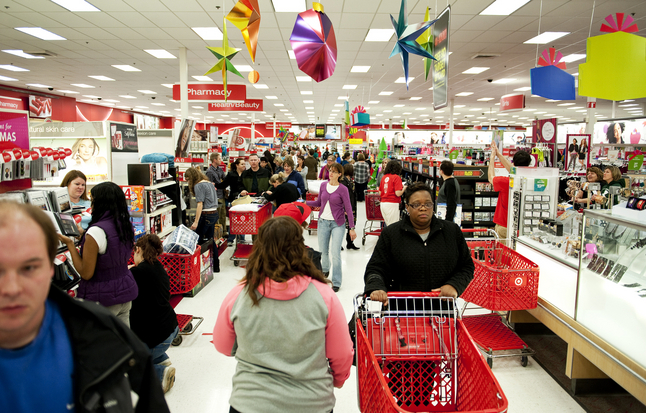 Dan Brenner | AnnArbor.com
With major stores
opening earlier than ever
this year, there were still
long lines
and
people camping out
to get the best deals. However, at least at the
Walmart
on Ellsworth Road in Ypsilanti Township, there wasn't the
"mad rush"
that had characterized
Black Friday
in the past.
"The crazy crowd, the pushing the shoving, that's gone now," support manager Victor Quinn said.
"By opening the doors during Thursday evening they've really done something that has helped put the customers more at peace. It really got rid of the mean crowds."
Even if they didn't bring their edgy attitude, shoppers did show up for doorbuster sales at locations around the county. Briarwood Mall manager Ida Hendrix said pushing her opening time up changed the demographics of the crowd.
"I would definitely say it was a younger crowd this year," Hendrix said.
"There were long lines in front of Victorias Secret, H&M, and other stores that did significant markdowns. Now [at approximately 8 a.m.] there is a second wave of shoppers looking for sales that are on their way here or already here now."
Hendrix said she did not have specific numbers available yet, but she did feel sales were up from the same time last year. A big part of that was the fact that more of the mall's stores agreed to the earlier opening time.
"The other thing is, everyone who is here has bags, multiple bags," she said.
"When people come to your mall at midnight or between 1 and 3 a.m., they're not just coming to look around."
Hendrix also echoed Quinn's assessment that early crowds were not looking to make trouble.
"We had no incidents at all," she said.
"We have our mall security and then the Ann Arbor police also were very nice and gave us good coverage in the area. But we have not had any problems with unruly behavior."
Quinn said when he worked at the store in 2005, customers almost ripped a door off in their rush to get into the store. Since then, more efforts have been put into place to control the efforts of Black Friday shoppers to literally "beat" other customers to the best deals.
"The key is how interact with the public," he said.
"The trend used to be you'd open the door and they'd just rush inside. But now we have a manager who goes out and asks the crowd to follow him as he walks inside at a normal pace."
Police in Ann Arbor, Saline, and Ypsilanti, and Pittsfield Township all said they had received no reports of disturbances at any stores in the area with major Black Friday sales.
Briarwood, Walmart, and Target all said they expect a bit of a lull in the early morning due to last night's big opening, but they expect things to pick up throughout the day. Some shoppers will make their second rounds and others, who perhaps missed the door busters, will turn out for Black Friday deals.
"[Marketing director] Denise Murray and I will be walking around the mall handing out gifts to random shoppers to say thank you," Hendrix said.
"So if you're in the mall look out for me, I'm looking for happy customers!"
Ben Freed covers business for AnnArbor.com. You can sign up here to receive Business Review updates every week. Reach out to Ben at 734-623-2528 or email him at benfreed@annarbor.com. Follow him on twitter @BFreedinA2