Posted on
Mon, Feb 6, 2012 : 4:04 p.m.
Edwards Brothers announces merger with Malloy in Ann Arbor area book printing deal
By Nathan Bomey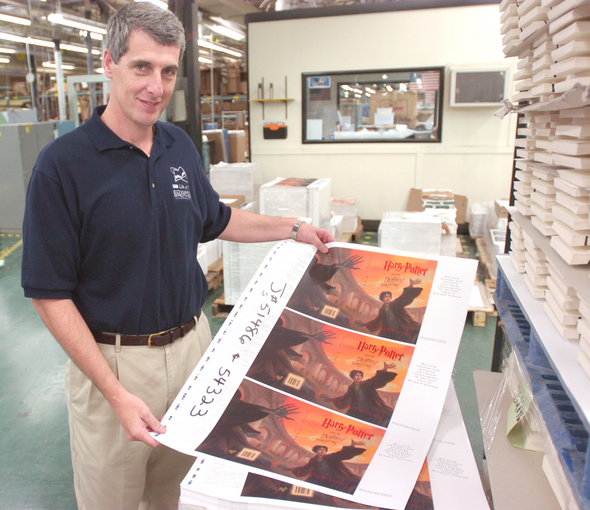 File photo | AnnArbor.com
Two of the Ann Arbor area's biggest book printing companies are merging in a deal with major implications for the local job market and real estate sector.
Edwards Brothers Inc., a 119-year-old short-run book manufacturer with headquarters on South State Street in Ann Arbor, announced a merger with Scio Township-based Malloy Inc.
Edwards Brothers, which also has a major printing facility in North Carolina and several other smaller operations throughout the country, has about 400 employees at its 185,000-square-foot plant in Ann Arbor. The company, one of the Ann Arbor area's longest continuously operated businesses, had about $80 million in revenue in 2010.
Malloy, founded as Malloy Lithographing Inc. in 1960, has more than 200 employees at its 180,000-square-foot plant on Jackson Road. It traces its heritage back to 1948, when Jim Malloy left Edwards Brothers and launched Cushing-Malloy with Bert Cushing.
The new company, Edwards Brothers Malloy, which will have combined annual revenue of about $115 million, is expected to maintain those three plants.
Edwards Brothers President John J. Edwards will become CEO of the new company. Bill Upton, president of Malloy, will become vice president of operations, and Joe Upton, Malloy's vice president of sales and marketing, will hold the same role at the new company.
Edwards told AnnArbor.com the companies had been in negotiations for about six months. He said both companies were "mildly" profitable on their own.
"We realized we had to do something different and by combining our collective strengths we thought we were providing a better value proposition to our customer," he said. "Some of the strengths we have were their weaknesses and vice versa. And we thought by combining, we make a much more solid company."
Edwards said the new company is not planning any immediate job cuts, except the elimination of a few redundant senior management and sales positions. Collectively, the new company has about 900 employees.
The deal comes during a period of turbulence for local book printers. Both companies have reduced their workforce in recent years.
Book printers face a number of challenges, including the emergence of electronic books, devices that allow stores to print their own books, commodity costs and school districts that have clamped down on textbook spending.
About 12 percent of U.S. adults own an e-reader in 2012, up from 8.7 percent in 2011 and 5.4 percent in 2010, according to research by eMarketer.com.
Book printers are also directly affected by the loss of physical bookstores, including last year's liquidation of Ann Arbor-based Borders Group Inc. and the bankruptcy filing of NBC Acquisition Corp.'s Nebraska Book Co., which is considering closing four local college bookstores.
Malloy produces books for "publishers of all sizes, in all segments of the publishing industry, in all parts of the United States," according to its website.
Edwards Brothers has won several tax abatements from the city of Ann Arbor in recent years, including an abatement in 2010 to offset the costs of a $5.48 million equipment upgrade.
Edwards said book printers continue to experience "intense price pressure" and a shifting customer base.
"We're doing more orders and they're smaller, which makes sense. That doesn't really scare us, but you have to do more orders to have the same sales," Edwards said.
He said there's little overlap in the client bases of Edwards Brothers, which has a strong presence in the digitally submitted book printing business, and Malloy, which has had success with e-book conversions.
Contact AnnArbor.com's Nathan Bomey at (734) 623-2587 or nathanbomey@annarbor.com. You can also follow him on Twitter or subscribe to AnnArbor.com's newsletters.