Posted on
Thu, Oct 11, 2012 : 5:58 a.m.
Michelle and Aaron Crumm, 2011's top executives, remain leaders in Ann Arbor business community
By Ben Freed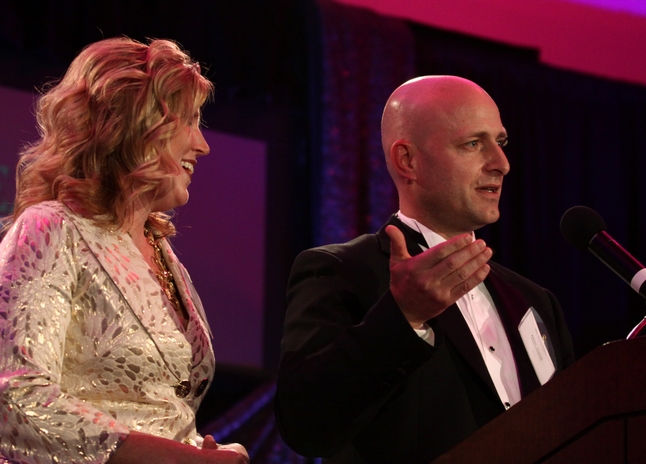 Jeff Sainlar | AnnArbor.com
See all of the 2012 Deals of the Year nominees.
Once the startup bug bites, it can be hard to get out of the entrepreneurial world. Although she left Adaptive Materials when the company was acquired by Ultra Electronics, last year's AnnArbor.com's Executive of the Year co-winner Michelle Crumm has founded her own executive coaching company.
And although Adaptive Materials never took funding from venture capital funds, Crumm is also helping other startups succeed through angel investing.
"I'm involved with Augment Ventures. It was our first investment after we sold AMI," she said.
"It's a venture capital fund focused on clean energy, which likes up exactly with our expertise."
Michelle and Aaron Crumm received their honors as the area's top executives in November 2011 during AnnArbor.com's "Deals of the Year" awards gala.
The ceremony - an annual event in Ann Arbor since 2005 - honors business leaders in seven sectors, along with naming a top executive and top company every year. The 2012 event takes place Nov. 2 at the Eastern Michigan University Student Center.
Following the sale of AMI, co-winner Aaron Crumm stayed with what became Ultra AMI and was named president of the new subsidiary.
He said the transition to life "under" Ultra Electronics was smooth.
"They have done everything they said they were going to do in the acquisition. They have invested in the physical plants and capital equipment, they've invested in us to help get new products developed," he said.
"They also helped with their brand and their relationships already in place. It has helped us to get sales with Lockheed Martin and others."
For the local economy, the biggest decision Ultra made was to keep the alternative fuel cell company in Pittsfield Township. While other acquisitions of technologies that were developed in the area have led to jobs out of the area, AMI has expanded their presence in Pittsfield and has plans for more hiring in the future.
"We're in the mid-60s in terms of numbers right now. Our last round of hiring went very well," Aaron Crumm said. "In fact, we're hiring right now."
After purchasing the company for $23 million, Ultra has invested at least $3 million into the technological development and production of the lightweight fuel cells powered by the same propane fuel that can be bought at retail stores. Last year, AMI's largest customer, the U.S. Army, used the cells in action for the first time.
At the end of the year, Crumm will step back into the chief technical officer position at the company, the role he played before Ultra Electronics acquired Adaptive Materials. He said he's looking forward to the less demanding roll at the company that will offer him new opportunities.
"I'll still be involved and engaged in the company and helping it grow to the next level," he said.
"With the rest of my time I'm going to look for another high-tech startup opportunity, or really anything I can do to help out in the entrepreneurial community."
Neither Aaron nor Michelle see the extra time available in their lives post-acquisition as down-time. The startup bug doesn't go away, and there is just too much to do.
"I'm sitting on a few for-profit boards as a rep for our funding network, and then I sit on four different non-profit boards as well," Michelle Crumm said.
"I'm on the board for the Hands on Museum, The Ann Arbor Area Community Foundation, Ann Arbor Hospice, and Emerson School. I just filled up my schedule."
See more information on the 2012 Deals of the Year awards.
Ben Freed covers business for AnnArbor.com. Reach him at 734-623-2528 or email him at benfreed@annarbor.com. Follow him on twitter @BFreedinA2