Posted on
Thu, Nov 24, 2011 : 12:34 p.m.
Feds tell Black Friday retailers: Keep your crowds under control
By Julie Baker
With Black Friday's superstar sales quickly approaching, the Occupational Health and Safety Administration is telling retailers to make crowd control a priority, according to a Saginaw News report.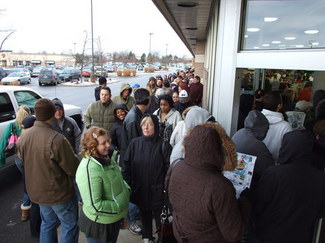 NPR is reporting
that David Michaels, assistant secretary of labor for the Occupational Health and Safety Administration said retailers should know by now, especially with previous chaos, that allowing shoppers to crowd a front door of a location without barricade, security, or rope lines, is a "recipe for disaster."
A Wal-Mart employee in 2008 was trampled to death by an out-of-control crowd. The retailer has since instituted preventative measures in hopes of not seeing a similar tragedy in the future, the report said.
More Black Friday coverage: