Posted on
Tue, Nov 30, 2010 : 9 a.m.
Gates Foundation delivers $6 million vaccine research grant to Ann Arbor's NanoBio
By Nathan Bomey
The Bill & Melinda Gates Foundation is distributing a $6 million grant to Ann Arbor-based NanoBio Corp., a University of Michigan spinoff company that plans to use the funds to develop a new nasal-spray vaccine.
The grant, officially announced this morning, underscores the global potential of NanoBio's nanoemulsion technology, which the company is using to develop several different treatments for a variety of afflictions.
NanoBio will use the Gates Foundation grant to develop an intranasal vaccine for respiratory syncytial virus (RSV), which is considered the top cause of childhood hospitalization. The virus causes bronchiolitis and pneumonia, and almost all children get it by age 2, according to the U.S. Centers for Disease Control and Prevention. It can also lead to asthma or pulmonary disease.
"It's a respiratory infection which we feel our technology is really well suited for," said David Peralta, NanoBio's chief financial officer.
The funding marks the second time the Gates Foundation has delivered dollars for the nanoemulsion technology NanoBio is pursuing. In July 2005, U-M, which partners with NanoBio on some projects and launched the firm in 2000, received a $6.3 million grant to pursue nasal-spray vaccines.
The NanoBio grant fits with the Gates Foundation's general strategy of delivering funding to organizations that can make a demonstrable impact on global health. Vaccine technology, availability and distribution is one of the key areas the foundation emphasizes.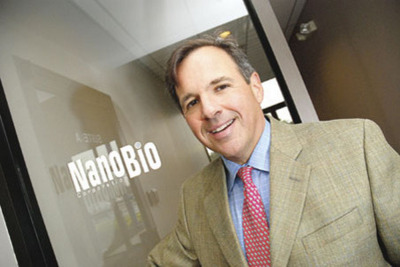 File photo by Robert Ramey | AnnArbor.com's Business Review
The foundation, which reports assets of some $36.4 billion, distributed about $3 billion in grants in 2009. Of that, $800 million was dedicated toward vaccines, the foundation's largest focus, Bill Gates said in his annual letter outlining the foundation's efforts.
"Vaccines are a miracle because with three doses, mostly given in the first two years of life, you can prevent deadly diseases for an entire lifetime," Gates said. "We are working to get other donors to put more resources into vaccines because we still have big challenges. The first challenge is to invent them, and the second is to make sure they reach everyone who needs them."
NanoBio's grant marks one of the largest vaccine grants the Gates Foundation has distributed to a private, for-profit company.
Peralta suggested that the Gates Foundation was attracted to NanoBio's nanoemulsion technology in part because it does not use needles, which are difficult to handle in the Third World, and because it maintains a stable temperature, thus eliminating the need for refrigeration.
"Obviously they put a high emphasis and importance on vaccines as as way to prevent disease worldwide," Peralta said. "We're forging a very positive relationship that could involve future collaborations as well, we'll see."
As part of the new grant, the Gates Foundation gets the rights to distribute the vaccine to the developing world if the vaccine is approved for the market -- a process that would take several years. NanoBio maintains the rights to sell the product "in the developed world," NanoBio CEO James Baker said in a statement.
Baker, who gave a presentation at a Gates Foundation conference in October on NanoBio's flu vaccine program, said the Gates Foundation grant was reflective of the general potential of NanoBio's technology.
"We believe our program holds tremendous promise for addressing a number of global health challenges," Baker said. "Our partnership with the foundation provides a unique opportunity to develop selected vaccine targets that will address significant health needs globally."
The grant comes as NanoBio is in the midst of an expansion at its Ann Arbor laboratories. The company employs about 30 workers, up from about 20 a year ago. One of those employees, Ali Fattom, senior vice president of vaccine research and development, was added as a direct result of the Gates Foundation grant.
The firm's nanoemulsion technology is a so-called "platform" technology that can be used to develop treatments for several diseases. For example, the firm is developing a nasal vaccine for seasonal flu -- a treatment that's currently in the first phase of the U.S. Food and Drug Administration's three-stage development process.
The Gates Foundation funds add to NanoBio's stockpile of cash. The firm struck a licensing deal in December 2009 with United Kingdom pharmaceutical giant GlaxoSmithKline, which agreed to pay $14.5 million upfront and up to $40 million in milestone payments in exchange for rights to sell NanoBio's cold sore treatment.
NanoBio, which raised $22 million in venture capital in 2009, has raised nearly $100 million in VC and grants since U-M nanotechnology professor Baker founded the company 10 years ago.
Contact AnnArbor.com's Nathan Bomey at (734) 623-2587 or nathanbomey@annarbor.com. You can also follow him on Twitter or subscribe to AnnArbor.com's newsletters.