Governor Snyder says he will brag about Ann Arbor's NuStep during upcoming China trip
Posted on Wed, Sep 5, 2012 : 4:36 p.m.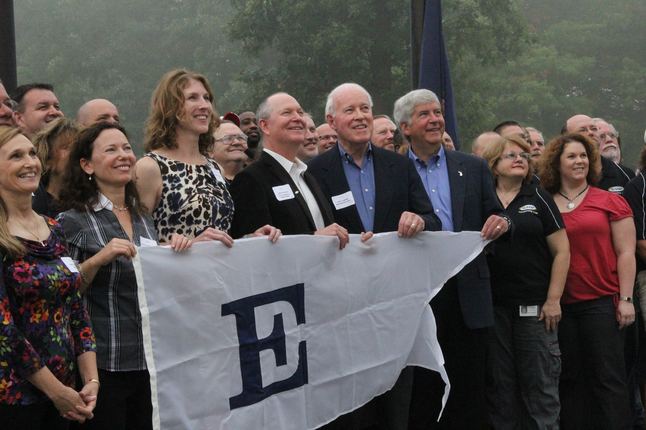 Ben Freed | AnnArbor.com

Governor Rick Snyder was on hand for a celebratory flag-raising Wednesday morning at NuStep headquarters in Pittsfield Township. The company, which designs and manufactures its machines just down the road from the Ann Arbor airport, was awarded the Presidential "E" Award for exports earlier this year.

"This award is something to be really proud of," Gov. Snyder told the mixture of office and assembly plant employees gathered in the morning fog.

"But you should be even prouder of all the things you did to get there. The 'E' Award is about exporting, but that's really a culmination of a lot of different pieces. First, you have to innovate, and you innovate products that make people's lives better. How cool is that?"

The governor said when he goes to China in a few weeks he will be bragging about NuStep's success.

"You are exactly the type of business that we want to grow here in Michgian," he said.

"Being governor... I get a chance to talk about what the Michigan of the future looks like. Well you can look right in the mirror because you are it."

NuStep designs and manufactures devices that allow those with low mobility to exercise more easily. The company has placed an emphasis on expanding exports and international sales during the past few years. For company employees from top to bottom, that has increasingly led to a more global outlook.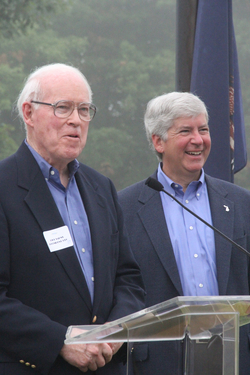 Ben Freed | AnnArbor.com
"I always tell everyone that what we build here is for people all over the world," Craig Thomas said. Thomas has been working in assembly at NuStep for more than 15 years.
"It just makes me feel good to produce a good product that's doing good for seniors and people who need it."
That focus on the customer was noticeable in remarks made by company executives as well.
"We have to remember that every time we process an international order, every time we have a shipment that flies or sails across the world, on the other end there's someone emotionally or physically transformed by their NuStep," Elena Stegemann, director of international business, said to the crowd.
Focusing on the customer doesn't preclude making a profit. President, CEO, and founder Dick Sarns told Gov. Snyder that more than 100,000 people use a NuStep every day around the world, and that means the company is doing well.
"Seven percent of our sales are in Michigan, so that leaves 93 percent that we sell to the rest of the US and the world," he said.
"That means that we bring $20 million a year here to Ann Arbor, and that money stays here. We are a wealth generator for Michigan."
Snyder said he hopes more Michigan companies will follow NuStep's lead. He also added a plug to a pet project that recently has been in the news.
"Bottom line is we're a place that makes things, it's what we do. I want Michigan to be the number one manufacturing location in North America. When people want to build something, the first place they should think of is Michigan," he said.
"If we make things, then we export them, whether that's to Ohio, Canada, hopefully across a new bridge, or anywhere else in the world."
After the speeches, Snyder said he hopes to continue to pursue policies that allow companies like NuStep to succeed.
"We're trying to create an environment for businesses to succeed," he said. "The government's role is not to create jobs but to create the environment for businesses to do that."
Snyder pointed to regulatory reforms and balancing the state budget as steps he's taken to help companies in Michigan. He said his upcoming trip to China does not have specific goals or benchmarks, but is designed to build relationships at the state level with the emerging global power.