Posted on
Mon, Jun 10, 2013 : 6:03 p.m.
Snyder talks right-to-work legislation, connecting talent and reinventing Michigan at conference
By Ben Freed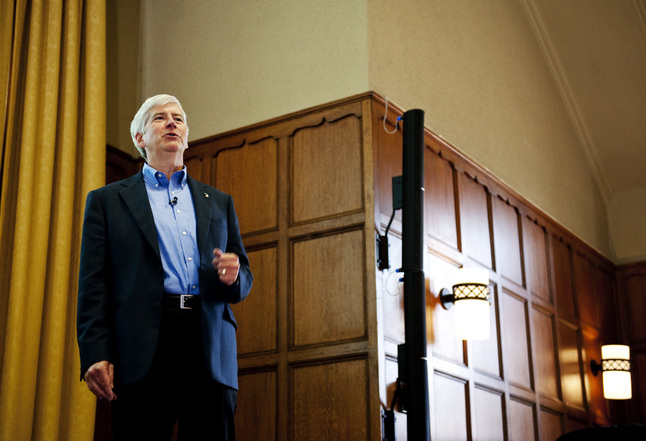 Daniel Brenner | AnnArbor.com
Gov.
Rick Snyder
carried his "relentless positive" attitude into his speech at the
International Economic Development Council spring conference
in Ann Arbor Monday afternoon.
The governor primarily spoke about economic development and a number of steps his administration has taken with the goal of "reinventing" Michigan's economy.
After his speech, Snyder answered questions that touched on a few more hot-button issues including the passage "right-to-work" legislation, immigration reform and gay marriage.
When asked about right to work, Snyder said he was never working on the legislation and it was not a top priority of his. He said he asked proponents of Proposition 2 not to continue their efforts and warned them right to work could be an issue if their ballot initiative failed.
"But when it comes down to it, if it's controversial, you hired me to make decisions, and I'm not going to walk away from an issue that's on the table," he said.
"It was my view that it was clear, that this was the right thing. It's about workers rights, it's about standing up for workers… but we've made that decision so let's put the issue behind us and move on to the next issues we have to work on."
On immigration reform, which is receiving increased attention in Washington, D.C., Snyder said he is one of the "most pro-immigration governors in the country."
In an interview after the speech, Snyder said one immigration issue of particular concern to University of Michigan students, whether unauthorized immigrants who graduate from state high schools pay in-state or international tuition rates, should not be decided at the state level.
"In Michigan's system it's a local and a university decision so there are a variety of policies out there," he said.
"I think we've had a system that's worked well in the past where the university's can make that call so I don't see the point in making legislation on the topic."
Snyder gave a similar response to a question on whether legalizing gay marriage would be of benefit to the state's economy in attracting talent. Snyder said he was "open to discussion" on the issue but saw it as unlikely to pass through the legislature and a distraction from his primary effort, which he believes is economic recovery.
Snyder began with a listing of Michigan's woes in the early 21st century, saying many states had a really difficult time — especially when the economy took a turn for the worst.
"Well, the difference is Michigan had a whole decade of 2009," he said. "We were at the bottom, we were 50th out of 50 in way too many categories… We were the only state in the nation that actually lost population between 2000 and 2010."
Part of the solution to the myriad of problems facing the state, Snyder said, was to overhaul the way state government went about economic development.
"We were doing things the wrong way. One thing we did was 'hunting' to bring big companies here with big packages of tax credits," he said.
"… Tax credits are an easy way out for politicians because you're often not in office to deal with it a few years down the road when those credits come due."
The one of the philosophical touchstones of Snyder's turnaround policy has been his insistence that politicians in Lansing reexamine their role in the lives of the state's citizens and learn to view the state government more like a business.
"We're a customer service organization, and all of you are the customers," he said.
"The citizens and companies and organizations in the state want good value for their money."
Snyder pointed to overhauling the Michigan Business Tax and the establishment of new talent connection networks as steps in the right direction for the state. He said that the talent pipeline in the state is one of his top concerns.
"You have to have the talent along with the 'three C's,'" he said.
"The first 'C' is collaboration, connecting with the private sector and finding out what their needs are… the second 'C' is creating talent, and working with the education sector and making sure that education is more than something on a piece of paper, it's putting them on a path to connect, which happens to be the third 'C.'"
Connecting talent to the available jobs has been difficult for companies and unemployed individuals across America and was a major topic of discussion throughout the IEDC conference. Snyder pointed to the MITalent.org portal as one step the state has taken towards helping those connections happen and said in an interview after his speech that more initiatives are on the way.
"It was a big part of the economic development summit in March and the education summit in April," he said.
"We have a number of action items that we're still putting together and will be rolled out soon. Particularly we're looking at working within regions at talent connection and making sure that skilled trades are an emphasis."
Ben Freed covers business for AnnArbor.com. You can sign up here to receive Business Review updates every week. Get in touch with Ben at 734-623-2528 or email him at benfreed@annarbor.com. Follow him on twitter @BFreedinA2