Posted on
Sun, Feb 17, 2013 : 5:59 a.m.
Husband and wife entrepreneurs steer hardware store and yoga studio through changing times
By Lizzy Alfs
Daniel Brenner | AnnArbor.com
Armando Reyes
started scrubbing floors at Ann Arbor's 40-year-old
Carpenter Brothers Hardware & Rental Center
in 1996.
Through his years at Huron High School, Washtenaw Community College and Eastern Michigan University, Reyes continued working at the store at 2753 Plymouth Road in the Plymouth Road Mall, eventually earning a manager title.
As Carpenter Brother's former owner, Sam Hamilton, was preparing for retirement in 2008, Reyes and his wife, Ita, purchased the hardware store.
"We had the opportunity and we took it," Armando said.
"He's been the neighborhood kid," Ita added. "He previously lived over here, too."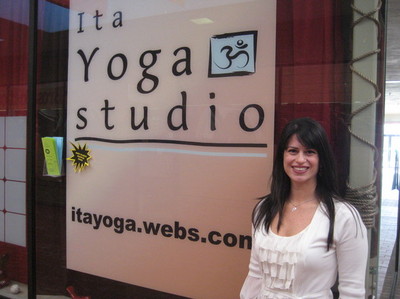 AnnArbor.com file photo
The couple agrees that it was a risk; economic conditions were worsening, Pfizer had shuttered its 177-acre Plymouth Road research facility, and the hardware business was changing amid competition from big-boxes and online ordering.
"We lost, I would say, between 9 and 10 percent of our business when Pfizer closed," Reyes said. Not to mention, the (Ann Arbor Public Library's Traverwood branch) left this building, and Bello Vino closed because traffic in this mall went south."
"We had to adjust and change and we've been able to do it," he continued.
Despite the challenges, in 2010 Ita took on her own business endeavor and opened a yoga studio, Ita Yoga, around the corner from Carpenter Bros. in the same shopping center.
"We had a four-month-old, I had left veterinary medicine and was working at the hardware store, and I was getting in my car and teaching yoga around town.
This space opened up and (Armando) said, 'why drive around when you can do your own thing?" she said.
The Plymouth Road Mall has some visibility challenges, particularly the Carpenter Bros. space, which is situated on the rear side of the mall and hidden from Plymouth Road.
And with a new retail and office building under construction in front of the mall, visibility is reduced even more. Ita and Armando are hopeful the new building's tenants will increase the traffic flow to the center.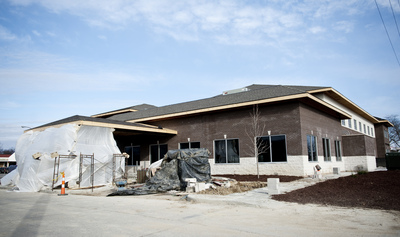 Daniel Brenner | AnnArbor.com
"Everything in the front of the mall is now behind something else," Armando said. "It's something we have to address."
With Baskin-Robbins closing shop recently and the Songbird Cafe opening, changes continue at the shopping center, but Ita said business is steady at both Carpenter Bros. and the yoga studio.
"The yoga studio is really busy now and the hardware store is a little slow," she explained. "Then summer comes and people want to workout outside so the studio is slow and the store is hopping."
Armando said the hardware store has attracted a loyal following of customers after its 40 years in business, and many of them live on the north side of Ann Arbor. He said he's always researching competitors' prices and changing his inventory to keep customers happy. Carpenter Bros. also has an online store.
"You change your product line to match the needs of the customers," he said. "If you don't, you go out of business."
He continued: "That neighborhood feel is still there. You're competing with big-boxes, but you really can't put a pricetag on knowing somebody and going into the same store for 40 years."
Lizzy Alfs is a business reporter for AnnArbor.com. Reach her at 734-623-2584 or email her at lizzyalfs@annarbor.com. Follow her on Twitter at http://twitter.com/lizzyalfs.