Posted on
Wed, Oct 19, 2011 : 2:42 p.m.
Hyundai exploring expansion of Ann Arbor area operation
By Nathan Bomey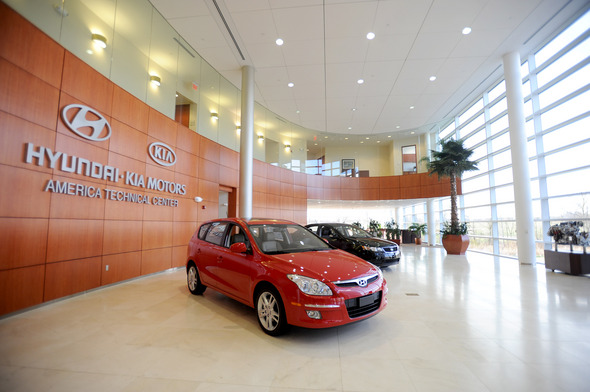 Angela J. Cesere | AnnArbor.com
Korean automaker
Hyundai
is exploring an expansion of its
testing and calibration center in Superior Township
, local governmental officials confirmed.
The 200,000-square-foot Hyundai-Kia America Technical Center on Geddes Road — which employs about 170 workers — conducts powertrain testing, calibration and some design and engineering.
Superior Township Supervisor William McFarlane confirmed that Hyundai officials have met with the township to discuss their expansion plans — and that it involves adding about 50 new jobs.
Paul Krutko, CEO of economic development group Ann Arbor SPARK, said Hyundai is considering an initial $20 million investment that would involve installation of a dynamometer.
Hyundai has also discussed plans connected to a test track of some kind, local government officials said today at a policy meeting for the Washtenaw Area Transportation Study (WATS) group.
Hyundai's technical center is located on a 140-acre parcel — which is comparable in size to the ex-Pfizer campus in northern Ann Arbor but not nearly large enough for a typical test track, which can be thousands of acres.
Auto companies typically need very large parcels of land for test tracks because secrecy is imperative for vehicle development. According to a recent job posting, Hyundai is already performing driving tests at the 3,850-acre Chrysler proving grounds in Chelsea.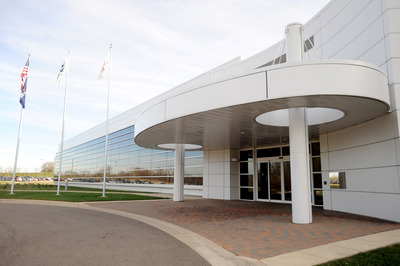 File photo | AnnArbor.com
Terri Blackmore, executive director of WATS, confirmed that the automaker had contacted WATS to discuss issues related to the expansion plan.
On Monday, the Superior Township Board of Trustees unanimously approved a resolution of intent to establish a Local Development Finance Authority (LDFA) — which can be set up to capture tax dollars for economic development purposes — to help address electrical transmission problems at Hyundai's operation.
The board will hold a public hearing on Nov. 21 to discuss the LDFA boundaries. After a 60-day waiting period, the board can officially approve the LDFA and set up a tax increment finance authority (TIFA).
The LDFA would help cover the $2.5 million cost of helping Hyundai's technical center connect directly to 120-kilovolt overhead transmission lines owned by Novi-based ITC Holdings.
"We've taken the first step," McFarlane said in an interview. "They haven't agreed to (the plan), but they're apparently seriously considering doing some work to expand their testing facility."
A Hyundai spokesman could not immediately provide additional information about the company's plans.
Hyundai has been communicating with economic development group Ann Arbor SPARK to coordinate a funding plan to make the electrical improvements.
Krutko said SPARK is working with the Michigan Economic Development Corp. to line up a low-cost loan that will be extended to Hyundai and repaid in part using the LDFA dollars.
Hyundai, he said, was weighing where to locate its expansion — and it indicated the expansion would not occur in Superior Township unless the electrical problems were rectified
"The big limiting factor was the power at that facility," Krutko said.
The news comes after Hyundai Motor America CEO John Krafcik told AnnArbor.com in July that a future expansion of the local technical center was possible.
"There's no question that we're going to be growing our capability," he said. "That's the trajectory we're on. We want to do more and more work here in engineering, product development, calibration, certification, development as well as manufacturing."
In November 2010, AnnArbor.com reported that electrical grid instability was regularly disrupting the technical center's operations. Brief fluctuations in voltage were causing havoc for some new machines used to conduct tests on vehicles at the engineering complex.
A Hyundai official told AnnArbor.com at the time that the facility needed to be connected to a 120-kilovolt system instead of a 40-kilovolt system.
The Hyundai-Kia complex in Superior Township has been cited as a rare bright spot for the local auto industry over the last several years.
As many competitors cut jobs, the technical center avoided layoffs as sales of Hyundai and Kia vehicles increased.
Bolstered by strong sales for its redesigned Sonata sedan and Elantra compact car, Hyundai's global automobile sales rose 11 percent in the first half of 2011. In June, the company raised its 2011 U.S. sales forecast to 624,000 sales, up 16 percent from 2010.
Hyundai Motor Group announced in a news release today that it would expand its powertrain development capabilities — although it's not clear whether that plan is connected to the Superior Township expansion.
"Due to stricter environmental regulations and policies that vary from nation to nation, competition in the development of powertrains and other core technologies is intensifying," said Woong-Chul Yang, Hyundai Motor vice chairman, in a statement. "Hyundai Motor will accelerate its efforts to develop future powertrains that feature high-performance and eco-friendly engines and transmissions."
AnnArbor.com reporter Lisa Allmendinger contributed to this story.
Contact AnnArbor.com's Nathan Bomey at (734) 623-2587 or nathanbomey@annarbor.com. You can also follow him on Twitter or subscribe to AnnArbor.com's newsletters.