Posted on
Fri, Jul 12, 2013 : 2:58 p.m.
Hyundai says Ann Arbor area technical center to play growing role in car development
By Ben Freed
During its development of the new 2014 Equus, Hyundai focused a lot of attention on the interior technologies and connectivity, which the company feels sets the car apart from its competition.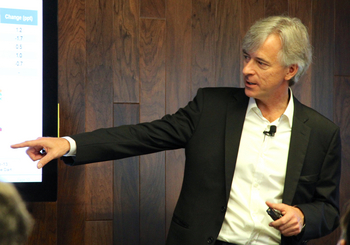 Ben Freed | AnnArbor.com
In his presentation at the car's official unveiling to reporters Friday morning at the Hyundai American Technical Center in Superior Township, North American CEO John Krafcik said the company has chosen to spend more time and money on research and development than increasing production capacity.
"We know that we can sell everything that we can produce right now," he said.
"So now our primary goal is to be the most loved car company and to focus on our customer satisfaction and delight."
Krafcik said the company is working its factories around the clock and they still are unable to produce enough cars to meet demand. The company has a 4.7 percent retail market share in North America, but is unlikely to expand without additional production capacity.
Hyundai operates one manufacturing facility in Alabama, and Krafcik said there are no announced plans to add another North American manufacturing location.
"Our long-term vision is not just to build [our cars] where we sell them but engineer where we sell as well," he said.
Much of that engineering is happening at the technical center in Michigan.
Hyundai moved into the Ann Arbor area in 1986 with a small facility on Plymouth Road near the Environmental Protection Agency emissions testing laboratory. The company expanded to a 200,000-square-foot technical center in Superior Township in 2005, and is nearing the completion of a $15 million expansion to the facility.
"What we're doing in Michigan is big, and there are other parts of the U.S. where we're hard at work doing more vehicle development and riding and handling work," Krafcik said.
"A lot of that work goes on in California, as well as our design center in Irvine which designs some of our best Hyundai models."
When it released the 2013 Avalon, Toyota trumpeted the fact that it was completely designed and engineered in North America. Krafcik said that Hyundai still is likely years away from a similar accomplishment, but is heading in the same direction.
"We'd certainly like to get there, but it's hard to say when we'd be able to make that happen. We're taking incremental steps to take us there," he said. The Ann Arbor area technical center has a hand in developing a number of systems within the company's cars including the BlueLink technology that includes remote car access and "stolen vehicle slowdown" components.
The center also is home to some research projects on powertrain collaboration and fuel efficiency.
"Direct injection for gasoline engines is giving gas engines some diesel like capabilities while still using the cleaner fuel," Krafcik said.
"And we're looking at technologies that allow us to bridge that gap further. We've got some pretty interesting projects going on right here in Ann Arbor that relate to the long term development of that trend."
Krafcik, who lived in Ann Arbor for 14 years before taking over as Hyundai's North Americn CEO, said the Korean company knew it needed a foothold in Southeast Michigan to be competitive in the North American car market.
"I think it's still clear that Detroit is the center of the automotive universe," he said.
"There's so much technology here, so much enthusiasm and passion about the auto industry and so many great engineers come out of the schools here like the University of Michigan. Us being in the midst of that, to tap into all of that talent and that heritage and passion was absolutely critical for our long term development."
Hyundai has a full day planned in the Ann Arbor area. After journalists complete a road test of the 2014 Equus, Krafcik is going to Mott's Children's Hospital to present a gift to the pediatric cancer unit as part of the company's Hope on Wheels program.
Later Friday, the HDC-14 Hyundai Genesis concept car will be on display at the Rolling Sculpture auto show. The car, first displayed at the North American International Auto Show, was flown in from China and will be the first concept car ever to be displayed at Rolling Sculpture.
Ben Freed covers business for AnnArbor.com. You can sign up here to receive Business Review updates every week. Get in touch with Ben at 734-623-2528 or email him at benfreed@annarbor.com. Follow him on twitter @BFreedinA2