Posted on
Mon, Mar 21, 2011 : 2:20 p.m.
Is Rick Snyder outsourcing union busting in Michigan?
By Nathan Bomey
Gov. Rick Snyder knows a thing or two about outsourcing.
During the former Ann Arbor venture capitalist's 2010 gubernatorial campaign, of course, the Republican was repeatedly, albeit misleadingly, accused of outsourcing jobs as an executive at computer-maker Gateway in the 1990s.
He may not have outsourced jobs as an executive at Gateway, but he clearly understands the power of outsourcing as a business model.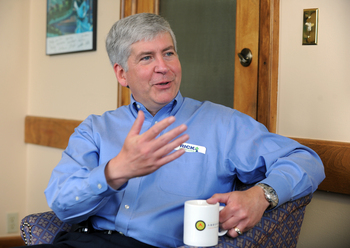 Lon Horwedel | AnnArbor.com
Which is why he's structuring his governmental reform initiative to force local governments to extract concessions from unions, instead of doing the fighting himself.
And it's why he successfully pushed legislation that allows the state to install emergency financial managers to fix fiscally distressed cities and school districts.
If we've learned anything from Snyder's first 80 days as a politician, it's this: He is no Scott Walker, the Republican governor of Wisconsin who started his first term by pressing the Wisconsin Assembly to strip most public workers of their collective bargaining rights.
You don't have to take a political science class to know that it's much smarter, politically, to get what you want by forcing someone else to fight for it.
That's the model Snyder laid out this morning with his proposal to require municipal governments to fight unions for public employee compensation cuts, share services regionally and consider legal consolidation opportunities.
The 11-page proposal Snyder submitted to the Michigan Legislature would force cities and municipalities to scramble to claw back state funding by implementing a long list of reforms. Those would include incentivizing cities to require new employees to pay 20 percent of their health care premiums and making new employees' retirement plans look a lot more like 401(k)-style plans than pensions.
Those two elements alone are enough to inspire fury among organized labor supporters.
State Sen. Minority Leader Gretchen Whitmer, D-East Lansing, said in a statement that Snyder's plan is "an attempt to end collective bargaining as we know it through local mandates."
Clearly, that's not how Snyder would characterize it.
"These proposed reforms will accomplish several goals for Michigan," Snyder said in his proposal. "Most importantly, local leaders will have the ability to control short- and long-term costs. By controlling costs, local governments can maintain critical public safety, infrastructure and quality of life services. The continued provision of these services will enhance the long-term competitiveness and economic vitality of Michigan's commercial centers and the entire state."
Snyder says this is a reconfiguration of how government operates. Cities don't get automatic payouts just because they exist. They have to adopt reforms to get the pool of dollars formerly referred to as "statutory revenue sharing."
(This is similar to how the federal government structured the "Race to the Top" program, which forced states to embrace education reform to get a piece of stimulus funding.)
Here's what Snyder is doing: He's forcing cities to fight public employee unions block by block, city by city.
Why try to axe public workers' collective bargaining rights — which Snyder has refused to pursue — when you can nudge cities to get cost concessions on your behalf?
Ironically, this proposal gives cities the political cover to fight for concessions, too. At the bargaining table, municipal politicians can just play the Snyder card: "The nerd made us do it."
Is Snyder outsourcing the union busting?
Well, he himself says in his proposal that "state government can enable and encourage, but communities themselves must lead the way."
First, of course, he has to get the Legislature to adopt his proposals — a tall order indeed.
But, politically, he's getting much more creative than Scott Walker.
It's much easier to have your colleagues punch someone in the face, than to do it yourself.
Contact AnnArbor.com's Nathan Bomey at (734) 623-2587 or nathanbomey@annarbor.com. You can also follow him on Twitter or subscribe to AnnArbor.com's newsletters.