Posted on
Thu, Jun 10, 2010 : 6:02 a.m.
Burgers: Today's hot trend promises more restaurant growth in Ann Arbor and U.S.
By Paula Gardner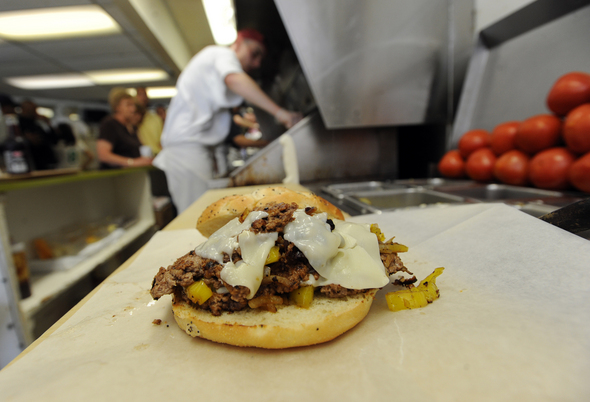 Lon Horwedel | AnnArbor.com
Frozen yogurt had its day. So did the coffee shop.
Now it's time to make room for the once-simple hamburger - dressed up with special meat blends and sometimes exotic toppings - in what may seem like every storefront in Ann Arbor.
Two burger restaurants just announced deals to open in the South State and East Liberty streets area in coming months. They follow still more deals struck in 2009, signaling the rising local effects of a growing U.S. restaurant niche.
"It's the latest hot phenomenon," said Max Goldman, a commercial real estate broker at Ludwig & Seeley in Farmington Hills.
Burgers are a $100 billion national industry, and national experts say there's room to grow the "gourmet" or "better burger" part of the sector.
That means the two most recent deals announced for downtown - Five Guys Burgers and @burger - likely won't be the last.
The burger craze "does seem to be a big thing going on," said Matt Berke of the Beale Group, the agent who represented Five Guys in the store's deal for the South State Street store. "Not just in Michigan, but nationally, as well."
Real estate sources in the area say several chains are actively seeking space, some trying for proximity to the University of Michigan campus.
Burger chains that haven't landed in Ann Arbor - yet :
SONIC, the 3,500-store drive-in chain based in Oklahoma City.
Cheeburger Cheeburger, based in Fort Myers, Fla., with 2 locations in Michigan
FATBURGER, The 90-store, California-based chain that announced in January that it would open 58 new stores in the Middle East.
IN-N-OUT, a 240-store chain mostly in California.
Culver's, known for its frozen custard also touts its Butterburger as a signature dish.
Among those, FATBURGER reportedly is "desperately looking near campus," according to one local agent, while SmashBurger, Sonic and Culver's also have reportedly reached varying stages of deal-making in this market.
The newer chains seeking to enter the market aren't the only ones expanding: Red Robin Gourmet Burgers just opened its second local restaurant a few miles to the west from its original Washtenaw County location on Carpenter Road.
Even Ann Arbor's stalwarts of higher-end dining, Mainstreet Ventures, recently moved into the burger realm, opening EO Burgers ("EO" stands for "extraordinary") in suburban Dayton, Ohio.
"It's really just a question of how many one area or one city can support," Goldman said. "There certainly are enough of them going around."
The reason, said Andy Deloney of the Michigan Restaurant Association, seems to be driven by a few factors.
One is the economy.
"When the economy is as bad as it is right now … successful operators are finding ways to address the consumer's demand for value," Deloney said.
Many burger-centered meals can cost $10 or less with a drink and side.
"People still like going out to eat but don't want to spend $20 or more on a meal," said Scotty Sisco, chef and manager at Great Plains Burger Co.

Lon Horwedel | Ann Arbor.com
That's one reason the fast-casual dining segment has grown. The top 100 restaurants in the sector grew 10 percent in 2009, while overall restaurant sales dropped 2.5 percent.
It's the customization available on a burger, allowing a customer to create a unique taste that drives the market trend, Deloney said, thanks in part to televised cooking shows.
"People love hamburgers, and they're willing to try new things on them," he said.
On the business side, "Burger-exclusive places run these little factories," said Newcombe Clark , a commercial real estate agent at Jones Lang Lasalle in Ann Arbor.
"It's a low-maintenance, high-margin business."
Deloney said burger restaurants can operate with a lot of common ingredients, allowing them to drive better deals with suppliers and control waste.
A high-volume burger business also creates demand for beef. That's good for Knight's Market, an Ann Arbor-based supplier, which is gaining customers.
Knight's now supplies about 40 local restaurants, said owner Sherry Bedolla.
What about nutrition?
Calories don't seem to count to burger-lovers, at least those who buy into the "bigger is better" menus.
A 10-ounce burger made of lean meat will have 600 calories just in the meat, estimated Pat Lynch, registered dietitian at the University of Michigan Health Center.
"That's not the bun, that's not the sauce, that's not the cheese," she said.
Large burgers laden with toppings could reach 1,500 calories.
And the fat grams from just the meat could be 30-50 grams, compared to the 60-70 grams the average healthy person should eat in a day.
Health-focused burger-lovers need to limit their toppings: Bacon doesn't help, but lettuce, tomato or olives will add flavor without calories.
Lynch suggests watching what you pair with a burger, too: "The fries are in many ways worse than the burger."


Ask a burger master what makes their sandwich special, and a similar theme emerges: It's the fresh ground beef, perhaps a special mix. The meat isn't frozen. It's also cooked to order.
And the toppings turn the basic into a customized masterpiece for the buyer. Some places have about a dozen, others many more. Either way, the number of toppings - as common as tomato, as rare as a fried egg - yield an exponential number of possible combinations.
Then there's the pairings: Milkshakes, beer, fries or onion rings seem to be the most common.
But the best-loved local burger joints themselves also seem to cultivate a personality that keeps customers coming back.
Sidetrack in Ypsilanti is one example.
"We've been doing this for 30 years," said owner Linda French. She describes her signature sandwich that enjoys a nationwide reputation as "craft" burgers.
"There's always a market for a good, all-American burger," she said.
Krazy Jim's Blimpy Burger, located in Ann Arbor since 1953, is another example of a longstanding burger place.
Current owner Rich Magner says he's served generations of fans who savor the food, stand in line at the restaurant on South Division Street and tolerate the sometimes-rude staff because it all feeds into the "Blimpys" experience.
Recent burger additions to the area:
@burger, the Big Boy chain's concept that's coming in July to East Liberty Street.
Five Guys Burgers, which will open by fall in the former Shaman Drum space on South State.
Great Plains Burger Co., a locally owned chain prototype based on Plymouth Road.
Red Robin opened its second restaurant in the area this spring when it took over the former Bennigan's near Briarwood Mall.
Famous Burger on Plymouth Road.
Quickie Burger on State near Packard.
Packard Pub on Packard near State.
Bagger Dave's in the Colonnade.
"You get a burger right off the grill and sit down and eat right away," he said, noting that diners get to watch its creation along the way. "That's a big part of it."
Magner will go through 600 pounds of meat - formed into 5,000 patties - per week. His bacon sales are up - that topping is getting more popular - and so are his overall sales.
"Last year I had my best year," he said, thanks in part to a 2008 appearance on the Food Network.
And while considering the wave of new burger joints coming into Ann Arbor, Magner says, "I just hope it doesn't change things for (us) here."
"As long as the new burger places have something that sets them apart a little bit, then that's OK," Magner said.
So what is the saturation point for burger restaurants in Ann Arbor?
Real estate experts won't speculate. They see the operators as among the few potential tenants able to sign top-of-market deals. Five Guys, for example, will move into a building where the asking rental rate was $40 per square foot, among the highest rates near campus.
"In today's economy (the burger restaurants) really seem to be one of the tenants that can still thrive and do well," Berke said.
Deloney says the market will dictate how many survive over time. Restaurateurs who predict what seems like endless demand for a burger could fall victim to changing customer palates.
Population density and diet trends also will play a role, Clark said.
Longtime burger restaurants may feel the least threatened by the newer outlets.
"I don't know if there can be too many," said Magner. "I know I eat my share."
Paula Gardner is Business News Director of AnnArbor.com. Contact her at 734-623-2586 or by email. Sign up for the weekly Business Review newsletter, distributed every Thursday, here.