Posted on
Fri, Aug 30, 2013 : 2:52 p.m.
Landlords: Few apartment vacancies near UM's campus as students move in
By Lizzy Alfs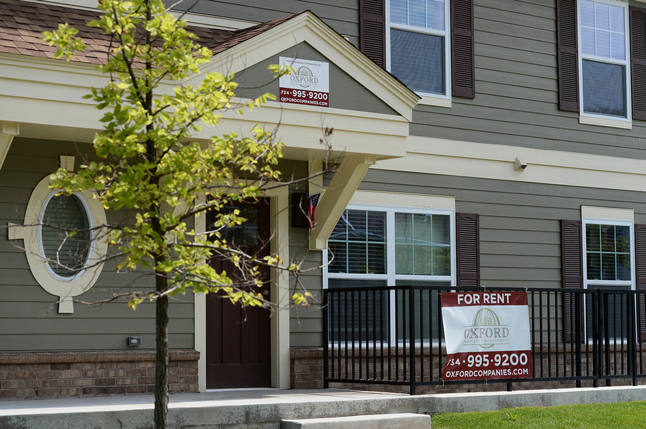 Melanie Maxwell | AnnArbor.com
Thousands of new and returning University of Michigan students are making their annual trek to town this week, and many landlords are turning over rental units for the new lease term.
As students return, landlords are reporting few — if any — vacancies at student rental properties surrounding campus and downtown.
"We are fully leased for our student properties," said Jeff Starman of Ann Arbor's Wickfield Properties, which owns and manages properties near campus. "We have very few apartment building openings even off-campus. Our student housing was virtually full probably back in May."
Despite the recent addition of high-rise student apartment buildings such as Zaragon West, Landmark and The Varsity, Starman said this year's rental market was the strongest it has been in years.
The university's 1,180-bed South Quad dormitory is also closed this year as part of a nearly decade-long initiative to renovate dorms, possibly impacting the rental market.
"I think it has been a really good year," Starman said. "It's typical of how it was in the past. We've already had people calling in desperate to rent for next year."
In landlord world, the week before U-M classes start is typically turn over week, which means cleaning crews frantically prepare apartments for new tenants, and maintenance workers make any necessary building repairs.
Melanie Maxwell | AnnArbor.com
Landlords usually have about a week before former tenants move out and new tenants move in.
"It's pretty crazy," said Lana Hawkins of University-Places, which owns six rental homes. "You can't keep up with the amount of, I'll call it destruction, because that's what it is, that students generate. They leave so much trash and you have to clean it all up and throw it all away. We have one week basically to get our six houses ready that have been neglected for an entire year."
Because the city of Ann Arbor regulates how far in advance landlords can begin showing and leasing properties, Hawkins said her six homes were leased for fall 2013 as soon as she put them on the market in November 2012.
The city ordinance says landlords have to wait until 70 days after the current lease period has passed to show or lease a property to interested tenants for the following year.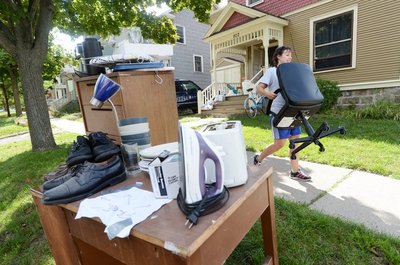 Melanie Maxwell | AnnArbor.com
"For the most part, we have bigger houses, so students are pretty aggressive above finding landlords with bigger houses for their groups," Hawkins said. "It seems to me that a lot of those get taken pretty quickly."
Hundreds of people have posted apartments for rent on Craigslist this week, but only a select few apartments are located near U-M's campus.
The Varsity, which opened in August at 425 E. Washington St., and City Place, located at 425 S. Fifth Ave., are still advertising bedrooms for rent for fall 2013 on their websites. City Place is advertising fall specials ranging from $845-$945 per person for a six-bedroom unit.
In early August, Chris Cepeda, a marketing and leasing agent for The Varsity, said about two-thirds of the building's 415-bedrooms were leased.
Rick Perlman, developer of Ann Arbor's Zaragon Place and Zaragon West high-rise apartment buildings, said there isn't a single vacancy in either building. Together, the buildings have about 450 bedrooms.
"I don't have a bed left, not one single bed," he said. "Zaragon Place and Zaragon West were leased up months ago."
"I have waiting lists for next year," he added.
Lizzy Alfs is a business reporter for AnnArbor.com. Reach her at 734-623-2584 or email her at lizzyalfs@annarbor.com. Follow her on Twitter at http://twitter.com/lizzyalfs.