Posted on
Mon, Sep 12, 2011 : 12:45 p.m.
Ypsilanti entrepreneurs request beer-and-wine licenses for Cafe Ollie, new made-in-Michigan store
By Laura Blodgett
The owners of Cafe Ollie in Ypsilanti's Depot Town are in the process of obtaining a tavern license to enable them to serve beer and wine in the cafe.
A public hearing for the city of Ypsilanti is scheduled for 7:30 p.m. Tuesday, Sept. 13 as the next step in the process of getting state approval for the license. The business, which is located at 42 E. Cross St., opened in January in the space formerly occupied by Cafe Luwak.
"This was always the plan to serve beer and wine at the cafe," said owner Mark Teachout, who bought the cafe with his now-wife, Danielle Schwerin. "This is only to serve beer and wine on the premises—no take-out and no liquor."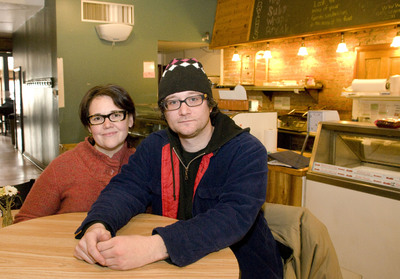 Tom Perkins | For AnnArbor.com
"I don't anticipate any problems," he said. "It's standard procedure."
Although the often unwieldy process of obtaining an alcohol sales license does not come with a guaranteed timeline, Teachout is crossing his fingers that he will be able to serve beer and wine in the cafe by November at the latest.
Separately, Teachout and Schwerin are also in the process of obtaining a license as a specially designated merchant to enable them to sell beer and wine at their new, Mi General Store, next door. The license would allow the shop to sell beer and wine for off-site consumption.
Featuring items made in Michigan, the shop will primarily sell wine and beer with a small selection of chocolate, sweets, snacks and cheese.
Although the couple is already leasing the space, they need to wait for the license to be processed through the state before they can order beer and wine through a distributor to stock the store and open its doors.
"This is the cost of doing business and we knew that this happens when you are dealing with licenses and permits," said Teachout. He said they've received a lot of help from state Rep. David Rutledge, who has made calls on their behalf to keep the process moving.
With vendors alerted and phone lines in place, Teachout said it would only take them a matter of weeks to open the store once the permit is approved.
In the meantime, Teachout and Schwerin continue to work in the new space, painting and collecting vintage Michigan signage as decorations.
"One of the things we're excited about is the idea of using the space for local artists to display and sell their things on the walls and hiring them to make outdoor signage," said Teachout.
News and updates for the store can be found on the store's Facebook page.