Posted on
Sun, Jun 5, 2011 : 5:58 a.m.
MEDC CEO Michael Finney: 'I'm extremely comfortable' with elimination of MEGA tax credits
By Nathan Bomey
While he was CEO of economic development group Ann Arbor SPARK, Michael Finney helped growing tech companies apply for tax credits from the Michigan Economic Development Corp.
But, as part of tax reform legislation pushed by Gov. Rick Snyder and approved by the Michigan Legislature last month, MEDC's Michigan Economic Growth Authority tax credits for high-tech companies were killed in favor of a $1.7 billion overall tax cut for Michigan businesses.
And Finney, who once said the tax credits were necessary to help attract new companies, is not shedding any tears for the MEGA tax credits.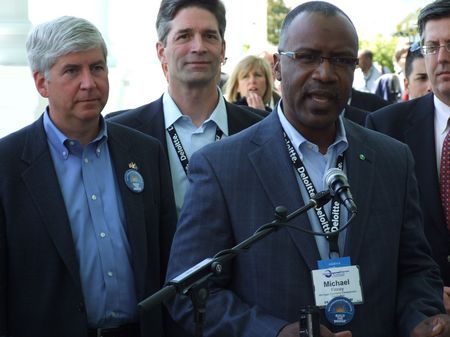 Nathan Bomey | AnnArbor.com
The MEGA tax credits, created by former Gov.
John Engler
and expanded by Gov.
Jennifer Granholm
, were originally viewed as a way to attract growing companies to come to Michigan and to convince existing companies to expand here.
But over time, the MEGA credits turned into a political curse, as a multitude of companies, including local offices of companies like Atwell Hicks and Google, failed to add the jobs they promised to add in exchange for receiving the credits. And Lansing lawmakers were forced to explain why they distributed tax breaks to companies that weren't meeting their expansion promises.
During Granholm's eight-year administration, the MEGA board distributed more than $3.56 billion in tax credits to 508 companies, according to an analysis conducted by AnnArbor.com in September.
The purging of business tax credits would frighten most U.S. economic development leaders, who survive on a steady diet of tax credits designated for hot companies.
But Finney is confident that the state's lower overall business tax rate, a simpler filing system, a governor who is very business friendly and a capped pool of incentives that survived the funding cuts will lead to more jobs and business growth.
The death of the MEGA credits — and all the "saved," "retained" and "indirect" jobs the MEDC claimed would be created as a result of the credits — is just fine with Finney.
"I'm extremely comfortable with it," he said in an interview Thursday at the Detroit Regional Chamber's annual Mackinac Policy Conference at the Grand Hotel on Mackinac Island.
The credits are gone, but the state Legislature devoted $175 million for various MEDC incentives and programs for the 2011-12 fiscal year, which starts Oct. 1. Here's the breakdown:
--$25 million for the Pure Michigan marketing campaign.
--$25 million for film industry subsidies, about one-fifth of the amount distributed in 2010, when the film tax credits were theoretically unlimited.
--$25 million for entrepreneurial programs.
--$100 million for all other tax incentives and credits, including brownfield projects.
Finney said the types of incentives and tax credits in the $100 million pool would be tailored on a case-by-case basis for each company or project selected to receive a boost. He described it as "a negotiated incentive that can be structured either as a grant, loan or investment."
"A big part of it is understanding what the company needs," Finney said.
It's all part of the MEDC's emerging "economic gardening" strategy, which favors helping existing businesses grow over "hunting" for outside companies to come to Michigan.
Finney also:
--Declined to say much about Snyder's statement Wednesday that he would push for a statewide talent enhancement network in November. The concept is modeled after an initiative created by SPARK, which distributes a free weekly newsletter with job openings to several thousand subscribers and tries to help companies connect and hire talented workers. The talent enhancement plan is likely to feature a push to show Michigan's benefits to people who used to live, work or attend classes here.
"We had a lot of ideas that we couldn't implement because they weren't regional," Finney said. "They really required statewide capability."
--Praised SPARK's hiring of Paul Krutko, a Silicon Valley economic development veteran with experience in Cleveland and Jacksonville, Fla., as his replacement as CEO.
"I think they made a great hire," Finney said. "It really says something about the community and about SPARK that we're able to attract an executive from Silicon Valley. I think that's probably the story that no one has focused on. The fact that he's from the Midwest helps. He brings an awful lot of know-how and opportunity as a result of the relationship he built out there."
--Suggested MEDC's incentives would not be directed toward the big auto companies. "They basically just continue to invest and hire, so their impact is obviously being seen right now in Michigan's economy," he said.
Contact AnnArbor.com's Nathan Bomey at (734) 623-2587 or nathanbomey@annarbor.com. You can also follow him on Twitter or subscribe to AnnArbor.com's newsletters.